Down to Navigation Controls
---
Videostatic 1989
(a compilation of networking video)
This is a 60-minute audio-visual journey to the edges of alternative art-making and experimental video. The tape is divided up into four sections: "Poems" (intuitive, non-narrative, alogical), "Paintings" (video equivalent to the conventional canvas), "Stories" (Event-based sequences), and "Messages" (rhetorical stances, public "service" announcements). The most impressive pieces here are "Sex with the Dead," a video memory-jog of our morbidly nostalgic culture by Joe Schwind, "Of Thee I Sing/Sing/Sing," a musique concrete video by Linda Morgan-Brown and the Tape-Beatles, and "Glossolalia," (Steve Harp) an absolutely mind-fucking excursion into language, synaesthetic experience, and the structuring of human thought and perception. Surrounded by the curious, the kooky, and the just plain boring (as kook-tech artist Douglass Craft likes to say: "Not every experiment was a success.") At only $10, this is an insane bargain.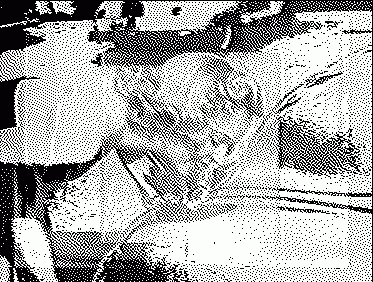 Videostatic compilers John Heck and Lloyd Dunn (of Tape-Beatles' fame) plan on putting out a series of these tapes. As far as we know, 1989 is the latest release. Write for more info (or to submit material).
(G. Branwyn)
Links:


ACCESS:
Videostatic
911 North Dodge St.
Iowa City, IA 52245
$10/ 60-minute VHS cassette


---
Navigation Controls
<!- repetitive locations ->

---
© 1998 The Computer Lab
Gareth Branwyn - garethbranwyn@mac.com
WebMaster: PeterS10@aol.com
Go to Street Tech, Gar & Pete's Tech Review Site.