Down to Navigation Controls
---
Deadline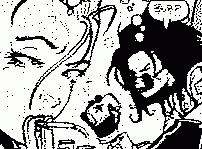 The punky, anarchistic British monthly magazine of comix and music, responsible for giving birth to anti-heroes Johnny Nemo and Tank Girl, as well as "B-Bop and Lula," "Wired World," "Elvistein" and "The Shadowmen." Some of the finest comix artists and writers are working their bizarre magic between these colorful glossy pages. In the story "Planet Swerve" by Alan Martin and Glyn Dillon (Deadline #25), characters Sarah and Wilmot The Cleaner visit Planet Art, and experience themselves as paintings by Peter Max, Walter Keane, and other "artists."
(M. Frauenfelder)
Links:


ACCESS:
Issues 1-26 are available for 4 Pounds each (2 Pounds in UK)
Subscriptions 40 Pounds/11 issues (USA), 18 Pounds (UK)
Deadline, 2nd Floor
134/146, Curtain Road
London EC2A 3AR
ENGLAND


---
Here is the TEXT POPUP for Deadline

There are no secrets in art. All is there to see. Like the ingredients on the side of a cornflakes packet - what you see is what you get.
- "Planet Swerve."
---
Navigation Controls
<!- repetitive locations ->

---
© 1998 The Computer Lab
Gareth Branwyn - garethbranwyn@mac.com
WebMaster: PeterS10@aol.com
Go to Street Tech, Gar & Pete's Tech Review Site.