Down to Navigation Controls
---
Blissed Out:
The Raptures of Rock
by Simon Reynolds
Simon Reynolds is one of the most intelligent and thought-provoking rock journalists working today. His essays, which have appeared in the "New Statesman," "The Guardian," "The Observer," "Melody Maker," and his own "Monitor," are deep explorations of rock music, pop culture, and their impacts on the culture at large. "Blissed Out" is a collection of some of Reynold's best pieces to date (mostly from his "Melody Maker" column). His writing style, while deeply immersed in the language of post-modern critical theory, does not lose itself there. He makes clear insightful points as he takes you to the far edges of speculation on the possibilities of rock and roll as a corrosive agent for personal and social change. He's one of those writers who has the skill to go WAY out on a limb and to convince you to crawl out there with him.
One of the things I also like about Reynolds is his taste in music. "Blissed Out" includes essays on Sonic Youth, Young Gods, Public Enemy, Front 242, The Smiths, and the Cocteau Twins. Other essays explore the language of noise, the issues around sampling, and the end of music. The value of this book to me is illustrated by the state of my copy of it. It is tattered, torn, extensively highlighted, and covered with marginalia. Few books in my library are in a greater state of consumptive exhaustion.
(G. Branwyn)
Links:
Glossary: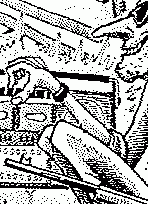 ---


ACCESS:
Blissed Out:
The Raptures of Rock
Simon Reynolds
Serpent's Tale
4 Blackstock Mews
London N4
England
1990, 192 pgs., pb, £8.99/$15.95



Graphic: Vague Magazine
---
Here is the TEXT POPUP for Blissed Out:
Front 242's name, dress (black leather, cropped hair, and paramilitary goggles) and slogans (determination, persistence, assimilation, infiltration) are all facets of an ambiguous but unashamed flirtation with terrorist chic.
---
"Welcome to Paradise" [Front 242] is a typically objective presentation of our contemporary panic culture, where we're going nowhere faster every day. It's a centre-less mediascape in which those who are trying to relocate the thread of life -- the TV Evangelists, the counselors -- are mischievously reduced to blipverts, just more interference in the media blizzard.
---
Sampling is invariably treated as an issue in terms of the politics of the music industry -- a challenge to specific property rights, but also a shift in the struggle over who "owns" our music culture.
---
When everybody does something, meaning evaporates.
---
Noise then, occurs when language breaks down. Noise is a wordless state in which the very constitution of ourselves is in jeopardy. The pleasure of noise lies in the fact that the obliteration of meaning and identity is ecstasy (literally, being out-of-oneself.
---
Navigation Controls
<!- repetitive locations ->

---
© 1998 The Computer Lab
Gareth Branwyn - garethbranwyn@mac.com
WebMaster: PeterS10@aol.com
Go to Street Tech, Gar & Pete's Tech Review Site.