| | |
| --- | --- |
| | User Login |
| | |
| --- | --- |
| | Main Menu |
| | |
| --- | --- |
| | Street Noise |
| | |
| --- | --- |
| | Utilities |
| | |
| --- | --- |
| | RSS Feeds |
| | |
| --- | --- |
| | Who's Online |
Currently no members online:)



You are an anonymous user. You can register for free by clicking here

We have 0 guest online !
Posted by: gareth on Monday, November 12, 2007 - 12:45 AM EST


It seems like every holiday season there's some new toy music character thingy, some strange looking robo-alien-critter that plugs into your PC or iPod and dances to the music, or flashes lights, or allows you to play it for sound effects. I've always seen these as the kind of present parents blow decent bread on and the kids find exciting on Christmas day at least, but it's long forgotten by the time the National disco ball lands on the New Year.If this sort of electronic noisemaker is your idea of a good time, here's one that just might not suck (and might teach your kids a thing or two about analog synthesizers and electronic music).
Posted by: gareth on Tuesday, October 09, 2007 - 05:22 PM EST


I am *this close* to canceling my cable account and moving to all Net-delivered media. I've already canceled HBO and get my fix of their programming via the Web. And I don't watch much mainstream TV anymore anyway, and never anything (besides the evening news) in real time.
So I was interested to see this Lifehacker Hack Attack piece on "Six Ways to Catch Your Favorite TV Shows." Of the six, Miro (formerly "Democracy") is my fave.
Posted by: gareth on Tuesday, August 28, 2007 - 01:35 AM EST


From Lifehacker:
Windows/Mac/Linux: Temporarily turn your computer into a home theater with the GeeXboX live CD. All you need to do is drop the GeeXbox CD into your drive and restart. When you are done with GeeXbox, remove the CD, restart your computer and you will return to your existing operating system. Originally created just to play DivX videos, GeeXboX can now play virtually any file format you throw at it. GeeXbox has extremely low requirements and can be used to turn an old computer into a media center. Linux users who don't have the libdvdcss2 codec installed can boot into GeeXboX and watch DVDs without any setup. GeeXboX is a free download for Windows, Mac and Linux.
Get GeeXboX here.
Posted by: gareth on Tuesday, August 14, 2007 - 01:59 AM EST


I miss the mix tape. Maybe it's that time in my life that I actually miss, but it was an exciting time, of new music, and new possibilities of where that music might take me. And there were parties. Lots and lots of parties. And dancing on the waves generated by these tapes till our feet blistered or the sun came up (whichever came first). I even put out a copy of my late '80s/early '90s zine, Going Gaga, on a cassette tape. And then, of course, there were all of the painstakingly-coded Basic programs loaded onto my Radio Shack portable cassette player/storage drive. Ah, good times. Good times.
So, you'll excuse me if I got all verklempt when I saw this cassette tape-packaged USB drive. The next time I wanna woo a woman, I am SO putting my hearfelt woo-age on one of these babies. Modern English, I'll Stop the World and Melt with You, here we come! C30 C60 C90 Go!
Posted by: gareth on Wednesday, August 01, 2007 - 01:17 PM EST


Make Mine Marvel has a link to the much sought-after Iron Man trailer, obviously taken by somebody in the audience at Comic-Con. Not the best quality, but it'll give you a taste. Apparently, Comic-Con attendees were pretty jazzed by the Iron Man presence at the Con. And Paramount is apparently not that jazzed by the leaking of the trailer onto YouTube -- or maybe playing wack-a-mole with the trailer postings is just another guerrilla marketing strategy. I spent close to a half hour trying to find this clip and felt like I'd really accomplished something when I'd scared it up (which may no longer be up by the time you take the link). And thus, the game continues.
Posted by: gareth on Friday, July 06, 2007 - 12:41 AM EST

Remember when your momma used to tell you: "Wash your hands after touching that money. You don't know where it's been!" Well, now you can reply: "I do so! Let's see: it first showed up in Dayton, Ohio, five years ago, at a Sonic drive-thru, then it headed south, then west, spending a lot of time being handed around amongst Texans. It was even found on the floor of a Dallas strip joint!"

Okay, maybe momma was right. Go wash your damn hands!

Such is the circulation tracking fun to be had at Where Is George?, a volunteer currency tracking system where participants who find bills with "Track this bill at whereisgeorge.com" stamped on them can log on, find the history of the bill (by entering the serial number), and record the circumstances of finding it themselves, before re-releasing it into the wild.

This morning, on the DC Metro, I was feeding a dirty dollar into the farecard machine when I noticed such a stamp. I yanked the bill back before that money-grubbing, ticket-dispensing robot got its steely grippers on it, took the bill to my computer and looked it up. It started out life (as a marked bill, anyway) two years ago, in Honolulu, Hawaii. The sender wished a fond "mahalo" to the next recipient. It hadn't been tracked since, so I took my Pacific island thank yous, added my own info to the record, and finally feed it into the hungry farecard machine on my way home. I will definitely keep an eye on the bill's log to see where it shows up next. It's weird, with all of the money that mindlessly passes through my mitts, I'm now strangely invested in one shabby dollar that I fond a long way from home. Mahalo, George!
Posted by: gareth on Tuesday, July 03, 2007 - 12:00 AM EST


The diaspora of writers from Wired's Table on Malcontents blog is complete as the plug is pulled and John Brownlee and Eliza Gauger make the leap to their new home ectoplasmosis, where the tentacular weirdness is sure to continue. They describe ectoplasmosis as "a wonder closet of fringe art, culture, and ephemera." Sounds like fun to me. But will we see Cthulhu Cthursdays? I mean, how else are we going to learn about things like the Cthulhoid Case Mod or Cthulhu Kitty?
Posted by: gareth on Thursday, June 14, 2007 - 11:21 PM EST


In case you missed it last night, Make, the Maker Faire, and Mark Frauenfelder were on Jimmy Kimmel last night. Makezine has a link to the clip (50 MB MP4). Really sweet. So cool to see Mark getting the much deserved recognition. And that's his daughter Sarina on the cover too.
Posted by: gareth on Monday, June 11, 2007 - 01:28 AM EST


Another Jobs Keynote (a.k.a. a "Stevenote"), another exciting game of "Keynote Bingo!" If you haven't played before, try it, it's fun! To play, you simply print out the PDF bingo card found at Ars Technica, or use the ones created with the WWDC Bingo program (with 100 word/phrase options). And then, follow one of the liveblogging feeds tomorrow, Monday @ 10am Pacific (or listen to streaming audio if you're able), or wait and watch the full video when it's posted. Then, you mark words/concepts as St. Steven utters 'em and terrorize your cubicle-mates when you scream "bingo!" after you connect a row. If you're at WWDC, you'll want to use the app version, which creates different cards, otherwise, you'll all shout out "bingo!" at the same time. And that's no fun at all.
Posted by: gareth on Wednesday, June 06, 2007 - 05:26 PM EST


...headphones? You may have heard that hardware hacker Big God Ben Heck(endorn) was hard at work on a commercial product. Everyone suspected it'd be some sort of retro-gaming player or otherwise related to his old school game console hacking. So, it's a bit of a surprise that the product turns out to be a gaming headset for PC. The 'set definitely looks '70s geek chic and sports force feedback motors, 5.1 surround sound emulation, in-line control module w/mute, and cool LED read-outs on the cans. A retro feature you won't likely welcome is that these are corded USB-based phones, not wireless. But true to Hecky's (and they call him on Engadget) prediction, the Audio FX Pros are under US$100, at $80.
Posted by: gareth on Saturday, May 05, 2007 - 11:54 PM EST


When my wife and I first saw Spinal Tap, we laughed so hard, several people around us got up and moved. We laughed pretty much from the moment that Marty DeBergi entered the first scene, in his USS Ooral Sea cap, till the credits rolled. We'd both been involved in rock and roll and it was just too spot on for its own good. So, seeing that there was a new Spinal Tap short, a sort of "where are they now?," in advance of their reunion at the Live Earth Concerts, I was hoping for similar dumb-funny fits of giddiness.
It didn't disappoint. The vid opens on the set of Marty DeBergi's new film, "The Hills Have Eyes with Macular Degeneration." Hoping to get the band back together for Live Earth, Marty seeks out the members, now not talking to each other. Nigel is a ranch hand on a miniature horse farm, David runs a hip-hop production company, called Back Alley, in a former colonic irrigation clinic. Derek talks to Marty from a rehab center, via webcam, where he's being treated for Internet addiction. Marty, the affable lunk, manages to get the band talking again and to agree to reunite for the benefit.
If you're a Tap fan, you'll likely get as big a kick out of this as I did. Wonder who the drummer will be at Live Earth? Too bad Mick Fleetwood has thus far defied the band's drummer curse. He's still with us (as far as anyone can tell), but no word if he'll mount the exploding drum stool for the upcoming shows.
Posted by: gareth on Thursday, April 05, 2007 - 10:20 PM EST


Oh those crazy kidz with their hardware mash-ups. This one comes to use via veteran Street Techie Craniac. It details how a gamer got doom.wads to run on his old iPod Photo using an even older NES Controller as his game controls.

A How-To can be found here.
See it in action here.

Thanks, Mark!
Posted by: gareth on Wednesday, April 04, 2007 - 06:42 PM EST


A few weeks ago, I saw an intriguing item on a hardware hacks site (which shall remain nameless) about greatly improving your WiFi network range by using your cell phone as an antenna. Whah? I took the link, began watching the how-to video, a show called "Infinite Solutions," and hilarity quickly ensued.

At first, I thought it was real -- goofy looking and sounding -- but real. But by the time the host started wrapping Ethernet cable around a cellie to achieve "Ethernet induction," I knew something was horribly, horribly wrong (not the least of which was the fact that the linking site hadn't figured out that this was a put-on). I went to the Infinite Solutions page on YouTube and watched some of their other episodes. They're genius, a hysterical mix of cheezoid production values, just enough real information and hand-holding to suck in the ill-informed, plenty of impenetrable geekspeak, and lots and lots of good ol' Blarney.

Read more... (1524 bytes more) comments?
Posted by: gareth on Wednesday, April 04, 2007 - 12:18 AM EST


Leo, Merlin, and the boys at MacBreak do a excellent job of quoting from and discussing the EMI/iTunes announcement this week.

If you've been living under a rock: EMI is releasing its entire catalog on iTunes (minus The Beatles, at least for now), all DRM-free, at twice the audio quality (for .30 more than the DRM'd tracks, which will still be available for .99). Full albums will get the higher audio quality and DRM-free for the current full album price. Yay! I might actually start buying music on iTunes now.
Posted by: gareth on Wednesday, March 21, 2007 - 07:19 PM EST


Next Generation has piece on Will Wright and his talk at South by Southwest Interactive. In it, he talks about the nature of storytelling in games and where he sees it going:

"Wright went on to describe his vision of a simulation that could actually execute dramatic aspects of a game. In other words, a computer that could learn what kind of story a player is creating (a teen slasher, a drama) in an open world, and then figure out the ultimate epic struggle of the player's storyline as he or she plays.

"In simpler terms, the computer would be like the in-movie director of The Truman Show, Wright said. Stories stemming from such an interactive experience, he believes, would be truly powerful."
Posted by: gareth on Thursday, March 08, 2007 - 11:02 PM EST

Is it just me, or does this look like a tremendous stinker waiting to happen?:

Wowwee Ltd. announces that they have joined forces with Arad Productions to bring Robosapien to the big screen. Production has already begun on a feature film, which will combine live-action and CGI, is targeted for release in 2009, and will be based on our favorite WowWee robot, Robosapien.
Posted by: gareth on Wednesday, March 07, 2007 - 01:06 AM EST


I just watched The Colbert Report with Mark Frauenfelder as the guest and was stunned and delighted to discover that Mark had brought a Mousey the Junkbot to show off. It felt like a little piece of me was on the show too (sniff, sniff). And then Colbert ran Mousey off the table and it broke into many pieces. He seemed genuinely embarrassed. It was funny. Mark and Stephen battled each other with marshmallow cannons, too. It'll run several times today (Wed), so you should definitely try to catch the segment.



Here's a link to the video and some additional coverage on MAKE.


Posted by: gareth on Tuesday, March 06, 2007 - 02:20 PM EST

Our pal, and Street Tech Founding Saint, Mark Frauenfelder, will be on the Colbert Report tonight (Comedy Central), talking about MAKE Magazine. Congrats, Mark! We knew you when.


Posted by: gareth on Thursday, December 21, 2006 - 02:02 AM EST


Blame Society promised Chad Vader Episode 5 by Christmas and they made good on that. No. 5 got loaded onto YouTube a few hours ago. Still funny, cute, but the joke may be wearing a little thin. Speaking of wearing, Chad has switched "costumes" by the end of the episode. A new job, perhaps? Chad Vader, Branch Bank Manager?

While you're on YouTube, be sure to check out Blame Society's Holiday Greeting, which is really adorable; Chad kickin' it Hef-style.
Posted by: gareth on Monday, November 27, 2006 - 06:36 PM EST


Oh my word, this is absurd (in the most deliriously awesome way)! It's called "Decotora" (or "Dekotora") and it's Japanese, oh... so... very... Japanese. They look like moving Vegas slots crossed with downtown Tokyo AND Time Square. As Avi Abrams says on his site Dark Roasted Blend:
"They might not look very refined in the daylight, but at night they shine in the most inimitable way. If you meet such an embellished apparition on a highway at midnight, it may either scare you off the road, or cause you to start to believe in alien encounters. The amount of chrome on these babies is probably equal to a monthly chrome production of a small African republic. I have to admit I'm still scratching my head after seeing this."
Posted by: gareth on Wednesday, November 22, 2006 - 02:42 PM EST


Amy Sedaris was on Conan O'Brien last night, promoting her twisted and hysterically funny hospitality book I Like You: Hospitality Under the Influence. She offered a great tip, for when company comes, and you want to find out who snoops through your medicine cabinet: Load a bag of marbles into the bottom of the cabinet and shut the door. If anyone opens it, it'll make a tremendous racket as the marbles bounce into the porcelain sink. She added: "Then you can find out which one of your friends is a thievin', drug-addicted whore."
Posted by: gareth on Monday, November 20, 2006 - 10:31 PM EST


Have other Street Techies messed around with Songbird yet? It's a media browser build on a chewy Mozilla center. It's pretty cool. You can import your iTunes, and other local media libraries, and you can scour the Web for media (music search engines are built in). One of the nifty things it does is, when you hit, say a music blog, it looks for MP3 (and other) audio files on that page and presents them to you as a playlist, below the regular page content, so that playlist sorta becomes a soundtrack to the content you're reading. If you decide you like a track, you can drag it into your library (and you can subscribe to RSS feeds). It allows you to do many of the things you can do in iTunes. No CD import and burning yet, but it's coming, as is other extensions. And no, it won't talk to your iPod.
I sorta don't know why you'd want a separate media browser, but it's nice to have an open source alternative to iTunes and Win Media Player. I sorta wish this was just a Firefox plug-in. I bet this would be a dream app if you were a music junkie who spent a lot of time reading the indie music press and blogs and scanning the Web for new music and vids. I like how their bird mascot is always farting. Classy.
The app is cross-platform (Mac, Win, Linux), but only on release 0.2.1, so only for early app adopters.
Here's an interview that Xeni did with the developers when 0.1 was released back in February.
Posted by: gareth on Saturday, November 11, 2006 - 12:11 AM EST


Saw this awesome ad spoof on Gadgetopia and a news item about the Mac Guy (Justin Long) bailing from future "Hello, I'm a Mac and I'm a PC" ads 'cause he's too busy being a movie star. Wha? What movies? Dude, I'd stick with the steady paycheck and the every night TV exposure. When's the last time you saw the Dell guy up on the big screen? Or the little one, for that matter.
Posted by: gareth on Tuesday, November 07, 2006 - 11:24 PM EST


I-Wei, the Fabricator General at the amazing Crabfu Steamworks, sent us links to three steampunk- inspired PC clocks he did "a while back." The one shown here, SteamClock, belches steam while the two gauges show hours/minutes and seconds.

He made two other clocks, SunClock and DragonClock. They have nifty little features such as animated watchworks, day/date display and a RAM/CPU usage indicator (which doesn't appear to be accurate of either, but still looks cool). The clocks work on Windows PCs and float over other apps. Here are links to the three EXE files:

SteamClock
SunClock
DragonClock

Screencaps of SunClock and DragonClock after the jump...

Thanks, I-Wei!

Read more... (204 bytes more) comments?
Posted by: gareth on Tuesday, November 07, 2006 - 03:48 PM EST


Hey, it's nepotism week here at Street Tech! (What's the blogosphere for if not FOR promoting yourself and your friends and glad-handing people you want to suck up to?)

You all obviously know Mark from Boing Boing the blog and maybe bOING bOING the old print zine and Wired/Wired Online. But what you may not be aware of is his considerable talent as an artist and illustrator. It was actually his art in the first few issues of bOING bOING that first captured my attention. I was thrilled when he and I started to exchange letters and zines and he submitted some comics to my early '90s zine Going Gaga. Over the years, I've been equally honored to have him work as an illustrator for some of my books, most recently, the Absolute Beginner's Guide to Building Robots and Leo Laporte's Guide to TiVo (a.k.a. Gareth Branwyn's Guide to TiVo).
So I am totally thrilled that he's finally getting his due as an artist. This Friday begins his first gallery show, at Roq La Rue in Seattle. It's a group show (Mark has nine acrylic paintings in it) with four other artists, including Lynne Nailor and Chris Reccardi who both worked on Ren and Stimpy. The show runs through December 2. If I were the rich dot.com mogul I am in my mind, I'd fly out there in my Moller Skycar for the opening and snatch up a couple of these sweet canvases.
Congrats to Mark from all of your pals and admirers at Street Tech!
Posted by: gareth on Monday, November 06, 2006 - 09:21 PM EST


Last December, Gizmodo ran a "Biggest Dork" contest that we blogged about. In that posting, I talked about a picture that I wished I'd had to send in, of my son Blake, sitting at his grandmother's Unix terminal. Well, we finally found it. Are we too late for the contest? I guessed that the picture was of him at 3 or 4. It's actually from the Spring of 1989, so he's just shy of 2. His grandmother was a researcher at Bell Labs and she had a dumb term in her house. Blake is working in a Unix drawing program (ever the artist, that kid). Look at him work that mouse. Look at that mouse!

So, what does this have to do with the price of volatile memory in China? Not a thing. Pardon a papa blogger's indulgence. And apologies to the boy.

Thanks, Sande!
Posted by: gareth on Tuesday, October 31, 2006 - 01:06 AM EST


PC World has come up with a list of what they think are the worst ten video games of all times. They've been a LOT of crummy games over the years and some of the ones on their list are undeniable (like their #1 pick, ET for the Atari 2600 (above), is a no-brainer), but Prince of Persia: Warrior Within one of the ten WORST? Worse then Carmegeddon N64? Worse than Spice World (PS), the game based on the Spice Girls? And IronSword, the NES game that features Fabio on the cover? And if you're going to include something like Super Columbine Massacre RPG, then why not Ethnic Cleansing, and other hate mongering titles (of which there are many, enough to easily fill a list of ten)? There are still worthy candidates here, such as the Atari 2600 version of Pac-Man, Shaq Fu, and Make My Video with Marky Mark and the Funky Bunch. Oh, and then there's 2005's Elf Bowling for the Nintendo DS. That's right, a commercial console release of the play-for-a-day 1999 freebie Windows title.
Posted by: gareth on Monday, October 23, 2006 - 11:52 PM EST


From Kotaku:

"The Sith Lords Restoration Project is an attempt by mod collective Team Gizka to create KOTOR2 as it was meant to be played.

[From the Project team:]
"We're adding back in as much of the cut content as is possible. We are dedicated to forming a coherent story out of these sound clips and occasionally-ambiguous action descriptions, so unfortunately, we cannot include every single cool thing that was cut. But, we will still have plenty of coolness, including:

* The long-lost HK Droid Factory! (not the same as the Droid Planet M4-78)
* Several ways to murder Visas!
* A whole new group of people who want to kill you!
* Multiple endings! (no, really, actual endings)
* Various ways to be responsible for the deaths of all your party members!"

Posted by: gareth on Monday, October 23, 2006 - 08:49 PM EST


One of the many cool things about YouTube is the amount of historical tech-related material that's finding its way onto it, and how people are aggregating this material in useful, enlightening, and entertaining ways. This piece from PC World is a perfect example. They've assembled a bunch of computer TV ads, many from the early days of the computer revolution. Some of the ads you'll recognize, others you won't. It all forms an interesting snapshot of a now quaint and fondly-remembered (at least speaking for myself) time. There are ads going all the way up to the current PC guy/Mac guy ads. One fun addition is an allegedly never-before-seen second Apple "Switch" ad with Ellen Feiss, the stoner-esque teen who became a 15-minute celeb after her first spaceous performance. Mercifully absent is the "Dude, you're getting a Dell" dude. But who can live without the Shatner VIC-20 commercial (shown above)? Priceless.
Posted by: gareth on Monday, October 23, 2006 - 08:04 PM EST

ABC World News showed a clip tonight of Maria Bartiromo of CNBC interviewing the Pres. At one point, she asks him if he uses the Internet, if he Googles things. He said what he likes to use on "The Google" is the maps. He likes to look at the satellite pictures of his ranch in Crawford, cause it "reminds me where I want to be sometimes" (like on one of his next regularly- scheduled vacation?). He said that he also doesn't do email because he doesn't, basically, want the electronic papertrail of such communications (oh, kind of like with the Diebold voting machines?).
Posted by: gareth on Thursday, October 19, 2006 - 03:09 AM EST


Back in August we provided some enthusiastic links to Chad Vader: Day Shift Manager. The creators of the series had two episodes in the can (on the removable media? In the RAID array?).

Well, if you haven't been following along in your news feeder, Blame Society Productions now has two other episodes available. The BSP website also has some additional material, like behind the scenes photos, interviews with the creators, and even some fan music videos (fan films of a fan film: who'd a thunk it?). BSP is also looking for donations to pay their substantial bandwidth charges. They have Chad Vader Cafe Press merch to help the cause. Perhaps a Chad Vader: Day Shift Manager thong for Mrs. Vader?

Oh, and by the way, it's Chad Vader: NIGHT Shift Manager now, and Chad is NOT happy about it, or the fact that the checkout girl, Clarissa, may be going out with his arch nemesis, Clint, now DAY Shift Manager.

Here's the link to Episode 3.
Here's the link to Episode 4.
Posted by: gareth on Wednesday, October 18, 2006 - 01:41 AM EST


There's a new online episodic comic, called The Basic Virus, which I think looks promising. With its plot of robot uprising, it reminds me of the sadly aborted Blue Lily from the early '90s, or even our own neoWobblies, BCP's shadowy "creators," a group of disgruntled data anarchists and cyborganic rabble rising up against the 21st century Man.
The Basic Virus is an outgrowth of a series of agitprop posters creator Joe Alterio did in 2004. There are two episodes online so far. You can also download them to your iPod, which is kind of cool. It's even mostly readable on a Nano (I had a hard time with a few balloons), and it looks gorgeous. I'll definitely be subscribing to the feed and getting future episodes.
This item came to us by way of the new bot blog, Suicide Bots, which is awesome. s1m0n3 has posted some really cool stuff. I hope she keeps it up.
Posted by: gareth on Friday, September 29, 2006 - 05:31 AM EST


GameTrailers has a new trailer up for Bioshock, a next-gen FPS that's shaping up to be both a very innovative and controversial title. The underwater city that Irrational Games has created is amazing looking, sort of Bladerunner meets Jules Verne. They have a guy who works full-time on programming water effects.


Posted by: gareth on Tuesday, September 26, 2006 - 06:16 AM EST


iLounge has reviews of the first releases of iPod games. I've been curious to see if these games are any good or not. I'm not a big computer gamer. Don't get me wrong, I love games. Too much, in fact. Once I start, I don't want to stop. They can (and have in the past) become a huge time suck. So I try to limit my exposure. The one time that I feel okay about gaming is when I'm waiting for trains, planes, and buses, or otherwise, sitting around, away from work, and twiddling my thumbs, so phone and iPod games are a perfect match for me.

From these reviews, it doesn't look like Apple and company have done half bad in the first batch of releases. The only one they didn't really like was Pac-Man, which is too bad. I'm curious to see where they'll take iPod gaming in the future.


Posted by: gareth on Thursday, September 07, 2006 - 01:59 AM EST


It's WAY too early to be starting in with the "would make a great stocking stuffer" line. We'll be sick of that one long before we're sick on Halloween candy corn, but check these out, for... oh hell, I might even buy one of these and I'm not much a gamer. For US$15, you get a keychain-sized Atari joystick or paddle wheel that actually works. The joystick model either contains Asteroid and Millipede or Centipede and Yar's Revenge. The paddle controller has Pong, Breakout and Warlords. The controller comes with 6' RCA cables so you can plug your keychain into any available TV, Now that's going to leave an unsightly bulge in your pocket.

[Via Gear Factor]


Posted by: gareth on Tuesday, August 29, 2006 - 04:26 PM EST


Universal Music Group (UMG) has just announced a partnership with SpiralFrog, a New York-based startup, that's developed a music downloading service where consumers "pay" for the music by watching "non-intrusive, contextually-relevant, targeted advertising." From the SpiralFrog press release it sounds like they'll offer free music video downloads as well. Amazingly, they'll still be crapping everything up with DRM. The press release says:

"Piracy continues to be one of the biggest issues facing the music industry... Digital rights protection will help us combat piracy and provide peace of mind for the record labels and the artists."

Um...you're going to be giving the music away. With the state of DRM tech today, even giving it away in this manner is not likely to deal a killing blow to piracy.

Here's the SpiralFrog PR.

Update: TechCrunch has something of a scoop. They talked to someone who does PR for SpiralFrog. He claimed that downloads will only be listenable on one PC and two mobile devices (no iPods!), and that, you'll have to log onto SpiralFrog at least once a month to view ads or all your music will go bye-bye. Charming. Untenable. A digital dodo in the making.

Thanks, Alberto!


Posted by: gareth on Wednesday, August 23, 2006 - 11:38 PM EST


Street Tech hero Rudy Rucker has launched a web-based lit zine called Flurb. The first issue has pieces by Rudy and Paul DiFilippo, Richard Kadrey, and Marc Laidlaw, all fellow alums of print bOING bOING. The "Freestyle/Ribofunk" crowd -- nice to see them all together again under one virtual roof.

[When I was a young stoner (been there/off that), "flurble durble" was a way that you could say: "I'm too many tokes over the line to rub actual thoughts together anymore. Feel free to talk amongst yourselves." Somehow, having this association connect up to Rudy seems so apropos.]



Posted by: gareth on Sunday, August 20, 2006 - 11:36 PM EST


As Rebecca of selectparks puts it, Paul Robertson's "Pirate Baby's Cabana Battle Street Fight 2006" is "a kind of machinima recursion, where animations inspired by games have inspired animations." Rebecca also calls it a masterpiece, which is a bit of an overstatement, but it is an interesting approach to animation inspired by the aesthetics of handheld gaming.


Posted by: gareth on Sunday, August 20, 2006 - 08:39 PM EST

Not since Bart Simpson duped Mo for the umteenth time have prank pages been this obvious, or this embarrassing. Members of an Australian satire program on ABC (Australian Broadcasting Corp) purchased two kiosk tickets (that did not require any proof of identity). When the two made-up passengers didn't show, their names, "Al Kyder " and Mr. "Terry Wrist," were repeatedly paged over the PA. Some passengers in the terminal were alarmed, as they thought it might be a coded security message about an "unfolding incident." As you might imagine, airport security was not amused.

You can see a video of Al Kyder being paged here.

Thanks, Jay!


Posted by: gareth on Monday, August 14, 2006 - 10:26 PM EST


The early '90s sci-fi novel Snowcrash, by Neal Stephenson, has found a second life, as a readable virtual book, in SecondLife (SL). The ground-breaking novel, with its Metaverse virtual world that mirrored the real one, was one of the inspirations for SecondLife, so it's especially poignant to have it show up there as a virtual book. W. James Au, an "embedded journalist" working in SL, explains the book's upcoming e-publication:

"The SL edition was created with the approval of Stephenson himself, then brought in-world by Fizik Baskerville of UK virtual world branding company Rivers Run Red, working with Penguin, Stephenson's publisher.

"''We have only two hundred of them,' Baskerville tells me, after offering an advance peek at the SL edition Snowcrash. 'One is going in the Welcome Area. The others will be 'lottery' picks for discerning communities.'

"The SL edition, it should be said, only contains the book's first forty pages, displayed on an accompanying HUD, with buttons to launch an hour of the book's audio recording (or an ambient music channel for background reading music), and a button that launches a web browser, taking you straight to the Amazon page where you can buy the full version."

James's posting goes on to include a story about another Linden Labs employee's encounter with Stephenson where he appeared dramatically under-enthused with the idea of a real-world answer to his fictional Metaverse. Worth checking out.


Posted by: gareth on Friday, August 11, 2006 - 01:22 AM EST

Interesting piece on Ars Technica about Verizon's recent announcement that it will be offering free game server hosting as part of its PlayLinc service:

"PlayLinc was designed by Super Computer International, in which Verizon now owns a stake, and the client allows gamers to chat (using VoIP or AOL instant messaging), browse for game servers, manage teams, and launch games. But the real surprise is that the client also allows gamers to configure and launch their own servers for popular games—free of charge."

They add:

"The servers can be made private or public, depending on whether you want to shoot at people you know or people you don't know."

Read the rest of the piece here.
Read the WSJ's take here (paid sub required)


Posted by: gareth on Thursday, August 03, 2006 - 12:10 AM EST


Boing Boing hipped us to a hysterical Channel 101 series called Chad Vader, Day Shift Manager. So far, there are two episodes about Chad, Darth's slighty less ambitious brother, who's had to don the familar black cyborg suit after a particularly nasty bicycle accident. When he gets a job as the day manager of a grocery store, hilarity ensues. I had some really good laughs with this one. Definitely worth the download time.

Here's the link to Episode 1.
Here's the link to Episode 2.


Posted by: Will on Wednesday, July 26, 2006 - 10:24 PM EST


I just got a note from Netflix that they'll be putting on an outdoor screening of the crapclassic Warriors on August 2nd at the Asser Levy Amphitheater in Coney Island, Brooklyn. Yeah, I'm looking forward to the trip home after that show....

Check out Netflix Roadshow to see if some outdoor screenings are coming to your locale this summer.


Posted by: gareth on Wednesday, July 26, 2006 - 02:30 PM EST

PVRWire links to an "interesting" article from Canada about a CBS research exec giving a presentation to a luncheon of TV critics. In the presentation the exec cites a bunch of stats on digital video recorder usage. The article doesn't say where the research comes from. Here are a few highlights (taken from the PVRWire piece):

* The public is adopting DVRs at a slower rate than some observers predicted, and the idea that a DVR revolution would sweep away the networks' scheduling power has "been thoroughly discredited."
* DVR penetration in the United States is at 12% to 15% of households, versus 8% last year. The prediction is for steady growth to 20% and then a slowdown.
* DVR-equipped viewers of the big four U.S. networks still watch 90% of their shows live, although this figure drops to 82% for prime time.
* Sixty-six per cent of viewers who have recorded a show on DVR watch it by 6 a.m. the next morning, and 80% watch within two days.
* Overall viewership of cable and network TV is a roughly even split, but people with DVRs record 77% of their shows from the networks and only 23% from cable.

We'd be interested to know how this data tracks with Street Tech readers who have DVRs. I watch almost nothing live, altho for things like the evening news, I watch on about a 20 minute delay so I can FF commercials. I rarely watch a show that I've recorded the same night I've recorded it, but I do watch it within 2-3 days after recording. I definitely record more cable shows than network. How about you?



Posted by: gareth on Wednesday, July 19, 2006 - 05:18 PM EST


Personally, I wasn't very impressed with that folk ditty a MySpacer did in response to Ted Stevens's bizarre explanation for how the Internet works (which one blogger aptly described as "Flinstonian"). This techno video remix, using a lot of vintage tech imagery, is more like it.

If you really want to short your circuits (and raise your panic level over this guy being in a position of power concerning the internets), check out this longer Senate floor babaloney from Stevens, laid over swirly graphics and trip-hoppy beats.


Posted by: gareth on Tuesday, July 18, 2006 - 04:03 PM EST


Oh, now THIS I need to have. If you're gonna go wacky with the useless USB widgetry, why not bring office security and Federal law enforcement down on your ass in the process? This official-looking Big Red Button has the...ah... necessary security key and safety toggle switches you'd expect, and a protective cover over The Button so that you don't let the missiles fly (hallelujah, hallelujah) until you're ready. If the need to go "nucular" does arise, the unit counts out a four-minute beep sequence so you have time to get to the Executive Bomb Shelter. As The Reg points out: "The unit... conveniently doubles as a four-port USB hub during peacetime." It's expected to go on sale later this month in Japan and cost around US$45.

Thanks, Jay!


Posted by: gareth on Monday, July 17, 2006 - 01:53 AM EST

You've got to love it when a NewScientist headline reads:

Einstein in no-sock shock




Posted by: gareth on Wednesday, July 12, 2006 - 10:16 PM EST


Nitrozac and Snaggy offer their advice for turning Microsoft's much-blogged-about wireless media player into the "iPod killer" in their latest Joy of Tech comic.


Posted by: gareth on Wednesday, July 12, 2006 - 12:55 AM EST


Here's a very cool retro-futuristic way of sending a message to someone, send them a Retro-Gram. Choose which style of "telegram" you want, enter in your message, and pay the nice telegraph operator US$3.95. They'll print out your 'gram, in all of its blue ink, crummy manual typewriter chic, and mail it to the recipient, through good ol' parcel post (you remember parcel post, don't you?). For free, you can fill out online retro-grams that get sent as PDFs via email.


Posted by: gareth on Saturday, July 08, 2006 - 04:54 PM EST

I've always been intrigued when I see the "like new" books on Amazon selling for as low as .01. The other day I was in Borders and saw that the mass market paperbacks for Neal Stephenson's Vol. 1 and 2 of the Baroque Cycle (Quicksilver and Confusion) were out. Each volume sells for US$8. I wanted the larger trade paperback versions, but they sell for $16 each. When I saw them on Amazon, being sold by a third-party vendor, for .01 each, I decided to take a chance. Of course, the shipping is US$3.49 each, so it was $7 for the two books. They arrived yesterday and are in near perfect condition (except for a remainder mark on the bottom). This large paperback edition is really nice. 1,776 pages of Stephenson for seven bucks. Steal of a deal.

Did you know that he hand-wrote these massive and dizzyingly complex historical novels with a freakin' fountain pen on cotton paper? Gawd I hate a show-off.


Posted by: gareth on Wednesday, June 28, 2006 - 11:29 PM EST


If you didn't see this on Boing Boing, you really should check it out. We love how scamming/goofing on the so-called 419 scammers has become something of a Net pastime. This guy convinced a Nigerian "Advance Fee" scammer that he was too busy administering a $150,000 scholarship fund for talented woodcarvers to collect the money of his unknown dead relatives assets. Through a series of email exchanges, he convinces the scammer to carve (or at least have carved) a replica of a Commodore 64 computer. Hilarity ensues.


Posted by: gareth on Tuesday, June 20, 2006 - 12:35 AM EST


On Friday, we brought you the news that Warren Ellis has been contracted to develop a TV show for AMC. More recent Ellis news is that, starting with issue 7 of his current comic series Desolation Jones, he'll be working with a new artist, Danijel Zezelj, a relative unknown to the American comics market. The artist for the first six issues was the amazing J.H. Williams III. Look for a trade paperback of the Williams issues, entitled Desolation Jones: Made In England, this fall.

Newsarama has a fairly lengthy interview with Ellis on Desolation Jones, working with two very different artists, etc. If you were as big of a fan of Transmetropolitan as I was, you'll want to check out Desolation Jones. I think it hits (and hits and hits some more) a similar vein.



Posted by: gareth on Monday, June 19, 2006 - 12:50 AM EST


Last September's Mad magazine had a hysterical piece on the "50 Worst Things About Video Games." The copyright-defying fiends over at Destructoid have put up page scans of the entire article. Some of our faves:

* Game designers who can't understand why more women don't play video games, especially since they feature such outstanding female role models as a globetrotting archeologist (with big boobs), world-class volleyball champions (with big boobs), and of course, easily murdered hookers (with big boobs).

* Video game magazines that spend months hyping a game as the second coming, lavishing it with praise and eagerly counting down to its release date, only to dismiss it when it comes out as third-rate, over-hyped crap.

* Racing through the Grand Canyon in a super-charged 350Z with ARC spoilers and HKS turbochargers… then turning off Gran Turismo 4 and driving to work in your 1988 Honda Civic with AM/FM radio and manual windows.

* Donkey Konga, which combines the '60s-era art of bongo drumming with none of the mind-bending hallucinogens that made it tolerable in the first place.



Posted by: gareth on Friday, June 16, 2006 - 06:24 PM EST

Comics and graphic novel juggernaut Warren Ellis has announced signing a contract with AMC cable to create a pilot for a half-hour "sci-fi/black comedy." He writes on bad signal, his mailing list:

"As with all TV Things, everything could go horribly wrong. But this is the deal I've been waiting for, with people who understand the project and format I want to work in. And you know something's going right when people in TV are telling you to go more experimental and take more risks. This isn't your US network TV experience."

Cool. We can't wait to see what he dreams up.




Posted by: gareth on Monday, June 05, 2006 - 01:28 AM EST


I love some of the installation work people are doing with iPods/MP3 players. Popgadget brings us word of this one: R. Luke DuBois' "Billboard" at the Bit Forms Gallery in New York. The Popsters write:

"DuBois took all the songs that reached #1 and aggregated them into one "song." Weighted by the number of weeks the song was on the top of the charts, the average song got one second in the piece. The end result is an abstracted archive of the history of popular music from August 1958, when the list got started, up to today."

Talk about a mashup! "Billboard" is running at the Bit Forms Gallery until July 17th. What? No BitTorrent?


Posted by: gareth on Thursday, June 01, 2006 - 01:25 AM EST


If you're Jurassic like me, you probably grew up marveling at the work of Gerry Anderson and the "Supermarionation" magic he worked on shows like Supercar, Fireball XL-5, Thunderbirds, and Stingray. I'm sure these shows went a long way to rope-starting my lifelong fascination with space, science, gadgets, miniatures, and puppet sex (wait, scratch that last one). Andrew over at PuppetVision (I can't vouch for him on the puppet sex thing), has posted a link to a vid for "The Making of Thunderbirds," a short promo piece, done for UK TV, in 1964.


Posted by: gareth on Wednesday, May 31, 2006 - 01:16 AM EST


This is too funny (as long as it's happening to somebody else's overpriced Apple Cinema Display). This poor sap has a bug living INSIDE of his. He writes on his site:

I never realized that the image of what's displayed on an LCD is actually projected onto the glass surface. The bug can crawl deeper into the picture, looking translucent and barely visible, or right up to the surface where it's so noticeable that I fight the urge to swat it... I have no idea how to get him out, so for now I just have to hope that when he dies, he'll die off-screen, Leo McGarry-style.

Thanks, Jay!


Posted by: gareth on Tuesday, May 30, 2006 - 01:38 AM EST


Here's a funny (enough) spoof of Opus Dei, Da Vinci Code, and Apple. Nice to see Ellen, the stoner chick from the old Apple ads, still getting her props.

Thanks, Jay!


Posted by: gareth on Monday, May 15, 2006 - 11:10 PM EST


The rumored TiVo/Blockbastard partnership seems to be close to an announcement. Zatz is reporting that Blockbuster prematurely switched on the Web page promoting the deal. So what's the skinny? Well that's just it, it's a much ado, basically a cross-marketing arrangement for TiVo subbers and Blockbusters' NetFlix-like (but contract-dependent) DVD rental service. The deal would save dual-service monthly subscribers about US$8/month.

So, nothing really to text message your momma about. You'd think that TiVo would be burning the midnight conference room oil to come up with more market-compelling partnerships and product/service announcements than parental blocking software and $8/month discount coupons. And what about lifetime subbers? Are they SOL?



Posted by: gareth on Wednesday, May 10, 2006 - 12:54 AM EST


Attention viral video shoppers! Check out this nifty Dan Maas Mars Pathfinder animation, set to NIN's "Sunspots," which has been making the e-rounds. To paraphrase one YouTuber: "Rocket fuel and NIN. What's not to like?"

Thanks, Jay!


Posted by: gareth on Tuesday, May 09, 2006 - 02:00 PM EST


The Machinima talk show This Spartan Life, which takes place in the Halo game world, gets my vote for one of the few videoblogs that doesn't suck. I think it's genius, in fact. Why doesn't TiVo feed THIS to my boob tube and not that dreadful Rocketboom? Oh, wait, I think boobs have something to do with it.

Anyhoo, this episode of Spartan Life is basically a clever public service announcement about Network Neutrality. If you have no idea what that is, watch the show, read this Boing Boing piece and then check out the SavetheInternet.com petition.


Posted by: gareth on Thursday, May 04, 2006 - 09:52 PM EST

A user on the Tivocommunity forums discovered an undocumented feature in the latest release of TiVo Desktop for the Mac (1.9.3). If you add a line of code in the OS X Terminal program, you can get videos on your Mac to show up on your Now Playing list on your networked TiVo. Cool! Details of how to do it in the discussion topic linked above.

[Via PVRBlog]


Posted by: gareth on Thursday, April 27, 2006 - 05:39 PM EST


Now that Nate (and his game designer pals) has a brainiac game award under his belt, he's on to his next bright idea. It's a game of change called Condoleeza Dice, 'cause "Diplomacy is Random."

Nate's kicking around different ideas for the game and has created a blog to develop in the open. So stop by, share your thoughts, and watch a game take shape, from brainstorm to marketplace. Right now, he's looking for an artist to do the second iteration of the dice art.


Posted by: Will on Thursday, April 27, 2006 - 04:24 PM EST

The New York Times reports today that the judge who recently ruled on the Da Vinci Code lawsuit buried his own little code in the actual opinion -- until now barely noticed and apparently still unsolved. So subtle was the code that the judge actually had to drop hints about how to start unraveling the thread by looking at certain portions of the opinion that were in a different typeface.

Check the full text of the opinion to figure out the code on your own!


Posted by: Will on Thursday, April 27, 2006 - 04:23 PM EST


Street Tech Senior Editor Nate Heasley's boardgame Wits and Wagers has been selected as a winner of the Mensa Select Mind Games prize for 2006! The game, which involves betting on answers to trivia questions, was co-developed by Nate, along with Dominic and Satish of North Star Games. Rumor has it they still won't let Nate into the high-IQ society, but we're putting him through a routine of Soduko and Tangrams to improve his scores.

[Editor's Note: Congrats to Nate from all your pals at Street Tech. It couldn't have happened to a bigger High Dome!]


Posted by: gareth on Thursday, April 20, 2006 - 04:21 PM EST


Nyko, which seems to make a lot of game and mobile accessories that get our attention, has come out with a kit that allows you to create your own Xbox 360 faceplates. The kit (US$19.99) comes with 6 pre-printed faceplate skins, 15 blank skins, and a clear overplate to house the skins. I haven't seen too many teen's game boxes (or many adult's for that matter) that aren't festooned with stickers and other personal totems, so this seems like a cool way to individualize the look of ye ol' frag box.


Posted by: gareth on Monday, April 17, 2006 - 05:32 PM EST

Making fun of botched Microsoft demos is like shooting fish in a barrel. But given the bluster and bravado of the carp in question, shooting them never seems to lose its appeal. The Korean Times is reporting that, at a recent Samsung show-off of their new Q1 Origami device, MS, Samsung, and Intel execs ALL stumbled and fumbled with the Microsoft-powered ultra-portable. First a Samsung veep couldn't get passed the second page of the Powerpoint presentation on his Q1, then the device's battery gave up the ghost after only minutes of operation (it's rated at 2-3 hours). Then the President of MS Korea couldn't even launch Powerpoint on his unit, and once he did, it failed him so badly he had to cut his presentation short.

But wait, there's more! Then the CEO of Intel Korea whipped out his Origami, to save the demo, but had similar problems, as he and nervous underlings struggled to rope-start his presentation.

The Samsung Q1 will go on sale next month in Korea and will set you back US$1200, ya know, if you don't factor in the cost of downtime, crashes, and calling other people in to help you troubleshoot countless software glitches.

[Via vnunet]

Thanks, Jay!


Posted by: gareth on Monday, April 10, 2006 - 02:48 PM EST


We've chronicled some of wacky side of USB connectivity here on Street Tech. Manufacturers seem to be pushing the limits of what can be plugged into this "universal" technology. So where to next? How about off the deep end? That's where you'll find "universal connections," a German art exhibition of everyday objects plugged into the virtual world via the now ubiquitous USB connector.
I think I might actually want to make a thumb drive with the USB syringe, designed for "data junkies" and for use "in the event of a virus." Hell, now that I think of it, that tie looks pretty geek big-pimpin' too.
Posted by: gareth on Friday, April 07, 2006 - 06:00 PM EST


This one for fans of Japanese WTF? It appears to be a speaker made from a nano box. I'm assuming it's a kit for transforming your own expensive MP3 packaging into a speaker? A Google translation offers such Dada poetry as: "It stops biting, (the paper sounds) the speaker" (That's the NAME of the product, BTW. Catchy.)

Thanks, Jay!


Posted by: gareth on Wednesday, March 29, 2006 - 05:31 PM EST


More high-tech folk art, this of the possibly not work safe (for prude employers) variety. Do copulating components constitute pr0n? Will this get us banned from the U.A.E., via unSmart Filter? We can only hope.


Posted by: gareth on Monday, March 27, 2006 - 05:55 PM EST


People have been streaming DiVx movies from their Windows Media Center PCs to their Xbox 360s for a while now, but it's a fairly involved hack. Jake Ludington of MediaBlab has found a much easier solution, an MCE add-in called MCE Video Encoder. He shows the simple steps involved on his site. It only works with the official DiVx player, so you'll need to grab that, too.


Posted by: gareth on Wednesday, March 22, 2006 - 04:46 PM EST


We love the high-tech folk art here at the Labs -- it is "street tech," after all. And, we love the robots made from junk. These two interests get all origami on us in BoxBots, a wacky menagerie of cardboard robot models crafted by artist Jonathan Keller while he was bored and living in Antarctica.

Other people have gotten in on the act and started submitting their own BoxBots to the site. I love the idea of re-visioning trash, squinting to see if there's a robot lurking in there. You'll never look at your garbage the same way: "C3PO, is that you?"
[Via Make]


Posted by: gareth on Tuesday, March 07, 2006 - 09:42 PM EST

In response to my posting of the YouTube download tutorial, ST Patron Saint Alberto sent a link to this video download page which allows you to enter the URL for videos stored on YouTube, Google Video, iFilm, and elsewhere. You still need a Flash Video Player (FLV) or format converter to view the files.


Posted by: gareth on Tuesday, March 07, 2006 - 06:22 PM EST

If you've become as obsessed with surfing music videos (or other vid content) on YouTube as we have, you might have wondered how you can download content from the site. TubeRaider has a tutorial on doing just that.


Posted by: gareth on Wednesday, March 01, 2006 - 08:22 PM EST

Following on the heels of Apple's rather disappointing press-haha on Tuesday, TiVo announced a press event for Thursday. As Engadget so succinctly put it:

"So, let the guessing game begin. TiVo Series 3? The subscription model? A partnership with NetFlix (could be; the invite promises appearances by CEO Tom Rogers and "other special guests")? All we know is that if they end up showing off nothing but a speaker system and a leather carrying case for your DVR, we're bailing."

<font color="red">Update (3/2/06): It was even worse than anyone expected. None of the above speculated announcements. This "event" was to announce "KidZone," a parental blocking and program recommendation service.

Whoopty-f'ing-Do. We feel sorry for the gadget press grunts that traipsed all the way out to this "event," held this AM, at the Museum of Television and Radio, in the Big Applet.



Posted by: gareth on Monday, February 27, 2006 - 12:41 PM EST

I may be late to the party, but I haven't spent much time on any of the video services that seem to be cropping up like mushrooms in fresh cow patties. This weekend, through a "serendipity search," I ended up taking a link to a Kate Bush video on YouTube. Several days later, I peeled my eyeballs off of the monitor, having delved deeply into the thousands of music videos archived there. I went bananas. I tried searching on nearly every band/artist I've ever been in love with, and found something almost every time: music videos, snips from rockumentaries, concert footage, TV appearances, mash-ups, YouTube members croaking through their own covers, and on and on. It's heaven in there! I'm sure a lot of this stuff has been available on P2P for a while now, but frequently, when I've done searches, I've ended up downloading crap and just given up after a while. This is a far more satisfying (and addictive) experience.


Posted by: gareth on Thursday, February 23, 2006 - 06:41 PM EST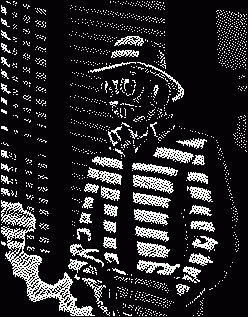 One of the cool things about putting Beyond Cyberpunk! on the Web has been that its content is now getting linked to far and wide. It has triggered fond memories of the bad ol' days of early cyberculture for some, and its reviews and essays are being pointed to by others. Following these links back has led to some fun discoveries. One recent example is a LiveJournal entry where ComicBookLovers linked to my BCP! review of the comic book "The Blue Lily" and wondered whatever happened to books 3 and 4 (only 1 and 2 ever saw print). Author and artist of the book wrote the poster back and updates fans on Blue Lily's possible-future. His email, after the jump.

[And yes, I know I misspelled "Lily" in the review. Hey, at least I was consistent. What can I say, we were young and stupid. Now we're old and careful -- and much less fun to be around at parties.]



Read more... (971 bytes more) 27 Comments
Posted by: gareth on Tuesday, February 14, 2006 - 05:27 PM EST


If you didn't get a chance to see Discovery's "Before the Dinosaurs" broadcast this past week, you might want to add it to your TiVo WishList. It's definitely worth the disc space.

Like "Walking with Dinosaurs," this BBC-produced speculative doc uses state-of-the-art animation, animatronics, and other F/X, oh yeah, and some actual science, too, to paint a picture of what the world might have been like from the Cambrian period (530 million years ago) to the Permian (250 MYA). The production is just incredible, the content is like something from a very effective horror flick: sea scorpions as big as a man, giant spiders the size of bowling bowls, dragonflies the size of eagles, 10-feet long millipedes, lightening that literally makes the sky explode, drought that kills off 90% of all life on Earth, proto-dinosaurs the size of large insects, pre-mammalian beasts that digest vegetation by rolling river-rocks around in their guts. Crazy.

Like a lot of these BBC/Discovery "science" "documentaries," this is more about the geeky thrill of generous extrapolations of real science and fossil record than it is sticking to known evidence, but keeping that in mind, it's still a lot of fun and it certainly gets the point across that life had a weird and wondrous backstory before the dinos showed up and it was likely one inhospitable place to grow up. And you thought downtown Fallujah or a south Texas quail farm was a dangerous place to be!



Posted by: JIMWICh on Saturday, February 04, 2006 - 08:45 PM EST


I went with friends last night to catch the new IMAX film, "Roving Mars." Wow, what a ride!

The film's based on the book, "Roving Mars: Spirit, Opportunity, and the Exploration of the Red Planet," by Steve Squyers, and presents the dual missions of the Spirit and Opportunity rovers, which were launched in June and July of 2003. It combines interviews with mission scientists, scenes from the the trip to Mars, and the fascinating discoveries that the rovers have been beaming back to us during their unexpectedly long lives.

From the triumphs and setbacks during the mission's development, to launch and arrival, to sweeping Martian panoramas, to the incredible machinic origami of the rovers, there's so much exquisite geekery to savor here!



Read more... (1906 bytes more) 22 Comments
Posted by: gareth on Monday, January 30, 2006 - 02:26 PM EST


I've been having a blast recently engaging in a unique form of multimedia... ah... edutainment that I thought I'd share with the group.

If you haven't heard of the 33-1/3 Series of books, each of which explores a single influential album of the past forty years, you really should check 'em out. It's an awesome concept and some of the titles are brilliant. I've been buying one of the books, ripping or downloading the album it covers, and then listening to the recording on my iPod at night as I read the text. Most of the books are written so that each chapter covers a track on the album. It's fun to read about a song's context, composition, and recording and then listen to it. It can really get you inside the music in a very deep, insightful way.



Read more... (1989 bytes more) 20 Comments
Posted by: Will on Sunday, January 22, 2006 - 03:56 PM EST

So it turns out that the new Apple ads promoting their Intel chips looks very similar to a music video by emo band The Postal Service, who are crying foul saying "We did not approve this commercialization and are extremely disappointed ..." The music video and the Apple ad were apparently directed by the same person, so it's pretty easy to figure out who to blame. Some folks think it's copyright infringement, some think it's not, others think it should be considered parody, and others still don't care much one way or t'other. I happen to think that whether or not it's technically copyright infringement, it's a crappy thing to do. There is an irony to it though - the US Postal Service actually wasn't all that pleased with the band using their name, but they resolved it amicably by licensing the band the use of the name in exchange for the band agreeing to ship their Internet orders via USPS. And as far as I'm concerned, that's how most trademark disputes should be resolved.

If you want to understand the controversy, check out this handy comparison video.


via BoingBoing


Posted by: Will on Friday, January 20, 2006 - 03:50 PM EST

Here's a little gem I ran across (thanks to Cory) - a weekly podcast of original science fiction audio shorts called Escape Pod. They publish new stories about once or twice a week, each about half an hour long. All of their recordings are available from their website for direct download as MP3, or via any number of podcast systems.

All the stories I've listened to so far are quite good - and perfectly timed for my morning commute. Escape Pod apparently keeps quality up by having good editors and by actually paying the authors of the stories for the non-exclusive audio rights. What's even more impressive is that Escape Pod then releases the stories under a CC license, which means you can share 'em with your friends as you like. And they support all this on donations alone.



Posted by: gareth on Thursday, January 19, 2006 - 02:37 PM EST

Gee, look how long it took a record company to connect the dots on this one. Universal Music Group has started a project (they've dubbed "digital archeology") to assemble 100,000 downloadable songs from artists whose work is currently unavailable on CD. Artists include '60s psychedelic bands, Marianne Faithfull, Fairport Convention, and (gulp) Englebert Humperdink.

[Via The Register]


Posted by: gareth on Tuesday, January 10, 2006 - 01:23 AM EST


Links to the beta of the new TiVo Central Online interface have been floating through cyberspace.

The new program is Ajax-based. Clicking on a show in the schedule grid expands to reveal more info about the program and buttons for recording and creating season passes. You can also customize your schedule by color-coding different content types (movies, sports, special interests, etc.). Here's a link to the beta. You already have to be logged in normally for it to work. Nothing too terribly exciting, but definitely an improvement over the existing interface,


Posted by: Will on Wednesday, January 04, 2006 - 11:29 PM EST

Live from CES...well, we're not actually at CES, but our younger, better-looking brother Engadget is. He says that Sony's just announced from the show floor that a new "Sony Connect" download service will go online in March to provide "movies and new titles" for download. This isn't completely unexpected - Sony built DRM into the latest version of the PSP firmware and has had a TV download site in Japan for awhile. But it's good news that finally somebody is offering full-length movie downloads, even if playback is somewhat limited by Sony's DRM. What really has me drooling is the "...new titles" that Sony mentioned. Could this be mini-games, like the new XBox Live offers? Maybe they're still just talking about movies or maybe they're talking about some lamo viodeothingycasts that everyone's abuzz about these days. I suppose we'll get the details soon enough, but tonight I will dream of PS1 titles and hope that dawn brings Sony support for indy developers...


Posted by: gareth on Wednesday, January 04, 2006 - 02:05 PM EST

Who guitarist Pete Townshend has an odd warning for the generation of earbuds and iPods: Keep the volume down and save your hearing. Townshend has hearing loss that he attributes to years of using studio headphones. Wait, wouldn't years of touring with one of the loudest rock bands of his era have a little something to do with it? Anyway, he makes a point.

I'm thrilled that widespread portable music playing has gotten many of us really listening to music again (you hear things with 'phones that you just don't hear with over-the-air playback), but it can come at a cost if you rock too hard. So, no crankin' it to "11," there Nigel!

Read the short AP piece here.


Posted by: gareth on Wednesday, December 14, 2005 - 01:32 PM EST



I saw this game, Samorost 2, mentioned on Attack of the Show a few days ago and checked it out last night. Man is it cool. I was up until the wee hours playing it. Gee, I hope none of my editors are reading this. It was research, surely -- so that I can more deftly understand the online milieu. Yeah, that's it. Anyway, if you're a fan of Myst-like narrative puzzle games, you'll get a kick out of this Flash-based wonder. Beautiful look, awesomely outside soundtrack, great sense of humor, and some maddeningly hard puzzles. The first few levels are free, access to the full game is under ten bucks.


Posted by: gareth on Tuesday, December 13, 2005 - 06:17 PM EST

For you tightwads in the house (Craniac, is that you?), heads up on the free, online release of the original SimCity game. To play it, you need to register with Maxis, and you'll need to run ActiveX control in Internet Deplorer, but if that doesn't scare you off, have fun. It's free! The link makes a great gift.

[Via TechBlog]


Posted by: gareth on Thursday, December 08, 2005 - 04:28 PM EST


It seems as though every day brings some new announcement related to "post-broadcast TV," "IPTV," or whatever we're going to end up calling it: the rapidly smudging margins between broadcast/cable television and Internet-delivered video content. TiVo has recently started offering TV content delivered to your TV/TiVo over broadband (i.e. to TiVo boxes connected to a LAN and the Net). Today's offering is a free subscription to Rocketboom, a daily NY videoblog of weird and wacky happenings on the Net and off of it. Think: video BoingBoing. No, really. Like a lot of the news content on Attack of the Show, we get the stinking feeling that Rocketboom deeply datamines our BB pals for copy. Why is it that it's common etiquette to give credit where credit is due in the text blog world, but no such transparency extends to the video blogging world?

So, is Rocketboom any good? Worth subscribing to? Um...it's got a fetching host, does that count?

Anyway, the news here isn't about this particular show, but the beginnings of this sort of content delivery over broadband to your TV set.

[Via Make]


Posted by: gareth on Friday, December 02, 2005 - 01:49 PM EST


According to a piece in NewScientist, a group of compscis at Helsinki University have developed a system to add a fitting soundtrack to your next air guitar solo. The system uses computer vision to monitor hand placement/movements and to play fitting guitar riffs to go with them (one would assume making adjustments for utter lack of talent -- which would be why you're playing air guitar in the first place). The piece has a link to a video demo. Oh, the humanity!

Thanks, Jay!


Posted by: Will on Tuesday, November 29, 2005 - 01:18 PM EST

Sony has updated the firmware of the Play Station Portable, now up to version 2.6. The new version adds support for WMA audio files (though apparently not the "Plays For Sure" kind), and adds an RSS reader to the mix as well. Most telling though is the addition of support for encrypted video files.

Could this be the first step towards an iTunes-like /musicvideo store from Sony? They certainly have enough content of their own to push out to consumers, and they have started a digital video download service in Japan, though their ties with Japanese TV are a little closer than US TV. Keep in mind though that Sony produces huge amounts of TV shows on DVD, and probably has relationships with numerous insiders. Hopefully this firmware upgrade is a foreshadow to the launch of a US media store for PSPers that would allow downloading of content from anywhere there's an open WiFi connection. I'd take that over video iPod any day.

*note that the new firmware upgrade, just like previous ones, will prevent you from runnning unauthorized software on the PSP, which really stinks.


Posted by: mrklaw on Monday, November 21, 2005 - 01:13 PM EST

The AP reported yesterday that TiVo will be releasing an update in early 2006 which will allow videos exported through their TiVo2Go service to be converted for import into iPods and PSPs. More information after the jump.

[via PVRblog and TiVo's own blog]



Read more... (673 bytes more) 27 Comments
Posted by: gareth on Sunday, November 20, 2005 - 04:43 PM EST

SNL had a hysterical sketch last night where Steve Jobs (played by Chris Parnell) announces a series of iPods, each smaller and more powerful than the last, until he gets to the "invisia" (unseen in his hand) which can hold "eight million songs and every photo ever taken."

You can see video of the skit here.


Posted by: gareth on Thursday, November 17, 2005 - 03:52 PM EST

Now that I have pearlLyrics automating my lyric look-ups in iTunes, I was hoping for the same sort of thing for album art. My wish is some geek's command. iTunesCool (is that caveman speak?) is an AppleScript that fetches cover art from Amazon, based on iTunes database info (the Album field, I'd imagine). iTunesCool cool! Unfortunately not cool is the fact that the server for the program has been hosed by all of the attention, so check back later, or look for it elsewhere.

[Via iPodHacks]


Posted by: gareth on Monday, November 14, 2005 - 10:46 PM EST


The popular Joy of Tech online comic strip has its way with MAKE magazine.


Posted by: gareth on Monday, October 31, 2005 - 12:10 PM EST


If you're an avid gamer, you've probably asked yourself: Where are the fantasy first-person shooters? The guys behind Project Offset asked themselves the same question. And in the true spirit of DIY, they decided to take matters into their own hands and create the fantasy FPS that they'd like to play. The results, so far, are mind-boggling. This is not a mod, this is a ground-up game engine and epic fantasy world with graphics that put many other well-capitalized efforts to shame. This has all been accomplished by three volunteers working in a guy's apartment! It's hard to imagine that the sneak peak demos are real, in-game renderings, but they claim they are. There are still years of development left, and the team is looking for funding or being picked up by a commercial developer, but seeing what they have so far, we can't imagine that's not going to happen.


Posted by: gareth on Friday, October 28, 2005 - 04:46 PM EST


And you thought your life involved crazed levels of multitasking. This guy, Ravi Jain, is shooting a weekly video blog from the driver's seat of his car during his daily commutes between Jamaica Plains and Allston, MA (a.k.a. "five hours of 'studio time'"). He has guests on (who are bumming rides), and when his wife commutes with him, they do a "Regis and Kelly" type show (or at least that's how Ravi fancies it), with some "marital banter to start the show" (oh joy!). He's also thinking about doing things like a portable-grill cooking segment, if he gets snarled in traffic, and a game called "What's in the Trunk?"


Posted by: gareth on Tuesday, October 25, 2005 - 03:55 PM EST


PSPGBA is a Game Boy Advanced emulator for the PlayStation Portable. The just-relaesed Version 1.1 adds a speed boost, a 240x160 screen mode, and some other features and fixes. You can download it here (altho the server appears to be hosed at the moment).

[Via PSPupdates]


Posted by: gareth on Monday, October 24, 2005 - 03:45 PM EST


Our comrades over at Engadget are running a Halloween Costume Contest. Be the biggest geek in your clan and you could win some awesome prizes, such as a 30GB video iPod, a Moto RAZR V3, or a Tokyo Flash watch.


Posted by: gareth on Monday, October 24, 2005 - 03:33 PM EST

We don't do many software reviews here on Street Tech, but I've really been enjoying a little app I downloaded a few weeks ago called pearLyrics. Available as a Widget for Tiger or a stand-alone app for Panther (yes, unfortunately, it's Mac-only), pearLyrics runs in tandem with iTunes (5.0 or higher). As you play a track, it looks up the lyrics using a number of lyrics databases. It presents the lyrics in the pearl app (or Widget), and you can also tell it to automatically paste them into the new Lyrics tab in iTunes. Nifty. Of course, you're still at the mercy of the many misheard lyrics found on these sites, but it's a start, anyway.


Posted by: gareth on Wednesday, October 12, 2005 - 06:30 PM EST


Talk about your cool band merch: The White Stripes are allegedly selling a 3" phonograph record player at their gigs, along with exclusive 3" vinyl to play on the wee wheel. Called the "Triple Inchophone," the player and disks are apparently only available at Stripes' shows.

[Via Fader]



Posted by: gareth on Wednesday, September 21, 2005 - 02:54 PM EST

According to an article in the Wall Street Journal, a four-location chain of record stores in New Jersey, Scotti's, in an effort to keep up with the times, is allowing customers to buy CDs, burn 'em, then return 'em, for 70% store credit. You go, Scotti! Hang onto those bricks and that mortar as long as possible. And ignore all those "Cease and Desist" letters from the RIAA.


Posted by: gareth on Monday, September 19, 2005 - 01:00 PM EST

In case you missed it, on Salon or the postings on Boing Boing, Cory Doctorow's novella, Themepunks, is being serialized on Salon. The second installment in now available.

[Salon subscription or ad subjection required.]


Posted by: gareth on Thursday, September 15, 2005 - 04:44 PM EST

Trailer/website for the new David Cronenberg film, A History of Violence, based on the Vertgo graphic novel by John Wagner and Vince Locke. Looks like a departure for Cronenberg, and a potentially good flim.


Posted by: gareth on Tuesday, August 23, 2005 - 11:38 AM EST

Sorta kinda funny phone call pranks to Best Buy's "Geek Squad"


Posted by: gareth on Monday, August 22, 2005 - 11:41 AM EST


Watching Peter Chung's animated series for MTV, Aeon Flux, was the closest I've gotten to hallucinating since I, well, stopped ingesting things that do the heavy lifting for you. So, I've been keenly interested in the live action film, starring the very talented and painfully hot Chalize Theron.

After watching the trailer, I gotta say: P.U.! This thing looks ALL wrong. It has none of the inexplicable, tripped-out, lizard-brain insanity that made the cartoon so effective. They didn't even get Aeon's look right. A possible tip off to the fact that it might be crap is the rumor that Paramount had originally slated it for September. That's usually where poorly-tested films go to die. It currently has a Dec. 2 release date.



Posted by: gareth on Friday, August 19, 2005 - 02:30 PM EST


Oh. My. Gopod. This might be the coolest, funniest thing ever! Okay, at least this week. It's a talk show, an extremely well done, professional-looking talk show, called This Spartan Life, filmed live in the world of Halo. It's freakin' hysterical. If I were a forward-looking TV studio, I would sign these guys, stat! This is so much better than any of the faux game world/virtual character shows that TechTV, MTV, or anyone else has attempted. Auspiciously enough, the first guest on the first episode is Bob Stein, founder of Voyager, the ground-breaking CD-ROM content company. Voyager was a huge influence on Peter Sugarman and myself while we were developing Beyond Cyberpunk. The guest may be auspicious, his entrance? Not so much. Really funny stuff.

[Via Boing Boing]



Posted by: gareth on Saturday, July 02, 2005 - 01:50 PM EST

Joe Nickell, former Street Tech contributor, our house bartender, and devout opera fan (that's right, opera), has a piece in today's NYTimes on the resurfacing of an opera about the Blackfeet tribe of Montana. The perfomance was 95 years in the making.

Congrats, Joe! Now mix us up a round of Mojitos and crank up the Caruso!


Posted by: gareth on Sunday, June 19, 2005 - 01:43 PM EST


At a TiVo Community meet-up in Vegas recently, a series of TiVo beta products were demo'd. One of them, seen here in this presentation pic, appears to be a movie-on-demand type downloading service. Something was also shown called the TiVo Personal Entertainment Network, which appears to allow users to upload home videos to their TiVos.
[Via PVRblog]


Posted by: gareth on Friday, June 10, 2005 - 09:01 PM EST


Some goofball dressed hisass up as one of the black silhouette dancers from the ubiquitous iPod ads and flailed around in a Michigan Apple store to the Beatles...er...I mean...The Kinks... I mean Jet. Everybody acted like they didn't noticed.

[Via Cult of Mac]


Posted by: gareth on Thursday, June 02, 2005 - 01:19 PM EST

I'm always fascinated to see what sorts of crazy new games Will Wright and Maxis (creators of the Sims games) come up with. Wright's latest project, which has generated quite a buzz online, is called Spore. Players start off as cellular organisms and follow an evolutionary path (all the way up to intelligent lifeforms), tweaking (mutating) their creations as they go. This video demo by Wright at the most recent Game Developers Conference is so awe-inspiring. In a world of endless first-person shooters and racing games, Wright always bring something fresh, intelligent, funny, and creative into the mix.

BTW: Spore is built on a procedural synthesis-based approach (see previous item on the Xenon architecture), allowing tremendous amounts of game data to be stored on the game disc, traded over the Internet, etc. Wright says that he was inspired by the "Demoscene" and their ability to cram as much media data and performance as possible into the smallest amount of space.

[Viewing video requires free, instant registration]


Posted by: gareth on Tuesday, May 31, 2005 - 06:38 PM EST


When I was a little kid, I was seriously creeped out by the Topps Mars Attacks! bubble gum cards. Even though the Martians were sort of over-the-top and funny looking, there was something truly scary about them. The Tim Burton movie, underrated if you ask me, did a great job of capturing the camp and cartoonishness, while delivering a satisfying degree of menace. Now you can see the entire 1962 set of Mars Attacks! cards at Trader Crack's


Posted by: gareth on Sunday, May 22, 2005 - 02:05 PM EST

Watching the E3 coverage, online and on G4TV, a relatively clear picture has emerged as to what the strategies are of the big three game console companies (Microsoft, Sony and Nintendo).

Microsoft's Xbox 360 is not really so much a next-gen console as it is MS's stealthy attempt at getting a home entertainment computer attached to your TV set. They have bet that what people want (even if they don't know they want it yet) is a box that can not only do games, but can be the gateway to a whole bunch of services and a virtual marketplace that'll suck in the whole family. J Allard got a lot of snickers over a vision he laid out in the press conference of two 360 users: Striker, a hardcore gamer, probably the purchaser of the console, and VelocityGirl, likely his kid sister, who's not interested in games, but uses the built-in marketplace/micropayments system to create T-shirts and other products, and designs game components to sell to gamers like Striker. Then, of course, mom and pop like the photo slideshow capabilities, the digital music playback, the movie trailers, etc. It's one big happy family warming their hands over the digital fireplace thoughtfully provided by Chairman Bill.

Sony's vision is very different. They're all muscle and hardware, building their console around the amazing Cell processor. They really went all out to create a true next-gen platform that pushes currently available hardware to the limit. It's all about wow factor and trying to get developers excited about creating levels of gaming experience not previously possible. The PS3 will have a removable hard drive and also have some home entertainment functionality, but that's not really a focus. Same with online play. Sony thinks that online play isn't nearly as important as MS thinks it is and they'll offer more of it as the demand is there. It's really telling that, as MS spent 20 minutes talking about Striker and VelocityGirl using all of the services on 360, Sony was showing jaw-dropping videos demonstrating the raw processing/real-time rendering power of PS3.

And then there's Nintendo. So Japanese. Understated. Humble. Holding tight to their long-standing tradition of not overhyping what's not ready to show ("understate and over deliver" is their motto). They showed scant little of the Revolution and premiered the weird GameBoy Micro, a cellphone-sized machine (with a teeny-tiny screen to match). But they seemed completely unphased by the bravado of the big 2. For them, it's not about selling services or bleeding-edge hardware, it's about creating the electronic equivalent of crack, games that are so good, so addictive, people will even buy the hardware just to play them. A lot of people bought the GameCube just to play Legend of Zelda, and Nintendogs, a pet sim, has made the Nintendo DS the biggest selling handheld in Japan by a wide margin.

So, Street Techies, time for a straw poll. In your opinion, which of these visions of the near future will win out (and yes, I understand that Nintendo is sort of in a category by itself and has no expectations of "winning" the console war)? Is the NEAR future about moving beyond the gaming experience into a wider entertainment field via the console? Or is it about creating mind-bogglingly immersive gaming worlds that are ever-closer to reality? Or does it really come down to something as "simple" as making really fun, addictive games without all of the smoke and mirrors that the other two players seem distracted by?

Discuss.


Posted by: gareth on Tuesday, May 17, 2005 - 11:16 PM EST


I just saw the video teaser for the game Killzone 2, being developed for the Playstation 3, and it was truly harrowing. The graphics are amazing, the cinematics are fluid and life-like, and the action is intense, like you're suddenly in the middle of the "hold the bridge" firefight scene in "Saving Private Ryan."

When this vid premiered today at the E3 Expo, debate immediately raged over whether what was shown was a pre-rendered computer graphics (CG) video or a capture of real-time game play (or a clever mixture of both). Sony claims it's real-time. It, and the rest of the Sony press conference, has caused quite a stir among gamers and stolen much of Microsoft's thunder for their XBox "360." And gawd, don't you want to cut through the crap on the: "It's '360' cause you're now in the middle of the gaming experience?" It's vacuous market poo. From now on, we should just start calling it the Xbox 2, 'cause that's what it really is. They just didn't want to call it that 'cause Sony has a PS *3*. So they paid someone who drinks far too many fussy coffee drinks and covers his desk in Koosh balls, Zen rock gardens, and other "brainstorming toys," a lot of money to come up with an excuse to use "3" followed by some other digits.

Don't get me wrong, I'm a fan of the Xbox -- it's one of the few MS products I actually like. But the more hype and gooey marketspeak they slather onto the 360, the more I want to demote it to a 2. And the more I hear about the PS3, the more I think it's actually a true next-gen console worthy of a number unto itself.



Click on the image above to see a larger image from Killzone 2 (likely a composite).
Click here to see the amazing PS3 specs and links to PS3 coverage via Gizmodo.

<font color="red">UPDATE</font color=red> Here's a link to the game trailer (QuickTime).


Posted by: Craniac on Monday, May 09, 2005 - 08:41 PM EST

I'm on "vacation" right now (the whole family is with me) and I've been looking for games to play with the kids while it rains outside here in Portland.

Having grown up on Car Wars, OGRE, and other paper classics, I find myself drawn to analog tabletop gaming as my kids get older.

Board Game Geek has a nice list of games that are free to print and play

There are other "open gaming" resources out there, but they mostly seem focused on RPG titles such as the labrynthinely-licensed D20. I'd like to make/find an "open gaming" licensed version of something like the classic Ogre by Steve Jackson.

Cheap A** games has a lot of great stuff for <$5.00, including a section of free titles.




Posted by: gareth on Monday, May 09, 2005 - 02:07 PM EST

Apple has put up a gallery of movie trailers (and other content) in high-definition Quicktime. The recently-released Quicktime 7 makes use of the H.264 codec (compression/decompression) technology which is being widely adopted as the new standard for everything from third generation (3G) broadband cellphones to high-definition TVs. One thing that's great about H.264 is its ability to offer incredible image quality at surprising low data transfer rates, making it perfect for streaming content, video on demand, and mobile broadband.

To play these QT HD videos, you'll need a G5 Mac and Quicktime 7. The results really are impressive: fast download times and crystal-clear image quality.


Posted by: tatertot on Monday, May 02, 2005 - 12:22 PM EST

If you're reading this story, it means we've successfully moved from our old hosting service to a new one. Hopefully, nothing got screwed up in the process, but Murphy's Law is one that we're very familiar with. So if things seems a little screwy for a few days, please forgive us.


Posted by: gareth on Friday, April 15, 2005 - 12:02 PM EST


Those who fondly remember the animated series "Pinky and the Brain" will appreciate this page of the dysfunctional duo's frequent "Are you pondering what I'm pondering?" exchanges. I always loved the read-in-what-you-want subversion of such lines as:

Brain: Are you pondering what I'm pondering, Pinky?
Pinky: Sure, Brain, but how are we going to find chaps our size?

B:Are you pondering what I'm pondering?
P:Umm, I think so, Brain, but what if the chicken won't wear the nylons?

And the sheer Dada of:

Brain: Pinky, are you pondering what I'm pondering?
Pinky: Uh, I think so, Brain, but we'll never get a monkey to use dental floss.

B:Are you pondering what I'm pondering?
P:I think so, Brain, but I don't think Kay Ballard's in the union.


Posted by: gareth on Friday, April 01, 2005 - 01:39 PM EST

Funny Boing Boing parody site here.


Posted by: Craniac on Friday, February 25, 2005 - 12:07 AM EST

I'm assuming that most of you have heard about podcasting at this point. Basically, it's XML feeds of downloadable audio that are scanned by an RSS aggregator of sorts which knows to only download the new stuff. I'm using iPodder to grab some news and such.

So while digging around I came across this excellent collection of public radio podcasts.


Posted by: Craniac on Wednesday, February 23, 2005 - 01:18 AM EST

Someone has cobbled together an overview of the new Star Wars, built from scraped screen shots (where did those come from?) and analysis of fan discussion. This guy would make a great qualitative researcher. I'm sure that Lucas' Sith lawyers are headed towards this guy's house even as we speak.

[Massive spoilers]


Posted by: gareth on Friday, January 14, 2005 - 02:37 PM EST


Don't forget to touchscreen your Treos to remind yourself that Battlestar Galactica premiers tonight at 9pm) on the Sci Fi Channel. If it's as good as the recent mini-series, it'll probably be worth a Season Pass.


Posted by: gareth on Friday, January 07, 2005 - 04:59 PM EST

Don't know if other Street Techies know about MusicPlasma, but I hadn't. It's a nifty graphical, relational database of musical artists. Really cool.

[Thanks, Alberto!]


Posted by: gareth on Friday, October 29, 2004 - 12:21 PM EST


The laughter continues at the expense of corporate pop confection Ashlee Simpson with this hysterical riff on Apple's U2 special edition iPod. It even comes with enough money to use a payphone to call your daddy when you get caught lipsyncing live on national television. Talk about getting caught with your ultra-low-rise jeans around your ankles. Yikes!


Posted by: AndrewS on Thursday, October 28, 2004 - 10:10 PM EST

In the past three weeks, I've been attacked by an undead can of tomatoes, completed the quest of the Deep-Fat Friars, and stormed the lair of the Ninja Snowmen with my trusty balloon monkey by my side. It's the only online RPG populated by black-and-white stick figures, but I've become hooked on the Kingdom of Loathing.


Posted by: AndrewS on Thursday, September 30, 2004 - 01:59 PM EST

How to pick up and carry your iMac G5

It's good to see a resource available for people who might be confused about how to pick something up and carry it, and yet somehow have the technical skills to get onto the Internet.


Posted by: gareth on Monday, September 13, 2004 - 12:59 PM EST


As I mentioned in a previous posting, I worked with composer/artist John Bergin recently to create a soundtrack to Traitor General, the latest Gaunt's Ghosts novel by Dan Abnett. The Gaunt series takes place in the gothic sci-fi gaming world of Warhammer 40,000. John and I created a soundtrack (with John doing most of the heavy lifting) to accompany a limited edition hardback version of the novel. I wrote an article for The Black Library about the making of the soundtrack and interviewed John about composing the music. You can also see a title list and the full credits here.


Posted by: gareth on Thursday, August 05, 2004 - 12:36 PM EST

Ubisoft has opened the doors on a Web site preview of Myst IV: Revelation. The site does a pretty decent job of recreating the look and feel of the game itself and there are the usual puzzles to solve and mysteries to contemplate. The press release says there are also "exclusive bonuses to discover and collect."


Posted by: assneck on Wednesday, August 04, 2004 - 06:32 PM EST

Looks like FCC has cleared the way for you to share your 10 Seasons of Tivo'd "Frazier" legally!

"The new technology would allow subscribers to download those broadcasts to their computers and then send copies of recorded shows to their offices, homes, or to different rooms within a home. A recording could also be sent to a few friends as long as they're on the subscriber's registered account."



Read more... (809 bytes more) 15 Comments
Posted by: assneck on Wednesday, August 04, 2004 - 11:28 AM EST

[Ed Note: This video is hysterical. I like how it sorta starts reasoanble and then progressively decays into complete technobabble. -Gareth]

For a number of years work has been proceeding in order to bring
perfection to the crudely conceived idea of a machine that would not
only supply inverse reactive current for use in unilateral phase
detractors, but would also be capable of automatically synchronizing
cardinal grammeters. Check out this fascinating video on the topic. I think I need one for my data center.



Read more... (79 bytes more) 22 Comments
Posted by: gareth on Tuesday, July 13, 2004 - 12:18 PM EST

The Simpsons' Comic Book Guy sez: "Best Pre-Chapter 11 Appeal EVER!"

OPEN LETTER - FOR IMMEDIATE RELEASE

Alternative Comics needs your help!
Please buy our books from your local comic book
store to help Alternative Comics survive!

Dear Comics Fans:

I'm Jeff Mason making a direct appeal to you, our faithful readers, in a time of serious financial difficulty. If you could find a way to buy some of our books listed below, you would greatly help in our time of financial crisis. Please check off the books you want below and then buy these books from your favorite retailer. You can also use the checklist in the back of your copy of Alternative Comics #2 that was given out by your local comic book store on Free Comic Book Day. If your retailer does not stock our comics and books, they can use this form below as a way to order our in stock titles form any of our distributors.



Read more... (2860 bytes more) 18 Comments
Posted by: gareth on Tuesday, June 29, 2004 - 11:47 PM EST

Our pal Cory Doctorow's novel Down and Out in the Magic Kingdom has just won the Locus Award for Best First Novel. Congrats, Cory!

Cory writes on his e-list:
The Locus Award is based on a popular poll of readers of the trade mag, a larger group than even the Hugo voters, making it the largest beauty contest in the field. I couldn't be any happier: thanks everyone! Hope to see you at the World Science Fiction Convention in Boston, where the award will be presented.

http://locusmag.com/


Posted by: nate on Thursday, June 10, 2004 - 02:11 PM EST


Xeni over at BoingBoing is co-curating an online "art" project called Sent. The project aims to "test the limits of creative possibilities" of phonecam moblogging. Celebrity "artists" are contributing, but nobody you're likely to be impressed by. Unfortunately there seems to be no difference between the project and any other foto moblog. There's not even an interactive ranking system or anything to let you see the best of the "amateur" contributions -- just random flotsam from the sea of bad photography.

We love you Xeni, and we're all for the idea of moblogging, but at some point you need to ask yourself if this project is a tad over-hyped. I would think that a red flag would've been raised as soon as you saw the phrase "Phonecams are changing the way we see the world, and our place within it" on the website<font color="red">? And can you really be deconstructivist if you're sponsored by Motorola?

If you want to participate, you can send your pics to submit@sentonline.com from your cell or PC.


Posted by: nate on Tuesday, June 08, 2004 - 01:03 PM EST

Robert Quine, famed rock/punk guitarist of the Voidoids, who played with the likes of Reed and Eno, is dead at age 61 from an apparent suicide. One of his albums was called Beyond Cyberpunk, though the connection between the artist and Street Tech is unknown (Gar, care to explain?). You can read the Times obit for more details of Quine's impressive career.


Posted by: nate on Thursday, April 15, 2004 - 01:15 PM EST


When the EyeToy came out the only games one could play with it were the included mini-games which are fun, but get old quickly unless you're playing with other folks. But a few new games are on the horizon that break from the dancing game trend that seemed like it would eat the EyeToy up. One is Saru Eye, scheduled to be released this summer in Japan. It seems to involve controlling an on-screen character rather than being the character in the game, which opens up a whole new genre for the EyeToy.

via IGN.


Posted by: nate on Wednesday, April 14, 2004 - 01:33 PM EST


Burger King has found an odd way to promote it's new "Chicken Your Way" campaign: it set up a chicken porn site. Subserviant Chicken shows a mock web cam porn site, with a chicken dressed in a rather racy outfit. Under the "live" pic is a command line where you can enter in your sickest chicken fantasies -- as in, have your chicken your way -- by enterring in commands like "show me your juicy thigh" or "shake it like a poloroid picture." It's amusing and yet nauseating at the same time. I feel unclean, and I certainly don't feel like eating a chicken sandwich...


Posted by: nate on Wednesday, April 07, 2004 - 02:41 PM EST

removed under protest


Posted by: nate on Friday, March 26, 2004 - 09:55 AM EST


I've changed my mind -- I want one. When first the Playstation Portable was announced, I thought that handhelds were for teenagers, while adults did their geeky gaming in the privacy of their own homes with the curtains drawn. But as details of the PSP have steadily crept out, my interest has steadily increased.

The latest bit of info to be released indicates the PSP will indeed have internal WiFi to connect to Playstation (2? 3?) or PC and head-to-head gaming. It will also be more powerful than the current Playstation 2, though that's on a "polygon for polygon" count, and polygon's aren't everything. But they're a big part of it, if this video of a game called Death Jr. (a Tim Burton inspired platformer) is any indication.

The release of the PSP is still up in the air, but this recent news indicates that it's not vaporware, and gives some credence to the expected March 2005 release date. Price, and other specs, are still unknown.


Posted by: nate on Monday, January 05, 2004 - 10:03 AM EST


Check out this amusing little flash animation which has Gollum rapping about his travails in Middle Earth. Funny Stuff.


Posted by: Jordan on Monday, December 22, 2003 - 11:00 PM EST

Brian Briggs over at BBspot has written a very thorough review of the current digital music store offerings, including iTunes Music Store, the "New" Napster, Musicmatch, Rhapsody, Wal-Mart, BuyMusic, and oldster EMusic. Though I'm still pretty fond of CDs, myself, this is just the sort of round-up that many music fans have been waiting for. (The site is currently encountering a bit of Slashdot effect, so be patient.)


Posted by: nate on Thursday, November 13, 2003 - 01:04 PM EST


Kazaa has struck a deal to distribute Hindi-language film Supari, which will be made available to Kazaa users for just $3. Soundtrack tunes cost about $1. The deal marks the first feature film distribution for Kazaa, and perhaps a turning point in the perception of P2P networks as inherently illegal. To bolster the positive image of P2P, Kazaa is taking out print ads touting the benefits of distributed file-sharing and the ways it can help industry.


Posted by: gareth on Thursday, November 06, 2003 - 02:19 PM EST

This Sunday night, from 8 to11pm, the Discovery Channel is running Rocket Challenge, a marathon of three 1-hour shows devoted to amateur rocketry. From the previews, it looks like they at least did a great job filming lift-offs and in-flight camera sequences. I've been amazed that there haven't been more of these rocketry shows on Discovery, TLC, etc. Hopefully, we can look forward to more in the future.


Posted by: gareth on Monday, October 27, 2003 - 05:58 PM EST

The rumors have been confirmed (by the man himself): Street Tech's fave comics writer, Warren Ellis, confirmed today that the WB has bought the rights to his Global Frequency comic series. In Warren's Bad Signal e-list, he writes:
I forget all the details and I'm freezing bloody cold in the pub, but as I remember the deal comes with a script commitment -- my friend the screenwriter John Rogers is writing and developing -- and I'm on as a consultant and producer. There will, of course, be necessary adaptations to the TV medium -- that's just the nature of the beast -- but John is nailing the tone of the series admirably.
For those who aren't familiar with GF, it's a cool concept: a smart mob of far-flung agents are called, via cell phones, to do some piece of a secret agent job -- it's distributed crime fighting!


Posted by: gareth on Tuesday, October 07, 2003 - 03:13 PM EST

Vivendi Universal announced today that Half Life 2 won't be released for the holidays '03 'cause a third of the source code had been stolen by hackers. Apparently a hacker managed to "introduce software" via the company's email system that enabled the theft.

Two questions spring to mind: 1) Ah...no back-up copy? and 2) who the hell at a game company would be stupid enough to open an attached executable that could suck away part of such an important product's source code? (assuming that's what happened).


Posted by: Craniac on Friday, October 03, 2003 - 01:56 PM EST


Posted by: Craniac on Wednesday, August 27, 2003 - 08:50 PM EST

The chickens are coming home to roost as an alternative to RSS is being developed. I love this stuff.

Battle of the blog | CNET News.com:

"'Dave Winer has done a tremendous amount of work on RSS and invented important parts of it and deserves a huge amount of credit for getting us as far as we have,' Tim Bray, a member of the World Wide Web Consortium's (W3C) influential Technical Architecture Group, wrote in a June 23 Web log entry. (Bray is also a co-creator of Extensible Markup Language (XML), a (W3C)-recommended language on which RSS is based.) 'However, just looking around, I observe that there are many people and organizations who seem unable to maintain a good working relationship with Dave.'

The posting, which has served as a flashpoint for those on both sides of the controversy, has understandably drawn Winer's wrath.

'Why has my personality become the issue? They're using that to try to get me to shut up,' Winer said in an interview. 'I think most people don't have a difficult time working with me. It's unfair. It's untrue. And it's unbecoming of someone of (Bray's) stature to make statements like that. You can't create things with flames--you can only tear things down with flames. If they want to create things, they can't do it with the dislike of one person.'"

It's a conspiiiiiiracy!!


Posted by: nate on Wednesday, August 27, 2003 - 04:39 PM EST


Just a reminder that ST's favorite show, Junkyard Mega-Wars is premiering its 11th season tonight (Wednesday) at 9:00 p.m. Eastern. Back with an all-new format and all-too-pretty new hosts (including an ex-Temptation Island contestant with apparently no mechanical chops) the show looks like it may have lost some of its original rough edges, which is what made it appealing in the first place. It could still be fun though, so tune in tonight and watch the teams take on their first challenge: snowmobiles!


Posted by: Craniac on Thursday, August 21, 2003 - 11:43 AM EST

I hesitate to post this for fear of tarnishing our bleeding-edge image, but...

I've never done much online gaming, mostly because my interests are in other areas and my home machine is a 600 mhz Celeron with a 56k modem. That said, I just came across http://gamesocket.com, which appears to be a largely abandoned online battlezone-style multiplayer tanks game. It wouldn't load using win2k, but windows 98 is fine. When you've got 4-5 human players it's pretty addictive. Would any Streettechnoristas like to get together at 9PM Pacific and mix it up? Also, are there any other low-bandwidth, free combat games out there that you like?




Posted by: Jordan on Sunday, August 17, 2003 - 08:56 PM EST

Reminiscent of some of Digital Living Today's handy reference cards, Flame Warriors is a comprehensive catalog of the many personality types you'll encounter on cyberspace, from the Nanny and the Blowhard to the Weenie, the Nitpick, and L'Enfant Provocateur . Which are you?


Posted by: Craniac on Tuesday, July 29, 2003 - 11:01 AM EST

Thanks to abundant Apache misconfigurations, one can, theoretically, search for mp3s using Google


Posted by: Craniac on Wednesday, July 23, 2003 - 05:44 PM EST

A nice pr piece by Apple on the TMBG documentary, Gigantic.
Through many slow nights in front of indifferent club audiences, TMBG persisted, themselves indifferent enough to fame to just keep playing. John Flansburgh's career advice? "If you want to have a creative life, don't be too calculating. Don't worry so much about copyrighting your song when no one even knows it. There is inherent value and excitement in having your stuff in the world. Get your stuff out there!"


Posted by: Craniac on Wednesday, July 16, 2003 - 09:40 AM EST

This just in: Shoggoth on the Roof has been cancelled due to threats of a lawsuit.


Posted by: Jordan on Wednesday, June 25, 2003 - 09:06 PM EST

Today U.S. representatives Zoe Lofgren and John Doolittle introduced the Public Domain Enhancement Act to Congress. The legislation would require copyright owners to pay a very small fee (say, $1) upon a copyright's 50th "birthday" in order for the copyright to continue. Copyrighted works for which the fee isn't paid will pass into the public domain, thus freeing works which have been abandoned by the owners of their copyrights. Sounds like a good idea to me. You can read the text of the bill itself here. Also relevant is the Reclaim the Public Domain petition, which outlines some very good reasons to support this bit of friendly legislation.


Posted by: Craniac on Tuesday, June 24, 2003 - 12:50 PM EST


A nice little animated author recommendation engine culled from a Metafilter thread.

If you like Neal Stephenson, for example, you might also like these authors.


Posted by: Craniac on Wednesday, June 18, 2003 - 12:06 AM EST

Who do you want controlling the largest assemblage of military-industrial killing machines in the history of the world? I may never sleep again. Kinda makes you long for Gerald Ford. Or even Chevy Chase.


Posted by: Craniac on Monday, June 16, 2003 - 12:09 AM EST

When looking for information on Quicksilver, I came across this archive of Stephenson's work, including a great short story I'd never heard of: Jipi and the Paranoid Chip.
"Havoc has already been in touch with the entrepreneur in the Baksheesh-Free Zone who started this whole thing. He was able to trace the serial number that was sifted out of the debris of that mall. It was one of four dozen car alarm systems that were assembled by a particular jobber based in Libya, who, it turns out, received an inordinately large drop-shipment of high explosive—Cold War Semtex, way past its expiration date."
Posted by: Jordan on Friday, June 13, 2003 - 08:44 PM EST


Music isn't our usual fare here on the front page, but UGO.com is running a great interview with John "One of the guys from They Might Be Giants" Linnell. They talk about the new TMBG documentary Gigantic, action figures, and theme songs. And if you're into music, be sure to check out "The Ever Recurring Music Topic" in the Geek Pastimes section of Shop Talk, our discussion area.


Posted by: nate on Monday, June 09, 2003 - 07:00 PM EST

So we've had a dearth of news items these last few days. That's because everyone at StreetTech labs is obsessed with making their own cool rap songs from a random little flash audimation (?) called The Official Bubb Rubb Soundboard. To appreciate it, you have to see a local Bay Area news clip about a new car mod called a "whister" that makes the exhaust into a really annoying siren. The news clip features Bubb Rubb in his on-camera debut. After seeing that clip Long Island Supra decided to make a DIY flash-based rap-machine with a little 50 Cent in the background. It's fun for about 3.8 seconds, but mostly just a lesson in why one should never get in front of a local news camera.


Posted by: nate on Thursday, June 05, 2003 - 03:01 PM EST

Check out this very nifty Rube Goldberg inspired film from Honda. Look for the link to "the cog film."


Posted by: kalei on Tuesday, May 13, 2003 - 06:34 PM EST




I don't know about you, but the more I think about it, the more I chomp at the bit waiting for The Matrix: Reloaded to come out - TWO MORE DAYS! I'll be there with black leather on, Carrie Ann!

**ahem** Sorry.

Anyway, the point of this post is the fact that I was able to get my fix of the Matrix universe when I found out about The *FREE*, downloadable ANIMATRIX episodes available from the movie's website.

If you haven't heard of the ANIMATRIX, you're in for a treat. The Wychowski brothers are huge fans of anime, and they signed on some of the most popular Japanese directors to produce this DVD, which acts as kind of an extended backstory for the Matrix universe. Four of the nine episodes are available on the site, and the two I've watched are "geekasm" inducing, even in not so high-def Quicktime format. I think this is one of the few DVDs I will be waiting for on the day of its release, June 3rd.

Followup: Be aware that the DVD will most likely receive an R rating. One segment in particular contains some pretty graphic battle scenes that wouldn't be suitable for young viewers.


Posted by: nate on Tuesday, April 29, 2003 - 10:56 AM EST

To go with the new iPods, Apple has announced a new digital content service called iTunes Music Store. With a catalog of 200,000, the Music Store offers individual songs for $1/per directly from the upgraded iTunes music playing/organizing software on the PC. The songs can be previewed in 30-second clips, and then downloaded in AAC format at 128kbps. Plus, you can download the album art for free.


Posted by: nate on Wednesday, April 23, 2003 - 01:35 PM EST


For those of you who may have missed our first blog on this, Cory Doctorow's first novel Down and Out in The Magic Kingdom is out, and available as a free download in any number of formats for PC or PDA reading -- the author even permits use of P2P trading and printing. I've just starting reading it, but so far it's a ripping read. Highly recommended. It's also available from Amazon.com as a real book, if that's your bag. Those inclined to micropay the author can probably just paypal him, though he doesn't ask for it.

<font color="red">Update: Cory Doctorow was on NPR this morning (Thurs.) talking about the benefits of allowing his work to be traded in electronic form. Whata coincidence!


Posted by: nate on Tuesday, April 22, 2003 - 08:40 AM EST


One of our favorite programs, Junkyard Wars on TLC, is taking the show on the road. They're visiting nine cities between now and mid-June, starting with Washington D.C. this weekend. Visitors will be able to actually become Junkyard warriors of a sort by building "gravity racers" to compete against other players (track for gravity racers pictured right). Prizes will be awarded for winning entries and most creative vehicles. Should be a lot of fun. Check the TLC website for when JYW will be in your neck of the woods.


Posted by: Craniac on Thursday, April 03, 2003 - 09:35 AM EST


I don't want to get too "People Magazine" here, but almost everyone in my geekosphere watches Alias. Jennifer Garner, star of the show and who delivered a powerhouse performance in Dude, Where's my Car? has just separated from her husband, who belonged to one of those pansy tv series that had no violence or technology to speak of.
My guess is he found out who she really worked for and mysteriously disappeared.


Posted by: nate on Wednesday, February 26, 2003 - 08:39 PM EST

AOL debuted their MusicNet service this week, marking a major step forward for online music distribution. The service is perhaps the best model I've seen of a compromise between the interest of the users and the interests of the "artists" (by which I mean record companies).

MusicNet will essentially allow users to listen to streaming music and download secured versions of songs for playback on their PC. The service will also allow pay-per-burn rates so that users will be able to make their own CDs from downloaded music. Initial rates will be between $4/mo for limited service with no burning, to $18/mo. for unlimited service and 20 burns, which is not bad when you consider that a CD usually costs about $15 and only has 10 songs anyway.

MusicNet offers an alternative to Kazaa-like "stealing" at a reasonable price, and leverages AOL's connections in the media world and its position as a gateway to the largest segment of internet users who already get monthly bills for their service anyway. Only time will tell if MusicNet will stave off piracy -- it may be too little to late. But if lawsuits are sufficient to stop services like Morpheus and Kazaa from operating, MusicNet may be the only alternative left.

Agree? Disagree? Comment!


Posted by: Craniac on Monday, February 17, 2003 - 05:22 PM EST

Maybe you watch CSI, or its gorier spinoff, CSI: Miami (motto: Cleavage and Cut Up Corpses!). Apparently the show is having some real-world side effects:

'CSI' Effect on Potential Jurors Has Some Prosecutors Worried - December 19, 2002 - Entertainment News - Al Menconi Ministries
An enviable array of real and not-so-real technologies and gadgets are at the disposal of the carefully coifed "CSI" gumshoes as they investigate slain strippers, kidnapped wives of millionaires and maggot-covered bodies found in the Las Vegas desert: DNA analysis; mass spectrometers to test chemical compositions; Luminol, a chemical test causing invisible traces of blood to emit a telegenic blue glow.

There are no real-life budget constraints: Every case gets the full-court press of available tests. There are no time lags for DNA results. Almost no courtrooms or juries either.

Faced with the weight of trace evidence, suspects usually confess.

Case closed.

In one particularly improbable plot line, for example, the intrepid "CSI" investigators are able to find the man who slaughtered a blacklisted sex worker in a snuff video by proving through DNA analysis that her final spurts of blood infected him with HIV - something local DNA experts say just isn't done. That, however, was only after they'd used video enhancement of the motel-room encounter to discern that the killer had a telltale mole on his neck and to make out a crucial landmark outside the motel room window that allowed them to pinpoint its location using triangulation. Analysis of dirt lodged in the tires of the killer's car led them to the victim's body.
Apparently real-life prosecutors are being held to an impossibly high standard because of "The CSI Effect."
Courtesy of Andrew at the BoingBoing guest blog.


Posted by: Craniac on Sunday, February 16, 2003 - 12:08 AM EST

The Total Information Awareness program has changed their logo from a creepy Illuminati-ish design to a confusing snarl of gibberish. I'm not sure which is scarier. Can you locate yourself on this chart?





Posted by: Jordan on Thursday, February 13, 2003 - 12:05 PM EST

It's that time of year again -- TLC is accepting applications for warriors for the 2003 season of Junkyard Wars! This year, though, they want individual applicants instead of teams. I've always enjoyed the teams, personally, because it's like watching a bunch of rowdy friends on the weekend in their own back yards and garages. Here's hoping that throwing teams of strangers together doesn't degenerate our beloved Junkyard Wars into The Real World with blowtorches. Now go apply!


Posted by: tatertot on Tuesday, February 11, 2003 - 08:02 AM EST

Check out Audioscrobbler, a Winamp (and XMMS) plugin that keeps track of what you're listening to, compares it with what other people are listening to, and then recommends new music that you might like. This is just begging to be hooked up to a P2P system.



Read more... (725 bytes more) 23 Comments
Posted by: Craniac on Sunday, February 09, 2003 - 10:12 AM EST


William Gibson has a new website with blog in conjunction with his latest book, Pattern Recognition. It includes a discussion area that is getting some serious traffic.


Posted by: Craniac on Thursday, December 19, 2002 - 12:44 PM EST

I've been looking for the next Wired for a long time. Bruce Sterling has essentially anointed MetropolisMag as the heir apparent. Waddayou think?


Posted by: winkler1 on Wednesday, December 04, 2002 - 09:21 AM EST

Fun Flash animation, shows infinite zoom.


Posted by: bkd on Tuesday, December 03, 2002 - 11:32 AM EST

This article on Snopes, explainer of legends urban, traces the circuitous path of ownership of the song Happy Birthday, from it's authoring by two kindergarten teachers who died childless and unmarried nearly a hundred years ago, to just another piece of AOL Time Warner IP.


Posted by: gareth on Saturday, November 23, 2002 - 06:27 PM EST

My wife, Pam Bricker, and her band Thievery Corporation performed on KCRW in LA yestersday morning. The webcast is available here. Pam's singing the 2nd and 3rd and the last tune. Pappa's so proud.


Posted by: Craniac on Thursday, November 14, 2002 - 08:59 AM EST

This came out in July, but it's so wonderful it deserves a good read. Viridian Note 00325: Open Source Speech

The older Bill gets, the uglier he gets. He's a guy riding a white horse, that turned into a runaway bronco bull, that turned into a scaly crocodile, and now, it is turning into some kind of diseased revenant. It's like the Steed of the Nazgul, those black, flying zombie horses that explode when exposed to fresh water. That's what Microsoft is like now. These guys, these Nazgul... They used to be kings. They were originally human beings, they had wives and children and futures, they had their own little nations to govern and manage. But then there was the One Ring – One Ring to Rule Them All. One. And they couldn't resist. And they gave in.


Posted by: Craniac on Saturday, November 09, 2002 - 11:36 AM EST

Following the advice of a well-connected Net celebrity, I started using Limewire to fulfill my P2P needs on OS X. Then I discovered Iswipe Connects to three times as many networks, including Hotline and some others I'd never heard of. Finally, I'm able to find some artists that just weren't showing up in Limewire. Iswipe is also donation-ware.


Posted by: gareth on Monday, October 28, 2002 - 09:32 PM EST

Mindjack, the digital culture zine honchoed by Street Tech Irregular Donald Melanson, has an excellent interview with comic book mastermind Warren Ellis (Transmet, Planetary).

If you don't make regular browser stops at Mindjack already, you really should. It just keeps on getting better -- and I'm not JUST saying that 'cause I'm on the Mindjack Board of Advisors, and so far, I've been utterly shiftless and non-responsive in that role. Please make a point of going there and participating, so I can feel worthy and wholesome (right now, I feel DIRTY).


Posted by: nate on Wednesday, October 23, 2002 - 02:41 PM EST

I know, it's bad to reward spam,
but when this arrived in my email, I actually thought "this might be the first time I actually buy a product from unsolicited email." This is the Homer Simpson talking beer opener, which says "Mmmm. Beer," and more, whenever you crack open a cold one. You can hear Homie drooling over a Duff by clicking here (.wav file). While I won't reward the original spammer, I've found the opener elsewhere for around $9. Go to BrewOrganic for yours.


Posted by: nheasley on Thursday, October 17, 2002 - 03:48 PM EST

In a gleefully ironic turn, major CD music vendors have been convicted of price-fixing. Who's the thief now, huh? huh?

Under the settlement, $67.38 million in cash will be distributed to the settling states. This will be used to compensate consumers who overpaid for CDs during the 1995-2000 period, as well as to pay settlement administration costs and attorneys' fees. In addition, 5.5 million CDs, valued at $75.7 million, will be distributed to public entities and nonprofit organizations in each state to benefit consumers and promote music programs. According to the agreement, the companies will pay artist royalties on the CDs.


Posted by: gareth on Friday, September 20, 2002 - 05:33 PM EST

In a strange altercation that authorities are still trying to understand, Tim Tate, webmaster of the insanely popular website Street Tech, was nearly killed by a mountain goat this Saturday. Apparently Mr. Tate was attempting to involve the animal in some sort of bizarre pagan ritual and the goat didn't take kindly to Mr. Tate's advances. "He was always such a nice, quiet fellow," said Gareth Branwyn, the cybernetic organism that runs the website. "I can't imagine him being involved in anything like this. Last I heard, he was very involved in helping the Girl Scouts sell cookies." Mr. Tate is currently in the hospital recovering from his injuries.


| | |
| --- | --- |
| Brought to You By | |
| | |
| --- | --- |
| Advertise | |
| | |
| --- | --- |
| Recent Articles | |
Monday, March 17
·
Dorkbot DC March Meeting (0)
Thursday, February 28
·
Rules for Roboticists (0)
Monday, February 25
·
Killer-cool Solarrollers on Flickr (0)
·
Dorkbot DC Tommorow Night! (2/26/08) (0)
Wednesday, February 13
·
DIY mercury testing (or NOT) and new Home Chemistry book (0)
Friday, January 18
·
First Dorkbot DC/Make: DC Joint Project Event (0)
Monday, January 14
·
Dorkbot DC/Make: DC Project Night, This Wednesday! (0)
Tuesday, December 11
·
Review: LEGO MINDSTORMS Library (0)
·
I want an Arduino-powered Christmas, baby! (0)
Tuesday, December 04
·
Geekly Gift Wrap (0)
Older Articles
| | |
| --- | --- |
| Recent Reviews | |
| | |
| --- | --- |
| Special Features | |
· The Rules for Roboticists (Feb 28, 2008)
· Mouse Dissection 101 (May 02, 2007)
· Mousey the Junkbot FAQ (Apr 30, 2007)
· How-To: Build BEAM Vibrobots (Jan 14, 2007)
· [Dead Inventors] (Jan 14, 2007)
· How-To: Build a Robot from a Coat Hanger (Sep 20, 2006)
· Twin-Engine Solarroller (Aug 30, 2006)
· Blow Your Socks Off! (The Bell Rocket Belt) (May 05, 2006)
· The SCO Monkey Trial (A Street Tech Intro) (Dec 08, 2003)
· Gar's Tips on Sucks-Less Writing (Oct 26, 2002)

| | |
| --- | --- |
| Poll | |
| | |
| --- | --- |
| The Federation | |