| | |
| --- | --- |
| | User Login |
| | |
| --- | --- |
| | Main Menu |
| | |
| --- | --- |
| | Street Noise |
| | |
| --- | --- |
| | Utilities |
| | |
| --- | --- |
| | RSS Feeds |
| | |
| --- | --- |
| | Who's Online |
Currently no members online:)



You are an anonymous user. You can register for free by clicking here

We have 0 guest online !
Posted by: gareth on Thursday, February 28, 2008 - 03:48 AM EST


In honor of Robot Day on Make: Blog, I've posted my "Rules for Roboticists" from my 2004 book Absolute Beginner's Guide to Building. It's a playful list of operating principles, rules of thumb, and words o' wisdom about bot building. The piece is accompanied by robot scientist "trading cards" illustrated by Mark Frauenfelder for the book.
Posted by: gareth on Thursday, February 28, 2008 - 03:26 AM EST

[This piece originally appeared in The Absolute Beginner's Guide to Building Robots]

Remember The Rules, that icky book written by those two insufferable women who nobody would want to date regardless of what relationship principles were or were not being applied? Well, I decided to dream up some rules of my own. No, they're not things like "Never call a robot after the final assembly. Make it call you." Or: "The way to a robot's stomach is through its rear access panel." These "rules" represent the collective working wisdom of builders who've been bolting together bots for decades. The cyberneticist Gregory Bateson used to say: "Always tie your ideas with slipknots." So these are not hard and fast rules, more like rules of thumb. Just a few things to consider as you build robots.


1. A roboticist is a generalist, a systems thinker.
One of the things that attracts a lot of people (me, for one) to robotics is that it involves the orchestration of many different disciplines. There are, obviously, specialists in the field -- those who work only on AI control architectures, or robot locomotion, or whatever -- but even they must keep the entire machine in mind. Most people who work in the field, and certainly all amateurs, have to have at least basic skills in numerous disciplines. As you get more into robotics, you'll also find yourself spending a lot of time looking at humans and animals trying to figure out how they work. Oddly, trying to construct machine "creatures" gives one an even greater appreciation for the heavenly designs of nature, which brings us to...

2. A roboticist is a "deconstructionist"
As a robot builder, you'll find yourself obsessively looking at the natural and built worlds and going: "Ah-ha! So that's how it's done." Nothing will be safe as you take apart toys and machines that don't work anymore (and some that still do), and find yourself playing with your food in a manner unsettling to others ("Cool, there's the ligament attachments!"). But, for the love of all that's civilized, leave the family pets alone!



Aside: Rumor has it that BEAM (and Wow Wee Toys) robot inventor Mark Tilden has been known to put all manner of bio-matter (chicken and other animal bones and bits) into his dishwasher so that he can clean them thoroughly for study of their mechanics, and one might even assume, incorporation into disturbing SRL-esque bio-mechs.



3. A roboticist knows how to K.I.S.S. it.
Actually not every robot builder knows this, but they should. K.I.S.S. stands for "Keep It Simple, Stupid" and it's a maxim recited (but frequently unheeded) in many design disciplines. Heed it in your robot building. Take time to plan your projects. Don't just throw technology at a problem 'cause you can. Use prototyping tech such as LEGO MINDSTORMS, VEX, and breadboarding to test out designs. Then try and figure out what you might not need and toss it. The simpler and more elegant your designs, the more likely your robot is to be stable and robust.

4. A roboticist must learn to think "outside the bot."
Innovation comes from thinking differently, heading down the road less traveled. Don't be afraid to take chances, to go in radical directions. Apply what I call Rodney Brooks' Research Heuristic. Here's how this works: In his book Flesh and Machines, Brooks reveals how he came upon many of his radical ideas regarding robots and AI: He would figure out what was so obvious to all of the other researchers that it wasn't even on their radar, and then he'd put it on his. Essentially, Brooks would look at how everyone else was tackling a given problem, and what assumptions were so implicit to them that these assumptions were no longer being questioned. And he would question them. Don't listen when people tell you that you can't do something. Ignore your critics.



Aside: This is completely unrelated to robots, but it neatly illustrates our fourth rule. Many years ago, a friend of mine, a fabric artist, entered a beginner's fabric weaving contest. She rented a small loom, learned how to weave, and decided to weave a seersucker blouse. Because she was new to weaving, she didn't know that you "couldn't" hand-weave seersucker (which is comprised of alternating puckered and smooth stripes). She had a devil of a time doing it, but she thought it was just because she was new to weaving. The judges were stunned. Needless to say, she won the contest, and the grand prize, a gorgeous room-sized Swedish loom that was the size of a small sailing vessel.



5. A roboticist is as much an artist as a scientist.
Find someone who's done anything truly cutting-edge in science and technology, and chances are, he or she has a bit of an artist's/poet's soul. Independent engineer and self-proclaimed "high-tech nomad" Steven Roberts is often quoted as saying, "Art without engineering is dreaming. Engineering without art is calculating."



6. A roboticist must be methodical and patient (like any scientist).


The pressure that many robot developers are under to deliver creations that live up to sci-fi-like expectations leads too many to attempt too much, too soon. Scientific development is measured, by its nature. Don't be afraid to get one thing right rather than a bunch of things "sorta okay." (Notice how we just contradicted rule number 4. What can we say? Rules are ... well for those two ladies who wrote that book.)

7. A roboticist knows that neatness counts.
After you've built a few robots, you'll quickly learn that the mechanics and (especially) the electronics can quickly become complicated, even in simple machines. There are usually wires sprouting everywhere, and trying to fit all of the parts inside your robot body, or on your robot platform, can become quite a challenge. You'll learn that keeping everything neat and tidy will make a huge difference in the end. Use quick connectors when you can (for plugging and unplugging wires), use cable ties to bundle related wires together, and carefully plan (or revise) your design to maximize order and quick deconstruction/reconstruction of subsystems for easier troubleshooting. Color-code.


8. A roboticist must be a master of many trades.
As stated in rule number 1, a roboticist must be able to look at the big picture and know at least a little about a lot. He or she must have a working knowledge of materials sciences, structural and mechanical engineering, electrical engineering, and computer sciences. This may all sound intimidating to an absolute beginner, but knowing something about all of these areas of technology and science can actually be fun and exciting. And don't let the big words trip you up. In plain English, these boil down to: building stuff (and knowing the right stuff to use), doing basic electronics, and knowing the ins and outs of microcontrollers and their software.

9. A roboticist should know his or her tools, materials, and processes.
You can have all the fancy "book learnin'" in the world, but if you don't have a good working knowledge of robot building tools, building materials, and real-world construction techniques, you're not going to be seeing robots scooting around your den anytime soon. The more you tinker, experiment, the more mad skills you'll acquire -- which leads us to...


10. A roboticist knows that you need to build early and build often.
Modern robot building technologies such as LEGO MINDSTORMS, VEX, iRobot's iCreate, open source microcontrollers, prototyping boards, and other similar innovations (not to mention computer designing, simulation, and programming software) allow robot builders a tremendous amount of freedom to experiment and build on demand. Think of pre-PC writing tech (pens and paper, typewriters) versus a word processor (complete with spell- and grammar-checking, a built-in dictionary, Thesaurus, and so forth) and that gives you some idea of today's robot tools versus those of a decade ago, even five years ago. Now you can have an idea for a new drive or sensor system, whatever, and have it built and tested within a few hours. If it doesn't work, you can quickly disassemble and assemble something else. From this rapid prototyping can come truly innovative robot designs.

11. A roboticist should know when to come back later (A.K.A. "The Kenny Rogers Rule")
When you're building anything, especially something as complicated as a robot, the build can sometimes get ugly. If you try to force your way through, you can often dig yourself into an even deeper hole. So here's what you do: "Put the soldering iron down. Step away from the steaming robot entrails!" You'll be amazed at what an hour away, vegging in front of the TV, rolling around on the floor with the cat, or sleeping on your problem will do. It almost never fails. Here's a corollary: The extent to which you don't want to drop what you're doing and take a break ("I know I can fix this, damn it!"), is inversely proportional to the extent to which you need a break. Why is it the Kenny Rogers Rule? Cause "you got to know when to hold, know when to fold 'em, know when to walk away..."

["Heroes of the Robolution" trading card illos by Mark Frauenfelder, from Absolute Beginner's Guide to Building Robots]



Other Robot Projects on Street Tech
---
Posted by: gareth on Monday, February 25, 2008 - 04:29 PM EST


Check out these incredibly cool solarrollers posted to the MAKE Flickr Pool. This one's built in an old wireless phone chassis. Love the use of gears as wheels.
Posted by: gareth on Tuesday, December 11, 2007 - 06:43 PM EST


In last year's Holiday Gadget Guide, I reviewed the wonderful then-new LEGO MINDSTORMS NXT system. It's a year later and my admiration for this product has only grown. It has been enthusiastically embraced by robot hobbyists and professionals, educators, kids of all ages, R&D departments looking for quick n' dirty prototyping components — 1,001 uses. It's also been embraced by publishers, who've followed the product with a felled forest worth of books. Three of may favorites are from No Starch Press (disclosure: O'Reilly, the publisher I work for, distributes No Starch titles).
Posted by: gareth on Monday, November 05, 2007 - 12:42 AM EST


Christopher Conte is a New York artist and prosthesis engineer. Like his early inspiration, HR Giger, he likes smudging the boundaries between flesh and machinery. His site features some of his impressive sculptures and BEAM robots. Seen above are (top to bottom): His "Singer Insect," made from antique instrument and sewing machine parts, the "Steam-Powered Insect," made from cast bronze and stainless steel components, and a "Microbotic Insect," a vibrobot made from watch parts, a pager motor, and piano wire.

While on his site, make sure to take a look at the gas-powered R/C helicopter he outfitted with four model rocket missiles. A pyromaniacal kid's wet dream!

Thanks, Patti!
Posted by: gareth on Friday, October 05, 2007 - 09:54 AM EST

From CNet News:
Scientists are making progress on neural devices that can translate the thoughts of a paralyzed person into driving action for a prosthetic device.

Researchers at the Massachusetts Institute of Technology said Wednesday that they've developed an algorithm for a neural prosthetic aid that can link an individual's brain activity to the person's intentions; and then translate that intention into movement.

Of course, other scientists have already done that, and built prototypes for neural brain-to-machine devices that can work for animals or humans. But each team has taken a different approach to the problem, such as developing algorithms for measuring activity in a specific brain region, or measuring them through EEGs vs. optical imaging.

MIT said that it has developed a unified algorithm that can work within the parameters of these different approaches. Lakshminarayan "Ram" Srinivasan, lead author of a paper on the subject, said MIT's new graphical models are applicable no matter what measurement technique is used.

"We don't need to reinvent a new paradigm for each modality or brain region," he said in a statement.

Still, he said, the algorithm isn't perfect, nor the final solution to solving what is a difficult problem. "Translating an algorithm into a fully functioning clinical device will require a great deal of work, but also represents an intriguing road of scientific and engineering development for the years to come," according to MIT.

MIT will publish a paper on the subject in the October edition of the Journal of Neurophysiology.
Posted by: gareth on Tuesday, October 02, 2007 - 01:24 AM EST


You may have seen my posts on MAKE: Blog about the Tomy i-Sobot, the US$300 mini-humanoid that looks pretty damn full-featured for the dough. The English version of the i-Sobot site went live today. On it, you can see videos of the bot, how its button-sequence programming works (very similar to Robosapien), read some tech specs, etc. Some interesting tidbits, such as the fact that the bot is 6-1/2" tall, has two gyroscopic sensors, the gearboxes on the 12 servomotors have metal gears, and that the run-time on the included NMH batteries is an hour (which probably means less than that in real-world operation). The bot has three CPU chips for general control, voice recognition, and motor control. No other details on these, as far as I know.
This looks like a decent robot that does the lion's share of what other humanoid bots can do that cost three or four times as much. Can't wait to see what sorts of hacks and mods people come up with.
Thanks, Robert!
Posted by: gareth on Thursday, September 13, 2007 - 01:20 PM EST


...and you will too when you see him rolling on the floor in hysterics (at least I did). Really funny. Impressive movements, body expressions. The rowdy robot in question is a Speecys SPC-101C. You can find out more about "him" at Robots-Dreams.
Thanks, Robert!
Posted by: gareth on Monday, September 10, 2007 - 12:15 AM EST


One of my favorite BEAM builders, Harold Ilano, has posted a new project on his site. It's an awesome little bugbot he dubbed Mercury (being a light-seeker that wants to be close to the sun). The design is based on a circuit by BEAM whiz Wilf Rigter, using a single 74AC/HC240 chip to create a reversing photovore (the 74*240 is the same chip family that I used -- the HCT -- in my single-motor walker from my robot book).
I love the way Harold always builds on established BEAM circuits. Here, he's made his photovore with two tactile sensors (Wilf's had one), added a dark-detecting behavior (with two dark-activated LED "predator" eyes), and a stop and go behavior (which makes him seem more organic), all with the single 74*240 control chip.
The Mercury is made from scavenged pieces from a Playstation (including the two motors), a Li-Poly 3.6V cell phone battery, and some misc analog components. Looking at the numerous pics and videos on his site, you might get the impression that this was an easy build, but getting that much "behavior" out of so few components involves a bit of electronic origami. Harold says it took weeks of long hours every day to finally get it all working smoothly. Sheesh. Maybe I don't have the patience to become a real BEAM master. No worries. I'm more than happy to sit at the feet of guys like Wilf and Harold, and marvel at what they do (and write glowingly about it in cyberspace).
More pics after the jump...
Read more... (324 bytes more) comments?
Posted by: gareth on Wednesday, August 29, 2007 - 03:29 PM EST


"Oh, waiter, there's a bolt in my soup." According to a piece on Spiegel Online, a Munich restaurant has gotten rid of a waitstaff (in a country known for its crappy service) and replaced it with an automated food delivery system. Patrons order by computers at their tables and a rail system that works on gravity (the kitchen is above the restaurant) sends meals directly to the tables. No word on what you do when your food is cold, or you get the wrong item, or have other complaints. I'm guessing ejection seats are involved.
[Via Wired Gadgets]
Posted by: gareth on Tuesday, August 21, 2007 - 10:46 PM EST


Artist Ben Rollman, who's been involved in the 100 Artist Project, 700 Things, 700 Robots and a number of other online drawing projects, is now offering robot portraits for a dirt-cheap price of 10 PayPal'd dollars. Nice work, too. The top one's called "Battlebot Vulture." The second one is "Sammy 12-Switch." He did these two for Simone of Suicidebots/ RoboGames. You not only get a piece of art for your tenner, Ben also records a video of him drawing the portrait and uploads it to YouTube. I'm so squirting over my ten creds!
Posted by: gareth on Sunday, August 19, 2007 - 11:44 PM EST


Check out these amazing vids, pics and design details of RunBot, an adaptive, dynamic bipedal walker that learns from its mistakes and changes its gait to adapt to different environmental conditions.
[Via BotJunkie]
Posted by: gareth on Sunday, August 12, 2007 - 11:37 PM EST


Okay, so it's a robot pill bug, not a tick, and it's only a concept, not an actuality. But researchers at University of Madgeburg-Stendal in Germany think that this type of an armored design, based on a "pill bug" millipede, could work in patrolling a forest, with the bot using its heat sensors to sniff out and put out fires as they start. And if the robo-bug gets in trouble, it can curl up in a protective ball like its bio-brethren to protect itself from intense heat. Interesting... And as Engadget points out, in between fires, teams of these armored ticks could entertain themselves by scaring the living daylights out of woodland creatures (and campers).
Posted by: gareth on Thursday, July 19, 2007 - 05:27 PM EST


Here's a fairly well-documented rebraining of the Robosapien, done by students and teachers at University of Beira Interior in Portugal. They replaced the existing MCU with a Texas Instruments MSP430. The docs go through identifying the current hardware components and what it all does and then the rebraining. I've wondered how difficult such a thing would be. It doesn't look trivial, but it's clearly doable. They now plan to add a wireless comms capability, a digital signal processor (DSP) for handling voice commands, and to develop a Windows app for controlling the bot.
[Via Make]
Posted by: gareth on Friday, July 06, 2007 - 04:06 PM EST


PC Magazine has a review of the Roboquad, the new four-legged bot from WowWee Robotics (US$99). They gave it three out of five stars. One thing they didn't like was the fact that the programs you sequence through the remote are erased on power-down. Sounds like a hack in the making to me!
Posted by: gareth on Monday, July 02, 2007 - 11:09 PM EST


Jerome Demers is the designer of the single-motor walking machine featured in Absolute Beginner's Guide to Building Robots. I've been a big fan of Jerome's ingenious designs ever since I discovered the walker, but his sites (and he's had several) were either in French or site components were frequently broken (or both).
So I was thrilled to discover that he's started putting his bot projects on Instructables. His first is so cool. It's a two motor/two switch (SPDT) "Beetle Robot" that has the switches/motors cross-wired so that the switches trigger the opposite motors to reverse while that switch is being depressed, creating a basic obstacle-avoidance behavior, with no chip brain of any kind (analog or digital). This is the simplest type of "real" robot (with a sensor-(processor)-actuator chain) that one can build.
Let's hope that Jerome puts up more how-tos for building his bots. Instructables is a much bigger and better platform for his wonderful ideas.
[Via Make]
Posted by: gareth on Wednesday, June 06, 2007 - 06:27 PM EST


If you haven't visited Greg Brotherton's site, Broton, you should definitely check it out. He's an amazing sculptor who creates robots, rayguns, Frankensteinian operating slabs, and other retro-futuro artifacts. He incorporates a lot of antique appliances in his work, like Kirby vacs and Sunbeam mixers, to create a unique Deco echo of a future that never happened.
Greg recently updated his site, and among other things, now sells signed limited edition prints, posters, and T-shirts. Above is an image of his Eris robot, being constructed in his studio, that he was kind enough to send us.
Thanks, Greg!
Posted by: gareth on Friday, June 01, 2007 - 02:58 PM EST


I got a chance to meet Bre Pettis at the Maker Faire and he picked up a Mousey parts bundle and shot some footage of me for his Make: Weekend Projects podcast. Here is the result.

Man, do I ever have a face for radio! At least I sound reasonably coherent, which is a bonus.

BTW: In building this project, Bre experienced the dreaded "max headroom" problem, i.e., not allowing enough room above the circuit wiring to be able to screw the top of the mouse back on when you're done. He also used solid core wiring throughout. It's best to use stranded 24-guage inside and only solid core for the eyestalk wires. And even with stranded, you still want to make sure that you keep your wire lengths as short as possible. When I built the Mousey I'm holding in the above photo, I wasn't as mindful of wire-length as I should've been, and when I was done, I couldn't get the top back on. I had to re-route some of the wires to the sides of the LM386 chip and the relay to free up enough room. A royal pain.
Posted by: gareth on Monday, May 28, 2007 - 02:07 PM EST


Tim O'Reilly posted this really charming YouTube vid, on O'Reilly Radar, of a Chinese man who builds amazing robots out of his village's junk, from tiny walking bots to humanoids that pull rickshaws.
Posted by: gareth on Sunday, May 27, 2007 - 05:08 PM EST


I thought to do a search on YouTube for "Mousey the Junkbot" and found this video. It does a good job of demonstrating the bot's photovoric behavior. On the Colbert Report, or at the Maker Faire, or other situs where Mousey has been demo'd, the light is too defuse, so the sensor action isn't really demonstrated. The set up in this vid, where there's a single light source and gradations of darkness around it, is perfect; you can clearly see Mousey's tendency to want to "eat light."

More Mousey links on Street Tech.
Posted by: gareth on Thursday, May 24, 2007 - 01:28 AM EST


One of the many people I'm bummed I didn't get a chance to meet was Simone of Suicide Bots/ Combots and the other folks from Combots. I saw them for the two days prior to the event working their asses off getting the Arena built. During the Faire, it was so crowded, you couldn't get near the place. It *sounded* like fun.

One of the combat robot folks told me there's quite the arms race going on between the robots and the lethality of their weapons and the integrity of the robot arena. This is driven home in the footage of the appropriately-named Last Rites shearing a 55-pound steel blade off of Brutality and flinging it across the Arena, punching a hole in one of the polycarbonate panels. Ouch. Maybe I *didn't* want to get that close to the action.
Posted by: gareth on Tuesday, May 15, 2007 - 04:25 PM EST


I know you're probably sick of seeing Mousey-related posts here. This is the last one, I promise (until the Faire, anyway). This a shot of the bots we're taking with us, posing in front of the Solarbotics parts bundles we'll be using in the Workshop.
The motors, battery snap, and SPDT toggle switch will be what's in the car bundle, those components plus everything else, will be in the full Mousey the Junkbot bundle. The full bundle includes a button/momentary switch, the same kind as is found in a mouse, but with a little metal lever over the button, which makes it SO much easier to attach the bumper. The kit also includes two IR optical sensors, which are a nice backup/alternative to the IR detectors salvaged from an analog mouse.
Posted by: gareth on Sunday, May 13, 2007 - 04:52 PM EST


The Maker Faire is only a few days away (May 19, 20). Yay! (and) Holy crap, I've got a lot of stuff to do!

I'm going to be running "Building Mousey the Junkbot" workshops. Actually what most people will likely be building is "My Mousey the Car" (shown here), a quicker, simpler version, with two DC motors, a battery/batt snap, and a toggle switch. There's going to be a zillion things going on at the Faire. I suspect a lot of people won't want to take up all their time at this one event. So, they can build the car version there and then add the brains and sensors at home. We'll have two parts bundles available, a car kit, and one with the parts to make the full Mousey.

We'll have plenty of dead computer mice on hand, but to further save time, I strongly suggest that folks bring an already prepped mouse. To help with that, I've created this brief tutorial. With an already gutted, prepared mouse, all you'll have to do is solder in the electronics.

Here are some other Mousey-related resources:

Mousey the Junkbot FAQ I just created this doc in preparation for the Faire. It's the collected Q/A wisdom from several years of Mousey building.

The free Mousey project PDF from Make Vol. 2

The Mousebot Revisited tips and tricks companion piece on Instructables:

Mousey the Junkbot is a TV star!. Mousey on The Colbert Report with Mark Frauenfelder.

Hope to see some of you at the Faire!
Posted by: gareth on Tuesday, May 08, 2007 - 03:47 PM EST


This spring and summer, DC-area art galleries, museums, and art orgs are celebrating the Color Field Movement of the '50s and '60s (think: Motherwell, Rothko, Stella), and specifically, the Washington Color School (Gene Davis, Helen Frankenthaler, Morris Louis), which put DC on the significant art movements map. As part of this celebration, the wonderful Curator's Office micro-gallery is showing an amazing installation piece by one of Street Tech's own, Alberto Gaitán.
The piece, called Remembrancer, consists of three net-connected robot painters. As data feeds -- one local, one national, and one global -- pour into the gallery, they're transposed into art, as paint is deposited onto three monochromatic panels, and into dynamic musical compositions, via three wall-mounted speakers.
The gallery catalog sheet describes some of the ideas behind Remembrancer:
Remembrancer confronts the loss inherent in transformation, the distortions introduced by the medium onto which--and the assumptions in effect when--memory is transcribed, the inevitable simplification of phenomena that accompanies acts of observation, and the spacial, temporal and cultural resonance of events.
That latter bit of "spacial, temporal and cultural resonance of events" was driven home when the Virgina Tech killings happened two days after the show's opening. Ominously, the local canvas is colored red. Overwhelmed by data traffic on that day, it squeezed out two guillotine-like triangles, dripping gore. Perhaps a happier "accident" can be found on the blue, national, panel where its proximity to the gallery's air conditioning vent has made all of the paint deposits shiver nervously on their way down.
For the geek artists (and engineers) in the audience, the mechanisms that render the art might be as interesting, and maybe as poignant, as the art itself. Alberto used the Make Controller, an iconic object of the current anyone-can-play high-tech/DIY craze, "canvases" gridded off like geeky graph paper, beautifully printed on Komatex/Sintra, an expanded PVC material popular in robotics, peristaltic pumps that look like they were lifted from an OR, and paint-laden "carboys" suspended from the ceiling, that look like they might be from the recovery room. Gorgeous little robot carts complete the tech, with precision-machined gears and rack and pinion drive mechanics, stepper motors, and segmented cable guides that look both serpentine and like something from a LEGO Mindstorms set. As the gallery's curator, Andrea Pollan, so perfectly put it: It's "Frankenstein lab meets Walter Reed hospital room."
The robots lay down their paint nozzles at the end of this week. The completed work will be up until May 26th. If you're in DC, you should definitely stop by and see it. The Curator's Office is at 1515 14th St. NW.
Read the Washington Post review here.
Read the WP Express piece here.
Alberto's Remembrancer Flickr set can be found here.
Find out more about the ColorField.remix here.
After the jump, see more pics of the piece, including the equipment table and the Breadboard (with call outs). The Breadboard, the installation's control electronics, was built on an actual breadboard ($2 from Target).
Read more... (616 bytes more) comments?
Posted by: gareth on Monday, May 07, 2007 - 10:58 PM EST


This is a strange, but nifty combination of robotech. BEAMbots are frequently analog-only and vibrobots (that get their motility by shaking their tails feathers) are some of the "crudest" (as in: How do I steer this crazy thing!) of BEAMbots. But this think-outside-the-bot builder combined vibrobot movement in a solar powered bot that uses a Picaxe 08M microcontroller (MCU). Obviously, the MCU can't direct movement, but it monitors power and turns on the vibro-motor at a given threshold. Its eyes also light up and it can play some tones and music (Happy Birthday) as programmed. Dig those cute legs made out of diodes!

[Via Make]
Posted by: gareth on Wednesday, May 02, 2007 - 02:58 PM EST


If you're coming to the Maker Faire and are going to take my Building Mousey the Junkbot Workshop, to save you time on your bot build (and therefore give you more time to enjoy the Faire), I recommend you eviscerate your own mouse to bring a prepped one, ready to install its new innards. Just to be clear, we're talking about a mouse of the computer kind, not of the biological variety (smart ass). I've written a short guide to Mouse Dissection which should tell you all you need to know.
See you at the Faire! It's shaping up to be one hell of a nerdfest.
Posted by: gareth on Wednesday, May 02, 2007 - 02:31 PM EST

By Gareth Branwyn

This document was put together for the 2007 Bay Area Maker Faire(May 19, 20). If you're coming to the Faire to take my Building Mousey the Junkbot Workshop, you can save some build time (giving you more time to enjoy the Faire) by bringing an already-prepared, recycled computer mouse. Here are the instructions you need to do that prep. We will have more dead mice at the Faire and we'll have two parts bundles for sale: one to build "My Mousey the Car," a non-robotic, much simpler, version of Mousey, and one to build the full Mousey the Junkbot, as seen in my book, the Absolute Beginner's Guide to Building Robots, MAKE Vol. 2, and as a "special guest" on The Colbert Report!

Tools Needed:
Screw Driver(s) (likely small phillips head)
Dremel Tool (w/ cut-off wheel)
Shop Goggles or Safety Glasses (a must!)
Dust Mask (ditto)
Soldering Iron (full Mousey only)
De-solder Wick or De-soldering Pump (full Mousey only)

To create My Mousey the Car or Mousey the Junkbot, you first need an empty computer mouse case to house your cute little Frankenmouse creation. For the Car version (which includes little more than two DC motors, a power switch, and a 9V battery), you can use any mouse, mechanical or optical. For the full Mousey the Junkbot, with its LM386 brain, IR sensors, bump switch, and reverser circuit, you need an older, analog/mechanical mouse (you know, the kind with that always-grody rubber ball underneath). You likely have one of these in a junk drawer someplace.

In selecting your mouse, you want one that's as symmetrical as possible and fairly roomy inside. You can use "lopsided" mice, such as the popular IntelliMouse from Microsoft, with the curved body. It's just a trickier to build and to get the motors aligned and the weight balanced, so if you have a choice, choose symmetry.

You also want to do a little planning ahead to see how everything is going to fit. For the Car, this is no big deal. Any mouse should have plenty of space. For the robot version, this is a factor. Getting everything inside will be a challenge with a mouse of any size and design. Below is a rough layout for a typical arrangement for Mousey the Junkbot components. You'll need to fit all of these inside your case (tho they don't have to go in the same places). Unscrew the mouse halves. Many mice have screws under the little rubber glide pads, so check there if your attachment screws aren't obvious.
With your proper mouse selected, you're ready to remove everything that's not needed inside. First, remove the printed circuit board (PCB). This is usually attached only by the scroll-wheel mount (if your mouse had a wheel), so snapping the wheel usually frees the board. Removed the cable, scroll-wheel assembly, and PCB. Save the PCB. You'll need parts from it (if you're building the full Mousey).
Now you should have nothing in the mouse but the encoder wheels and all of the plastic mounts for the various components and for attaching the two body halves. Get out your Dremel tool and a cut-off wheel. You should absolutely wear eye protection for this, and a paper filter mask. The plastic dust is nasty business.
If you've spec'd out where the parts will go, you'll have some idea of what you can get away with leaving in. You'll need a place in the top half for the toggle switch tail. If the screw post is in that vicinity, you'll have to remove it. No biggie. You can hold Mousey together with a piece of tape when he's finished. We recommend taking out everything that's inside, just to give yourself as much room to work as possible.
When you're done, a clean as a whistle bottom body half should look something like this:
Now you need to cut notches for your motors. If you're doing this dissection in preparation for my workshop, you won't have the two Solarbotics RM1A motors to use as your guide. You need to cut two tabs out of the sides of the mouse bottom. Make them at least 3/4" wide and all the way to the floor of the mouse bottom half. That should give you plenty of mounting room. Just so you know, the Solarbotics motors are approx 5/8" wide by just shy of ½" tall. We've found that placing the motors forward of the halfway mark (forward-to-back) is a good spot in terms of overall parts placement and robot performance. Here's where we tend to mount ours:
Once you cut the motor notches, if you're just building the Car, you're done with the bottom half. The only other thing you have to do is drill a hole in the top half for the toggle switch. The photo below shows you the basic placement. You want to drill a hole ~1/4" wide.
If you're building the full Mousey, the other thing that needs to be cut in the bottom half is the notch for the bump switch package. See the Motor Placement image above for the basic location. You'll be using one of the button switches from the mouse as a bump sensor that'll engage Mousey's reverser circuit. You want the opening to be about 5/8" wide by about 3/8" high. The package itself is (likely) 1/2" wide by 1/4" tall. Don't worry too much about these cuts. You can adjust them as you test-fit the motors and the switches.
If you're building the full Mousey the Junkbot, you'll also need to remove one button switch and the two infrared EMITTERS from the mouse's printed circuit board. See the illustration below for the likely location of these components. Your PCB may vary slightly.
In this drawing, you are looking at a top-down view of the PCB, with the front end of the mouse at the top of the image. The encoder wheels aren't used in this project, they're just pointed out for orientation purposes. Once you've located your parts, get out your soldering iron and de-soldering tools. De-solder the pins on these components and bring them with you to the Faire, along with your prepped mouse halves.
BTW: You want to save (and bring) the two plastic pieces that make up the top surface of the two mouse buttons. They likely came apart as you eviscerated your mouse case. You can follow your own creativity as you build, but when I designed Mousey, one of the things I wanted to do was make it look as much like an un-altered mouse as possible. I'd seen some other robots in mouse cases, but the top of the mouse usually didn't fit or it had been so altered it didn't look mouse-like anymore. I wanted Mousey to look like your garden variety computer mouse that had somehow transformed itself into a robot, chewed off its own cord, and made a grand escape from its computer servitude. So, when the build is complete, you can glue the button parts back on your case to minimize the "damage" to the mouse formfactor.
BTW 2.0: You'll also need to drill holes in the mouse top to snake the eyestalk sensor eyes through, but you should save that until you've installed everything else inside the case and know where the stalks should go.
Resources:
* Mousey the Junkbot's Webpage
* Free Mousey Project PDF from MAKE Vol. 2
* Mousebot Revisited, Additional Mousey Building Tips and Tricks on Instructables.
* My Soldering Tutorial
Information about the 2007 Bay Area Maker Faire
---
Images are from the Absolute Beginner's Guide to Building Robots, Gareth Branwyn (Que). Illustrations by Mark Frauenfelder, Photos by Jay Townsend.


Posted by: gareth on Monday, April 30, 2007 - 03:22 PM EST


In preparation for my Mousey workshops at the Maker Faire, I've put together a Mousey FAQ with all of the Q/A that's crossed my transom in the last couple of years. Above are captures from the video of Mousey (and Mark Frauenfelder) on The Colbert Report.
Posted by: gareth on Monday, April 30, 2007 - 01:46 PM EST

By Gareth Branwyn

Here is the collected questions and answers I've processed, via email and online discussion, for the past several years related to Mousey the Junkbot, the light-seeking robot made from a computer mouse I featured in my book, Absolute Beginner's Guide to Building Robots, and in the Mousey project in MAKE Vol. 2. If you have additional questions, feel free to ask them in the "Projects" topic of the Building Robots board in Shop Talk, our conferencing area.
Image of Make:Philly Mousebot Contest Entries, Courtesy Jef Wilkins.
Q: Are there other resources related to Mousey, besides this website? A: You betcha. Since the publication of my book, Absolute Beginner's Guide to Building Robots, Mousey has taken off (so to speak). He seems to have his own career now. I wouldn't be surprised if he didn't soon have his own agent. As I write this, the original Mousey just showed up at my front door. He was coming back from a "showing" at a Chicago art museum, representing MAKE (in an exhibit about the history of DIY). Here are some of the other places you can find Mousey materials:
* He was in MAKE Vol. 2. He even made the cover! MAKE made the Mousey project article into a free PDF download. You can get it here. It's everything you need to build our favorite mousebot. (Altho it does contain a slight error in the circuit design – keep reading for the fix.)
* After the MAKE issue came out, a builder, named Jake, put up a series of building tips called Mousebot Revisted. If you're building Mousey, you should definitely check this out before starting your build.
* Mousey has quite the fanbase on Flickr. Various groups, such as Make:Philly, and individuals. have built their own mousebots and photo-documented their efforts. Search on "mousebot" and "mousey" in the MAKE pool to scoop up the Lion's share of them.
Phillip Torrone's Mouseys in the MAKE Flickr Pool.
* Make:Philly is an organization, inspired by MAKE magazine, that holds regular gatherings where members get together to build stuff. One of their meet-ups included a Mousey-building contest. One of the organizers, Josh Kopel, created a PDF page of hints, tips, and a re-done, corrected circuit digram. He also shows you how you can add a second bump switch, either a second whisker on the front, or a bumper in the back. Here's a link to the PDF.
* Mousey the Junkbot: As seen on TV! On March 6th, Mark Frauenfelder, editor-in-chief of MAKE, and the illustrator for my book, was on The Colbert Report. He brought several projects from the magazine with him. One of them was a Mousey. Everything was going just swell, until Stephen Colbert drove Mousey off of the desk, where it broke into many pieces. Much hilarity ensued. After Mousey plummeted to his doom, Colbert quipped: "You built, not a robotic mouse, but a robotic lemming," and looking offstage to his producer, sheepishly, he asked: "Is that in our budget? Can we replace robots?" The whole segment was really fun. You can see it and some follow-up blog discussion on MAKE's blog.
Mousey the Junkbot on The Colbert Report, with Stephen Colbert and Make's Mark Frauenfelder
Mousey started off life with a different name, Herbie. The original LM386-based circuit upon which Mousey was based was designed by Randy Sargent, then a student at MIT. It was originally designed as a line-follower (the two light sensors designed to keep themselves on either side of a black line on the floor – and therefore the bot following the line). Soon, builders modded this original design to follow light instead. Dave Hrynkiw of Solarbotics used a light-following Herbie in his book Junkbots, Bugbots and Bots on Wheels. Then, I created the Mousey the Junkbot version, encasing the Herbie circuit in a mouse case, and created the eyestalk light sensors. Now Solarbotics has further evolved the Herbie/Mousey robot family with Herbie the Mousebot, a wonderful kit that ingeniously uses three electrically=connected PCBs to create a mouse body, of the bio-rodentia variety. It has two whisker sets on the front and an optional clear LED on the back so you can get one Herbie to chase another. It's a really fun kit to make. Here's my review of it.
A gorgeous example of a Herbie robot, using Sargent's original circuit, built here by Grant McKee. In an illustration in Make Vol. 2, this was identified as the original Herbie. It isn't. I've never seen a photo of Herbie 1.0
BTW: While we're looking into Mousey's family tree, check out this rarity. It's an image of a precursor to the Solarbotics's Herbie the Mousebot kit.
And if you don't think mousebots are supposed to be lively, check out this video of the kit beta in action.
Q: Are there any significant mistakes in the instructions given in your book or the MAKE article that I should know about before I get started? A: Yes, a couple . A builder, Gareth Adams, found a mistake in the subcircuit for adding sensitivty to Mousey's light sensors. Wilf Ritger, creator of this circuit hack, pointed out on the Yahoo! BEAM group that the circuit as I have it in my book, and as it appeared in Dave's Junkbots book (which is where I got it) is incorrect. The same mistake appears in the MAKE Vol. 2 version of the project. The current circuit diagram shows the correct wiring. PLEASE NOTE: This means that the breadboarding illos and photos in the book and on the site are also incorrect. Please refer to the circuit diagram when breadboarding. If you've already built Mousey with the incorrect connections, it shouldn't be a big deal to reconnect them as shown. Thanks to Gareth (not me, the other one) for finding this bug. ALSO: In the book version of the circuit diagram, the orientation of the IR eye sensors got switched around in the illustration. If you just follow the diagram above, you should be okay. As far as I know, there are no other significant mistakes in the Mousey book chapter or the MAKE project. Any other issues, corrections or improvements are dealt with below.
Q: Can you post a Parts Lists and suggest places to buy the parts online? A: Here is the complete parts lists for the Mousey project. Solarbotics has a parts bundle for Mousey. You can get it here. The lists below include the individual Solarbotics parts numbers and numbers for other suppliers (on the few items Solarbotics does not carry). Here are the suppliers' Web addresses:
Solabotics.com
Jameco.com
RadioShack.com

Mousey the Junkbot Bill of Materials
1 - Junked Computer Mouse (or new el cheapo one)
2 - Small DC motors (Solarbotics Part #RM1A)
1 - Double-Pole, Double-Throw (DP/DT) 5-volt Relay (SB Part #RE1)
1 - LM386 Audio Operational Amplifier (SB Part #LM386)
2 - Light Sensors (IR *Detectors* taken from mouse)
1 - SP/ST Toggle Switch (SB Part #SWT2)
1 - SP/ST Touch Switch (taken from mouse)
1 - 9-volt Battery Snap (SB Part#BHold9V)
1 - 9-volt Battery (the checkout line of your grocery store)
1 - 2N3904 or PN2222 NPN-Type Transistor (SB Part #TR2222)
1 - 1k-Ohm to 20k-Ohm Resistor (Range available from Solarbotics)
1 - 1k-Ohm Resistor (SB Part #R1.0K)
1 - 10uF to 100uF Electrolytic Capacitor (range available from Solarbotics)
2 - Spools of 22 to 24-guage stranded hook-up wire (one black, one red) (available at Radio Shack, or use salvaged wire)
4 - 6-1/2" pieces of 22-guage solid hook-up wire (two red, two black) (available at Radio Shack, or salvaged)
1 - Wide Rubber Band
1 - Small piece of scrap plastic (about 1/4" x 2-1/2")
1 - Small piece of Velcro or two-way tape (optional)
Q: How come you're supposed to use the Infrared emitters from the mouse as Mousey's light-sensitive eyes? Why not the IR detectors?
A: The reason why we use the emitters and not the detectors from the mouse encoder wheels is that the IR detectors are designed to only turn on and off at a specific light level. The emitters, although they were designed to SEND infrared signals, will also respond to a wide spectrum of incoming light levels (just as any Light Emitting Diode, while it's designed to emit light, is also sensitive to light). For the IR emitters, we do a number of things to make that light response more sensitive. First, we connect the Gain pins (1 and 8) on our LM386 Op-Amp chip, which boosts the signal strength, then we use "reverse biasing" (switching the positive and negative leads on the emitters) to pump up the signal even more, and then we add our sensitivity booster sub-circuit, which gives us another gain. All of this turns the lowly mouse IR emitters into reasonably light-sensitive robot eyes.
Q: I'm confused about the wiring on the light sensors. Why do you switch the wiring that you solder to the IR emitters?
A: This can be a little confusing (especially to those of us who are dyslexic). We thought the easiest way of handling the reverse biasing of the emitters was to first determine which pin is cathode (-) and which is anode (+), and then, solder the red (+) wire onto the CATHODE (-) side and the black (-) wire onto the ANODE (+) side. From here, you just treat the red and black wires as if they were positive and negative (even tho they're actually reversed). Does that make sense? So what is happening here? By reversing the direction of the current flow through the emitter, it makes them more light sensitive.
Q: Can I move my "eyestalks" around or do they need to be positioned as they are in the project photographs?
A: You *can* bend the stalks apart and forwards and backwards. Part of the idea behind the eyestalk design is that you can mechanically "tune" the sensors by adjusting the position of the eyestalk wires. The fronts of the emitters (which have a little clear dome on their faces -- think of them as pupils) should be facing the light source at all times.
Actually, you can also play around with any positioning, to see what sort of action you get by reflected light (from a shiny floor and a gaze that's turned downward, for instance). But try such experiments only after you've got Mousey working properly with eyes front n' center.
Q: So, LEDs can act as light sensors? That blows my mind.
A: All LEDs have photoconductive properties, if you reverse bias them (swap anode and cathode). Thing is, conductivity is not that high except under very bright conditions, so for practical use in a project like Mousey, IR LEDs work best, or obviously, a proper photodiode, photoresistor, or our mouse IR emitters (which are actually IR phototransistors).
Here's an excerpt from the Solarbotics.net website about the light sensitivity of FLEDs (Flashing LEDs):
"Ben's use of this circuit for a photopopper takes advantage of an interesting feature of FLEDs -- they are photo-sensitive. In particular, light shining on a FLED causes that FLED's SE to be inhibited (to perform more poorly). So if you're building a phototropic FLED -based BEAMbot, you may have problems in bright light (both SEs in your 'bot are being inhibited, so neither side of your 'bot wants to fire) -- you can address this by partially shielding your FLEDs with heat-shrink tubing, or some paint (be careful here, you're trying to give your 'bot sunglasses, not blinders). Meanwhile, if you're using a FLED-based SE on a non-phototrope, you'll want to completely cover the FLED (with heat-shrink tubing, or black electrical tape, or dark paint...)."
Q: I'm confused by the Mousey circuit diagram in your book, Absolute Beginner's Guide to Building Robots. It shows that the cathodes of the IR emitters connect to pins 2 and 3 on the LM386 chip (instead of anodes, the black wires). What's correct?
A: Crap! I can't believe I didn't notice that mistake in the book's artwork. Somehow it got switched on the art. I can't believe I didn't notice this during editing. Here's a link to the corrected diagram.
Here's what I'm putting in the Bug Report:
Mistake in Circuit Diagram!: The Mousey Circuit Diagram in the book and the one on this website has a mistake in the emitter eye hookups. Somehow the bevel on the IR emitter packages got switched and we didn't notice during editing. The leads on the emitters aren't labeled, but because the bevel indicates the cathode (-) side, it looks like you're supposed to hook the cathodes to pins 2 and 3 on the op-amp chip and the anodes (+) to power. Oh contraire! You want to hook the anode (+) sides to pins 2 and 3. It gets confusing because of the whole "reverse biasing" technique used here (running power through the emitters in reverse to make them more photoconductive). Just remember that you want the negative emitter leads to go to power and the positive leads to go to the pin 2 and 3 inputs (it's counterintuitive, but that's what you do). In the book, we recommended soldering a red wire onto the cathode leads on each emitter and a black wire to the anodes, and then just treating the wires normally (red wires plug into power, blacks into the chips input pins). Don't know if this helps or confuses matters. Thanks to builder "Mousey Fan" for catching this error. Sorry about the confusion. Barbie sez: "Building robots is hard!"
Q: I love that illustration (of the circuit diagram) and the illustrations in your book. Who did them?
A: Mark Frauenfelder, of Boing Boing fame. And yeah, he did such a nice job, on all the illos, but especially that one and the servo hacking diagram from Chapter 7 (and, of course, the trading cards, which we hope to one day put up on the site). We budgeted all the illos at an hour a piece, but the servo hack image took Mark like six hours. It's so hard doing a technical book like this and trying to make the images both attractive, easy to understand, and accurate. On many of 'em, I would do sketches, we'd scan them in, Blake (my son) would add stuff, clean up, label parts, etc., we'd send them to Mark, he'd draw, send back, we'd send them back with changes, etc. Maddening, and time-consuming. Given all that, I think they turned out really well. And then there was the photography and the Photoshop tweaking... Have I thanked Jay yet? Jay Townsend was the photographer. He did an amazing job too.
Q: Can you offer some advice on speed control for Mousey? I've built the circuit and can see the motors spinning very fast speed. I am afraid that when I put everything together my Mousey will be dashing around out of control.
A: The easiest thing to do is to just change the contact profile of the "wheels," in other words; use a steeper angle on the motor mounting such that LESS of the gear/wheel comes in contact with the ground. You can also use a tire material with a slicker surface (rather than rubber) for the wheels which will "waste" some of the excessive torque.
It IS true that Mousey is extremely lively. I like this about it. Both the walker project and this one have a very biological feel to them. The walker has a persistence that's very bug-like, and Mousey acts very jumpy and nervous like a bio-mouse. You want to try to achieve that balance where it's right on the verge of chaotic. If I built mine over again, I would make the angle a bit steeper to reduce some of the traction.
Also keep in mind that the motors just sitting there tethered to the breadboard are much livelier than they are once they're carrying the full weight of the mouse case, the 9V battery, the relay, the switches, and everything else. You can get an idea for how the motors will behave in the bot by using poster putty to temporarily affix them to the notches you cut in the mouse case bottom at different test angles (I talked about this in the book). Also temp. fix the battery and just toss all of the other parts in the case as well. Hook the motor wires between a switch and the battery, flip it on, and then try to grab the switch again to turn "this crazy thing off!," as Mousey takes off like a bat outta hell. I did this when I first got these motors, to make sure they were appropriate. I put everything in the mouse (except, of course, the mouse case top).
I've gotten a lot of email from builders who find the Mousey too speedy, making it feel more like a demo-derby racer than a photovoric robot. So, we've done some testing on various ways of possibily slowing our mechano-mouse down. We tried adding resistance to the circuit -- in series with the motors and on the chip's power pin. Neither of these worked. Adding resistance in this way seems to screw with the op-amp chip's ability to do its job (which is to dynamically equalize its output to the two motors). There may be some other way to re-design the circuit to add resistance (and therefore slow down motor RPMs), but I don't have the time nor the inclination to go this route. The next thought we had was to tweak the "tires," experimenting with different materials that would change how the rubber meets the road (so to speak). On the original Mousey, we used LEGO Mindstorms corragated plastic tubing. This stuff seemed fairly slick, but we wanted to try something even slicker. Before doing this, my bot-building assistant Jesse Hurdus tried making some "thick" rubber tires from rubber bands. Instead of just using one thickness of rubber band (as I suggested in the book), he wrapped the band around three or four times. It seems counter-intuitive (you'd think these tires would provide even greater traction and speed), but these bigger rubber tires seem to do the trick. They slow the vehicle down to an extent that the feedback loop between light/sensors/chip/motors is more effective. We also made the angle of the motors steeper, as was mentioned in an earlier post. The problem here is that, unlike Herbie versions of this bot design, which usually don't have cases, with Mousey, you're constrained by the lid of the mouse case when altering the motor angle. We made ours as steep as possible while still allowing the top to go on. We recommend you do the same. You can also go in the other direction and make the motors relatively flat on the case bottom. This works well if you use actual tires on the wheels, which a lot of builders do. We've seen builder make four-wheel Mousey's (see photo at the beginning of this FAQ) with one passive axle and one powered. We recommend using the poster putty option and experimenting.
Q: I don't have breadboarding gear. Can't I just go ahead and build the robot. There aren't that many parts. Could that much really go wrong?
A: Breadboarding is an essential part of electronics. A board and a jumper kit don't cost that much. By breadboarding, you're guaranteeing that all of the components are working and you're verifying that the circuit design is correct and that you've interpreted it correctly. If you then assemble/solder up the project and it doesn't work properly, you know that it's not the circuit design itself or any of the constituent components. This makes troubleshooting a whole lot easier. So, everybody reading this, PLEASE, for the love of all that's mechanical and brought to life by frisky electrons: breadboard, breadboard, breadboard! It's amazing how much email I'm getting from builders with problems that stem from skipping this crucial step.
Q: I have the Mousey circuit working, but the LM386 chip is getting really hot, so hot, touching it gave me a small blister. Is this normal?
A: In a word: No. You must have been a short circuit someplace. The chip (or none of the other components) should get what would be described as "hot," warm maybe, but not THAT warm. Look carefully at all of your wire connections and solder joins and look for crossed wires or bridges of solder that might be shorting the circuit.
Q: You claim this is a beginner's robot project, and it's in a book for "Absolute Beginners." The soldering seems kind of hard and you have to buy breadboarding stuff, a multimeter and a lot of other high-priced tools. How can this be considered "beginner"?
A: I'm getting a lot of email from people complaining that this and the other projects in my book are too hard for a beginner. It's ROBOTS, people! No real robot project is going to be easy. And these are scratch-built robots. When I ask these folks if they've built any of the kits first that I review and recommend in the book or done the soldering practice I recommend, they ALL say no. If you are a beginner and you jump in trying to learn soldering and robot building with one of these projects, it is do-able, and it'll be quite the learning experience, but it will also not be without some genuine frustrations. I guess it'll separate the true bot builders from the wannabes 'cause you'll need patience and persistance, two qualities that a robot engineer needs in large quantities. But that said, I do recommend that people get their skill set down and some easier kits under their belts before tackling the projects. And as to the "expensive tools," you'll need all of this stuff if you plan to build any other bots or other electronics projects, and most of it is NOT expensive. The most expensive tool is the Digital Multimedia and you can even get a really respectable one of those inexpensively if you look for sales or buy one on eBay.
BTW, builders: When you buy parts, always get extras of components that are cheap. These IC chips, caps, resistors, relays are all inexpensive so get more than you need in case you blow any or they don't work to spec.
Q: I did not want to wait for the motors from Solorbotics, so I went to Radio Shack and got some motors, the smallest ones they had. I want to slow Mousey down by attaching a large gear to do some gearing down affect, but I can not find a gear to match the teeth. Any help would be greatly appreciated.
A: The motors you got are probably the Mabuchi 1.5-3V models. Did they cost like US$2.99? Those are surprisingly great motors for the price. If I'm not mistaken, they're used in the gearmotors for the WowWee Robosapien. Designer Mark Tilden has used these motors before, in the B.I.O.-Bugs and the Beastland Dragons (his two previous bot projects with WowWee).
For this particular project, however, they have some problems, tho. They EAT batteries. Much less power-efficient than the Solarbotics RM1 (which is also a Mabuchi, BTW). They're also a lot heavier. Using two of these motors would nearly equal the weight of three of the RM1s. This might not be such a bad thing in terms of slowing your bot down. I think they're also slower than the RM1s, which again, may not be such a bad thing in this instance. This may all add up to mean that, using these motors, you don't have to gear down 'cause these other factors increase the mechanical resistance of the overall bot. The biggest problem is that...well...they're big. More case-cutting, more fitting, more trouble getting the lid on the case. Then you've got gears and gear attachments/housings to consider. We specifically chose this motor because it fit the weight, power, and size constraints of this application. Improvise with this in mind.
Q: The LM386 chip has only 1 output on pin 5 controlling the speed of 2 motors independently that are on the same line. How is this possible? Am I missing something?
A: This LM386 chip is designed as an audio amplifier. It's supposed to compare two input values and amplify the difference. It doesn't matter what that difference is, just so long as there is one. It sends the amplified signal to the output pin. As the chip "struggles" to equalize the difference in the inputs, it changes the power on the output pin. It is this power fluctuation that is used to "steer" the motors based on the changing values of the two light-driven inputs.
The LM386/Mousey circuit uses a split-power output, meaning that if we have two power draws on the line, which we do, it will attempt to split the power needs evenly. But if we have uneven input, as when one "eye" is receiving more light than the other, the output reflects that in more power going to one motor than the other. These power fluctuations and then equalizations (when the two eyes are getting equal amounts of light input) allow Mousey to steer towards a light source.
This is an amazing little chip for what it can do. I was describing the circuit to a geek friend last night and he was in awe of the fact that you can make a "real" robot (read: one that has a true sensor-brain-actuator chain) out of something as lowly as an el cheapo chip designed to make speakerphones speak and analog modems go squeek-SKWACK-shsssssh, etc. I'm in awe of folks like Randy Sargent of MIT (who created the original Herbie circuit), Mark Tilden, and others who can create these minimalist robot brains out of lowly analog components.
BTW: Solarbotics.net has a nice library of datasheets for components used in BEAM (and BEAM-related) robots. Included here is the LM386 sheet:
Q: Are there any alternatives for the LM386 chip?
A: I know of no Herbie-circuit hacks using other op-amps. I've seen a similar photovore built from the venerable 555 chip, but I haven't built one.
Grant McKee's adorable Herbie built on a 555 timer chip
Q: I have read your explanation of how the LM386 chip works and I still don't get it. Can you elaborate?
A: Okay. I'll try. When the light value is the same (across both inputs), both motors receive equal power and steer the robot directly towards the light source. If one sensor is getting more light, it will split the difference to the power output. So, with a 9v battery, when light is hitting the eyes equally, both motors will each feed off of 4.5v and spin at the same rate. If the input becomes unbalanced, the voltage on the pin might rise to 6v, so one motor will have 6 volts to draw on, but the other will only have 3 available, turning that motor about half as slow. But the chip wants the values to be equal, so it will react by changing the power levels as the robot moves (as it amplifies and outputs the difference between the two inputs), always trying to lock onto an input of equal value on both input pins (steering the bot towards the light in the process).
Q: What do I need to know about resistor wattage ratings? I see that some are rated 1/4-watt, some are 1/2-watt, even 1/8-watt.
A: 1/4-watt is most common for these types of low-volt/low amp circuits. 1/8-watt resistors can also be used. This rating refers to the number of watts a resistor can safely dissipate, as heat, before it fails, fries, blows up, etc. 1/4-watt resistors are more than adequate for this circuit and readily available at retailers like Radio Shack.
Q: Why is a 5V relay used if the battery is 9V?
A: The coil on the 5V relay is activated at 5V, but it's rated for much higher voltages (I think up to 24 or 30VDC on the contacts, don't know the upper limit on the coil itself). The 5v relay is used because it's a ubiquitous component found in many low-power electromechanical switching applications (such as our humble little circuit).
Q: I have a button switch not from a mouse that I want to use for the bump switch. How can I tell which of the three terminals on the switch I should use?
A: Ah. Good question, and a good opportunity to address some I didn't in the book: selecting switches. Switches of this type (a button switch with three pins) are frequently marked on their case (or "package"). The print may be tiny. If it is marked, it will likely say "NO," "C" and "NC." These stand for "Normally Open," "Common," and "Normally Close." If they are marked, you want to connect your circuit to the "C" and to "NC." Normally Open simply means that the switch is open (i.e, off" when the switch is NOT depressed. A Normally Closed switch would power the circuit until the switch was triggered. Not good in our case.
If your switch package is not labeled, no biggie. Just set your multimeter to volts and attach your probes to two of the terminals (the center one will assuredly be Common). When you get juice flowing through the terminals with the switch in one of the On positions (facing away from Common), that's your NO terminal and the one you want to use.


Posted by: gareth on Sunday, April 29, 2007 - 11:11 PM EST


Last month, Make:Philly had another one of their gatherings where they get together to build cool stuff. For that meeting, they included a Mousey building contest. Here's a link to the pics on their website. Also, one of Make:Philly's members, Jef Wilkins, has a bunch of pics in his Flickr sets. The images above, showing four very different interpretations of the Herbie/Mousey circuit, where taken by Jef. Not sure who won the contest, but my chips are on Mighty Mousebot. I love the way he's holding one of the eyestalks in his fist. He's badass. These are all badass. Nice job, kids!

Thanks, Jef!
Posted by: gareth on Saturday, April 28, 2007 - 09:30 PM EST


Don't you hate it when the next generation shows up its elders? While trawling Flickr for pics of Mousey the Junkbot builds, I bumped into this mousebot, one built from an optical mouse. It repurposes the optics for dead-reckoning navigation. It also has an IR sensor, bump sensors, a serial radio link, charge-monitor, and self-charger contacts that mate with a base station. Total cost: about US$30 in parts. Maybe I'll try and track the builder down and get him to tell us more.
BTW: The original Mousey is making the rounds. He just got back yesterday from a trip to an art museum in Chicago, where he was representing MAKE in a show about the history of DIY. Ah... to be young and globetrotting...
Posted by: gareth on Monday, April 23, 2007 - 02:55 PM EST

This Saturday, April 28th, Robot Fest 2007 will take place at the Historical Electronics Museum in Linthicum, Maryland (near BWI airport). Looks like all sorts of good, dirty, robot fun, with a number of local FIRST robotics teams, members of the Girls Robot Club, LEGO Mindstorms clubs, a bomb bot, engineers working on medical robotics, art robotics, and a lot more. Check out the Robot Fest site for full details and photos of last year's event. The event is free, BTW.


Posted by: gareth on Friday, April 20, 2007 - 01:00 PM EST


We covered Chris Myers's work here before, his wonderful Plexi-clad Palm robot. Now he's got some Roombas he's been hacking up to similarly impressive effect. He made one, a US$30 Craigslist special, into a sort of development platform, using an Arduino microcontroller and the Bluesmurf Bluetooth module. Thus outfitted, Roomba became a wine sommelier. Ah, Roomba, so sophisticated... But soon, Roomba answered the call to serve and traded in his towel and corkscrew for a gun and a bandelerro. Chris outtfitted his Red Roomba with an Airsoft gun and a homebuilt ammo hopper. Hell hath no fury like a Roomba scorned! (Be sure to check out the video of the militant vacuum in action).
Posted by: gareth on Sunday, April 15, 2007 - 01:44 PM EST


Does Robot Chicken know about this? Sega Toys has released the Dream Chick, a baby chick robo pet that spreads its wings and chirps "pipitsu" (Japanese for "cheep, cheep," I presume). Speaking of cheap, the Dream Chicks cost US$13 from Play-Asia.
Posted by: gareth on Tuesday, April 10, 2007 - 01:47 PM EST


I think Jake von Slatt and I-Wei have a contest going to see who can post the most and coolest steampunky tech projects. We just blogged about I-Wei's amazing Steam Beetle a few weeks back, and now, he has a new creation, each one always seeming to outdo the last. The R2S2 (R2 Steam 2) is a steam-powered droid built using the Cheddar steam boiler I-Wei uses in most of his creations, and Wilesco D48 marine engines. The R2 body is a Hasbro R2D2 Interactive Droid he snagged for cheap on eBay. I love the boiler pressure needle guage on the face plate. Check out the video. It's hysterical. He has a little "ad" for his other Crabu creations at the end.
I just found out that I-Wei is going to be at the Maker Faire next month showing off his steam vehicles. I'll finally get a cnance to meet him. I'm going to be there running Mousey the Junkbot workshops. Any other Street Techies going?
Posted by: gareth on Friday, April 06, 2007 - 06:04 PM EST


When I first saw pico the robot on the MAKE blog, I thought its Li-Poly battery, which appears gigantic here, looked familiar. It's the same brand, Full River, and type as is used in the FlyTech Dragonfly. The builder of pico even credits the indoor R/C flyer market with developing the miniaturized batteries, thinner PCBs, and other weight-conscious components that made his dime-sized bot possible. The name pico refers to a Sumobot category which has been proposed but has so far remained unrealized, until now -- although some work will have to be done to stop pico from driving off the table, as it does now. The builder is looking to an even smaller battery and motor to allow him to add other parts, such as a wireless bootloader for hands-free programming.
Posted by: gareth on Thursday, March 15, 2007 - 01:07 AM EST


Our BEAM-builder friend Harold Ilano sent us details about his latest project, a palm-sized bot called the Trooper. It utilizes four mini servos, six 74AC240 chips, five LDRs (Light-Dependent Resistors), two touch whiskers, a cellphone Li-ion battery pack, some perf board, and lots of paper clips, shrink tubing, and wire to create a light-seeking, random-wander robot with a low-voltage monitor and plenty of LBLs (Little Blinking Lights). Great job, Harold! Can't wait to see the video clips.
Posted by: gareth on Wednesday, March 14, 2007 - 02:09 PM EST


Chris Anderson, the big hat at Wired, has been pursuing some fun geekery on his blog, The Long Tail. He wants to start a 3D Robotics League, and in that vein has launched a project to build an under US$1,000 UAV. As part of that, last night, he bodged up a prototype of a LEGO NXT Autopilot using the new Hitechnic Gyro Sensor and a compass sensor. He plans to upgrade the compass to Bluetooth GPS. He may also have to add a ultrasonic sensor to handle landings. Still, pretty freakin' cool.
In other LEGO Mindstorms NXT news, another builder used the Hitechnic gyro sensor to make an NXT faux Segway. Check out this video.
Posted by: gareth on Tuesday, March 13, 2007 - 05:59 PM EST


Engadget hipped me to this robot kit that turns your Nintendo DS into the brains of a three-wheeled robotic platform. The kit costs US$100 and comes with three servos, the platform, wheels, battery, cable, and all hardware. You do need the DSerial2 board to connect the servos to your DS. With your RoboDS, you can do things like hook up a webcam so that people can drive it over the Web. The prototype of the bot has been set up this way. You can drive around the builder's basement, watch other people drive, and chat with other would-be builders. Kits will allegedly be available on April 7th.
Posted by: gareth on Monday, March 05, 2007 - 11:35 PM EST


The NEC PaPeRo -- the robot we love to hate because, well, it doesn't exist except in the land of press relations and tech blog photo ops -- is once again in the land of PR and photo ops! When last we left our intrepid proto-PerRo, it was sniffing our food and tasting our booze. Now it's allegedly going to do our blogging for us. At the next meeting of the Association of Natural Language Processing, NEC is going to show off its AI software that can home in on keywords in conversation, go on the Net to fetch content related to those words, and blog the results. Which, like the food and beverage testing, and a bunch of other things that PaPeRo has not done in the real world, this has nothing whatsoever to do with this robotics platform except its a cute casemod for the PC that NEC is testing these wares on. And it leads to idiots like me doing blog items on it showing pics of the lovable little Weeble interacting with cute Asian chicks in lo-rise. Everybody's happy.
Posted by: gareth on Tuesday, February 27, 2007 - 10:41 PM EST


Robert Oschler, from RobotsRule, writes:

Here's a video that shows a Robopet being controlled via voice using Robosapien Dance Machine, the free open source program for scripting Wow Wee's robots and controlling them by voice.

This short demonstration video shows the Robopet being put through its paces and shows how talking to the bot is much more fun and lifelike than using the remote control. Most importantly, the vid shows what happens when a Robopet encounters the average computer geeks' socks.
Posted by: gareth on Sunday, February 25, 2007 - 11:52 PM EST


I just found out that MAKE:Philly, is running a contest for their next gathering based on my Mousey the Junkbot project from MAKE Vol. 2. MAKE:Philly is a local gathering of Makers, and like Dorkbot, they have regular meetings with presenters and projects, in their case, using MAKE magazine as a chief inspiration. For the March 18th meeting, they're hosting a Mousebot Challenge. The winner's mousebot will be judged on speed, construction, and design. The winner gets a boxed set of the first year of MAKE. Cool. I can't wait to see the entries.

The group's forum has some discussion and tips and includes a PDF with a clear, corrected schematic which also includes instructions for adding a second bump switch in the back. You could use this to make a tail (out of a piece of guitar string and a paper clip) like the Solarbotics Herbie the Mousebot has.
Posted by: gareth on Thursday, February 22, 2007 - 03:38 PM EST

Robotics engineer and Wow Wee toy designer Mark Tilden was the guest on the Australian podcast TekTime. It's a 42-minute segment, so you get to hear a lot more about Mark's background and other aspects of his life and career than he's had the time to divulge in previous media coverage. Unfortunately, the fidelity of the audio is rather poor. Some of the things covered in the interview include:

* His history as a robotics physicist including his time at NASA.
* Funny and interesting stories relating to the original Robosapien, which has now sold over 6 million units.
* His upcoming robots ,such as such as the Roboquad and Roboboa, which will increase the total number of robots sold by Wow Wee beyond the current 20 million mark
* His opinions on the Japanese style of building robots, compared to his style which is based on nature, a style which he calls "analog".
* Why the robotics industry has not taken off yet and what needs to happen for it to do so.

Thanks, Robert!
Posted by: gareth on Wednesday, February 14, 2007 - 04:11 PM EST


PC Magazine got a hold of a review unit of the FlyTech Dragonfly, Wow Wee's latest addition to their line of robotic toys. Bottom line: They like it. A lot. They gave it four out of five stars. Here's their review.

We'll be doing our own review when our eval unit arrives, by the end of the month. Stay tuned...
Posted by: gareth on Tuesday, February 13, 2007 - 01:15 PM EST


The same fella who gave us the flame-throwing Robosapien is now showing off the CoilOSapien, a V2 outfitted with a mini coil-gun. It fires a charged-particle projectile and sports laser targeting.

As you can see from the vid, it's actually the same Robosapien retro-fitted with the flame-thrower. So now he's got a flamethrower AND a coil-gun. Finally a step towards taking Robosapien's security mode a little more seriously. [And kids, don't try this at home (at least not without adult supervision).]

Here's a link to the video.
Here's a link to the builder's page.

Thanks, Robert!
Posted by: gareth on Friday, February 09, 2007 - 01:01 AM EST


Our pals over at Robots Rule write to tell us:

"WowWee's wing-flapping flying insect robot is now available on Radio Shack's web site for ordering. The US$49 Flytech Dragonfly is currently exclusive to the Shack, although reports indicate that in a month, shipping may be open to other retailers. Here's the product page on Radio Shack."

For more information on the Flytech Dragonfly and some videos, check out RobotsRule's page.
Posted by: gareth on Friday, February 02, 2007 - 01:43 AM EST



[Above photo: courtesy of Perspective Branding]

Robert Oschler, of RobotsRule, tells Street Tech:

The Pleo pre-order date has been moved from February 3rd to sometime this spring. To make up for it, maker Ugobe is holding a contest to give away ten Pleos via an essay contest from those people signed up on Ugobe's mailing list. You must be signed up by the contest start date of Febuary 3rd. The contest asks entrants to write a 250-word essay on "How do you envision robotic life forms influencing or touching your life in the next five years?". Only the first 500 submissions will be accepted. Out of those, ten will be chosen based on the best answer to receive a free Pleo that will come with a personal note from Caleb Chung.

Pleo is being delayed due to upgrades like the following:
- It's eyes are being redone to look as realistic and life like as possible.
- The skin is being refined to have features that are painted on to be replaced with sculpted details that will give the impression of muscle tissue under the skin.
- The number of sounds Pleo can make is being expanded on the speaker upgraded to make Pleo's voice much more realistic.
- Finally, a chin sensor is being added so scratching Pleo under the chin gets an fun playful reaction.

People can learn more about Pleo at the RobotsRule Pleo Dinosaur page.


Posted by: gareth on Wednesday, January 24, 2007 - 01:35 AM EST


The netcast Talking Robots has an interview with roboticist/ cyberneticist Owen Holland, from University of Essex. He is known for his work in behavior-based robotics, from building robot predators to anthropomimetic (realistic as possible duplication of human physiology) robots. He also talks about his recent restoration and replication of W. Grey Walter's amazing autonomous robots from the 1940s.


Posted by: gareth on Monday, January 22, 2007 - 01:09 PM EST


Robert Oschler of RobotsRule tells Street Tech:
"There's a new Pleo video on YouTube from a special meeting held by maker Ugobe at CES 2007, courtesy of Lance Ulanoff from PC Magazine. The video shows a smoother-moving, more realistic-looking prototype of Ugobe's artificial pet dinosaur, sporting a new skin. There is also a new slide show of Pleo screenshots. You can find a round-up of Pleo videos, pictures, and reviews on RobotsRule."
Posted by: gareth on Thursday, January 18, 2007 - 01:53 AM EST


Street Tech pal, cheerleader, and muse Alberto Gaitán got a nice shout-out in the Washington Post yesterday as part of a piece on the various exhibitions and events going on in DC this spring to celebrate the Washington Color School of color field painting. The Phillips, the Hirshhorn, the Corcoran, and other galleries and orgs are planning events. 18th St is going to be repainted in stripes to honor Gene Davis (as it was in 1987 after his death in '85).
Alberto's piece, called "Remembrancer," will be at the Curator's Office on 14th St. and involve three robots that will translate sensor input collected from around the gallery into a color field work robo-painted over the course of a month.
Posted by: gareth on Monday, January 15, 2007 - 06:17 PM EST


Giles Thomas built my Coat Hanger Walker bot and writes about the experience on his website. He has a page of Build Notes that those planning on doing this project should probably check out. There's also a YouTube vid of the Walker in action. His walks backwards, but hey, it walks, at a nice, decent clip, too. Nice job, Giles!
Posted by: gareth on Sunday, January 14, 2007 - 10:50 PM EST


Back in September, I wrote a piece on Zach Debord's awesome Twin-Engine Solarroller which uses a variation on the Type 1 Solar Engine I've written about in my BEAM Robots series for MAKE. I asked Zach to collaborate with me on another Street Tech Feature, this one on Vibrobots, a type of BEAMbot that uses the same type of Solar Engine (with a Flashing LED as a voltage trigger), is easy to build, and really entertaining to watch. Enjoy...
Posted by: gareth on Sunday, January 14, 2007 - 09:49 PM EST


In the current issue of MAKE (Vol. 8), I have a piece on Pummers, a type of solar-powered robotic plant life. I've known about Pummers for years, but my inspiration for doing the MAKE piece was finding Zach Debord's gorgeous Pummer set on Flickr. Being an artist and designer, Zach understands the value of making miniature robots that are as beautiful as they are functional. Mark Tilden, the "Big God" of BEAM robotics, has a wonderful adage that a human is a way that a robot makes another robot. One "evolutionary strategy" here is centered on aesthetics. Aesthetics drive interest. The Pummer piece is a prime example. I saw Zach's bots, I was wowed by their beautiful designs, and wanted others to see them. The piece got published, and now, if you search on Pummer in the MAKE Flickr pool, you see other people are making them. The robots are replicating themselves.
In the realm of behavior-based robotics, BEAM, bio-mimics, and other bottom-up, bug-brained approaches to robotic design, nearly every conceivable form of motility has been tried. There are bots on wheels, two-, four-, six-, eight-legged bots, bots with whegs (wheel/leg crossbreeds), snakebots, spinnerbots, swimmers, fliers, climbers. You name it. One of the less documented types of robotic motility is found in the Vibrobot, a type of robot that gets around by shimmying, shaking, and scooting. It's not the most graceful or accurate way to explore the world, but it's very easy to build a Vibrobot and they're really fun (and funny) to watch.
The key to Vibrobot movement is a motor (or motors) that employs an unbalanced weight. Pager and other motors used to create vibration alerts in consumer electronics use this technique. As the motor shaft spins, the weight on the shaft, being off-kilter, makes the motor, and therefore the entire pager, vibrate. Hook such a motor up to a little robo-critter with four fixed legs, and when the motor fires and the weight starts spinning, the bot will skitter across the floor. That's all there is to it. Since the legs don't need to be articulated or driven, there are few mechanical challenges in building a Vibrobot. The power circuit is very simple too. The simplicity of the mechanics and electronics frees you up to put more effort into making the bots look incredibly cool. It's no wonder then that, as with Pummers, Zach has built an amazing menagerie of Vibrobots. We asked him to tells us how he goes about building these wacky little robo-critters.
Here's a call-out image that details the parts used in a basic Vibrobot (the Solar Engine circuit is detailed in the diagram below).
As you can see, it's all fairly simple. This Vibrobot uses the FLED (as in "Flashing LED") version of a Type 1 Voltage-Triggered Solar Engine. This type of common BEAM power circuit was discussed in my "Beginner's Guide to BEAM" and the "Two BEAMBots" projects in MAKE Vol. 6. This is the same FLED Type 1 SE used in Zach's Twin-Engine Solarroller we wrote about on Street Tech a few months back. In that piece, tI quote from a reasonably clear explanation of how a FLED-driven voltage trigger works from well-known BEAM builder Wilf Rigter.
Here is a schematic for the basic FLED SE circuit, taken from Beam-Online.
Parts List
Here's the list of parts that Zach uses to build a basic single-motor Vibrobot. Solarbotics parts numbers are given, but you can also get many of these parts from your own techno-junk collection, from Radio Shack, or other electronics sources (see "Resources List" below).
| | | | |
| --- | --- | --- | --- |
| Quant | Part | Solarbotics Parts # | Notes |
| 1 | Pager Motor | #RPM2 | With weight still attached |
| 1 | 3v Solar Cell | #SC2433 | Any 3v cells, such as the 24mm x 33mm ones SB sells |
| 1 | 4700uF cap | #CP4700uF | N/A |
| 1 | 2N3904 NPN transistors | #TR3904 | N/A |
| 1 | 2N3906 PNP transistors | #TR3906 | N/A |
| 1 | Flashing LEDs | #FLED | N/A |
| 1 | 2.2K-ohm resistors | #R2.2k | N/A |
| N/A | Heat Shrink Tubing | N/A | Radio Shack has an assortment in various sizes. You'll want tubing all the way up to 2" dia. |
| 1 | Medium-Size Paper Clip | N/A | N/A |
| N/A | Guitar String | N/A | N/A |
| N/A | Red and Black Hook-Up Wire | N/A | Used to attach solar cell to SE circuit |
This bot has two pager motors. The first one (on top) has a fan attached to it. This doesn't have much purpose besides offering some kinetic visual interest.
Zach's Building Tips
Zach offers the following bits of additional bot-builder wisdom for success in creating your own Vibrobots:
The key to a good Vibrobot is to keep it as lightweight as possible so the motor can really jiggle it around when it fires.
Play around with leg placement. Having only a couple of the legs touching the ground at the same time can create some interesting movement patterns.
Buy a pack of jumbo- and regular-sized paperclips. For the US$2 you spend, you'll be able to build a whole fleet of robots. I almost exclusively use paperclips and guitar strings for my creations.
An assortment pack of heat shrink tubing goes a long way. Not only are your bots more interesting-looking, but you can use the tubing in key places to reinforce weak joints. I rarely have two strips of heat shrink on top of each other just for visual appeal.
This dual-motor vibrobot has the ends of paperclips soldered to two pager motors. Each motor is connected to a CdS cell so the more light each "eye" gets, the more the motor on that side fires. It's great to watch it react to a flashlight.
Resource List
Here are a few of the parts suppliers and websites that Zach (and I) recommend when planning out a BEAM project.

Solarbotics These guys are the go-to source for everything BEAM. I've been buying from them (and working with them) for many years and have always been impressed with their intense devotion to the BEAM hobby (and their customers).

Hobby Engineering Good source for motors, robot kits, parts, and other geekly goodies.

Goldmine Electronics I've never met a hardware geek who didn't heart the Goldmine. If you're not on their free catalog mailing list, get on it! It's a treasure-trove of weird and wonderful parts and deep discounted gadgets.

Mouser Zach sez (and I concur): "Great for any extra parts you might need. You may be able to find parts a little cheaper elsewhere but I've found that their fast shipping and great packaging (every item comes in a clearly marked bag) makes it worth any savings you might find elsewhere."

eBay Several good places in Hong Kong offer cheap LEDs via eBay.

Solarbotics.net The BEAM community portal. The Library section drops all sorts of mad science on BEAM theory and practice.

Beam-Online Another venerable and useful site for all things related to BEAM.

Zach's BEAM Bots on Flickr To see additional (and hi-res) versions of these images, and Zach's other bots, check out his Flickr page. To learn more about his design and fine arts work, visit his website.
This basic vibrobot uses a polyacene battery instead of a cap (to deliver about .6F of power). The bot gets a decent power burst when it fires. It also has a guitar string "nose" to help keep it away from larger bots.
Other Robot Projects from Street Tech
---
Posted by: gareth on Thursday, January 11, 2007 - 11:57 PM EST


"WowWee" is right. These people are cranking out bots in nearly every form-factor and type of robot motility. The latest bot that they demo'd at CES is the RoboBOA, a snakebot. Robert Oschler of RobotsRule sent us a link to a video and a discussion forum, which includes an exchange with WowWee's chief bot-builder Mark Tilden in which he reveals the following:
The RoboBOA is, in fact, a lot of robot. Using a new adaptive vision system it can track and see objects up to 4 meters away with precision, and it doesn't just avoid them, it can take an interest. Motion is quick using its tail travel wheel, and it can raise itself almost a meter into the air during turns and demos. The default personality is very ET friendly, and it's stuffed with other personalities like patrol guard, rotating lazer sentry, even a strafing guard mode. There are 41 functions including volume control, tracking flashlight, explore, and it's even an iPod speaker amplifier.
Thanks, Robert!
Posted by: gareth on Thursday, January 11, 2007 - 08:32 PM EST


Ed Paradis has instructions on his site for how to deconstruct the Hot Wheels Radar Gun "toy" (which is a real, working device) to use the radar module in your own circuits, such as for obstacle detection in robotics. You can get the Hot Wheels gun for around US$20.
Posted by: gareth on Monday, January 08, 2007 - 03:48 PM EST


Since the robot community has been busy hacking and modding the Roomba anyway, iRobot decided to go with the flow and offer a robotics development platform built around the Roomba formfactor. Robot Magazine has an Introduction and First Look. Here's the juicy bits from the piece:
The iRobot Create comes fully assembled. It has 32 built-in sensors, two powered wheels, a castor (and optional 4th castor wheel), 10 pre-programmed behaviors, an expandable input/ouput port for custom sensors and actuators, a cargo bay with mounting points and a tailgate for ballast. This new bot platform works with optional accessories such as the iRobot Command Module, iRobot Roomba Virtual Wall units, the self-charging home base, and iRobot Roomba standard remote. You can use the Roomba rechargeable battery options or standard alkaline batteries. You'll need a computer with a serial port (USB connectivity is expected soon) and Microsoft Windows XP, Linux or Mac OS X.
The First Look piece on Robot Magazine's site includes some pics of the Create turned into a laundry picker-upper, a store barker, and laser tag robots. Cool!
The Create starts at US$130 for a barebones unit and goes up to $230 for a full kit with Command Module, self-charging station, and two virtual walls. Here's the iRobot Create page.
Posted by: gareth on Sunday, January 07, 2007 - 01:21 AM EST

Robert Oschler of Robots Rule tells Street Tech:
WowWee is showing their new spider robot at this month's Consumer Electronics Show in Las Vegas. This may be the bot that was rumored to be codenamed Spidersapien. Its actual name is the Roboquad, a fast moving four legged robot with advanced object assessment and detection circuitry. Built to move rapidly in any direction and react quickly to motion in its environment, it's slated to hit store shelves in Fall of 2007. Nocturnal, the clever Evosapien Team expert that created the sinister Robosapien + Teddy Bear creation named RoboTed, has created a fun video showing his idea of what the Roboquad/Spidersapien should have been.
You can discuss this new robot, or Nocturnal's vid, at the Roboquad forum.
Posted by: gareth on Tuesday, January 02, 2007 - 10:55 PM EST


Simon Fraser is a programmer who works at Apple, on the Quicktime Apps Team. His very well put together BEAM robot site has some very cool builds, including this Solarroller which uses flexible solar paneling to power the bot. For the power circuit, it uses the Miller Solar Engine I discussed in my BEAM articles in Vol. 6 of MAKE.

[Via Solarbotics]
Posted by: gareth on Monday, January 01, 2007 - 09:24 PM EST


EEBeat has a short interview with BEAM and Robosapien inventor Mark Tilden. Some interesting tidbits in the piece, like how Mark engineered the RS2 by cannibalizing the RS1 and using his analog "nervous net" technology, but then "setting these patterns in digital silicon for reliability." He and WowWee also custom-designed the motors and gearboxes "pushing the concept of 'toygrade' to the limits while still keeping costs low." (If you read Rodney Brooks's Flesh and Machines -- where he talks about trying to bring his iRobot Real Baby to market and how insane the margins are on toys, with parts needing to cost less than nothing -- you can appreciate what level of innovation needs to go into something like a Robosapien or Roboreptile to keep them within toy price ranges.)
Posted by: gareth on Thursday, December 28, 2006 - 11:58 PM EST


Another day, another Wii controller app, and another Roomba hack. Here, a guy has used the DarwinRemote software to capture the accelerometer data from the Wiimote and the Perl version of the Roomba control software to be able to control Roomba via the Wii controller (and via a PC and via Bluetooth).
Posted by: gareth on Wednesday, December 27, 2006 - 04:01 PM EST


I missed this Michael Kanellos piece on CNet (from Oct) about living with a Scooba, the iRobot cleaning bot that both vacuums and washes floors. I've seen lots of people faun over it, how cool the concept of an affordable robot that can clean the horror that is the bathroom floor -- okay, MY bathroom floor, anyway -- but I've seen little about how it actually works in the wild. With the Roomba, I waited several gens to get one 'cause I heard that earlier versions were less-than-reliable. I suspected the same was true for Scooba, and this review bears that out. The main cons seem to be that it's very noisy and it leaves a watery film on wood floors that needs to be wiped up or it could damage the floor.
Posted by: gareth on Thursday, December 21, 2006 - 05:55 PM EST


The posting of the T3 video showing the forthcoming WowWee Flytech Dragonfly -- an R/C robo-dragonfly that actually uses its beating wings to stay aloft -- created quite a stir in the geeksophere. The wireheads over at Robots Rule wrote to tell us that the WowWee Dragonfly was actually based on a rubber- band- powered Ornithopter designed by a high school student, Sean Frawley, and that he's now a consultant to WowWee. Robots Rule has a page dedicated to the Flytech Dragonfly and a discussion forum. The Flytech page points to Sean's Ornithopter Technologies website where you can buy a US$20 kit to build your own paper/ balsa/ rubber band flyer (shown above). Cool!

BTW: The Robots Rule Flytech page has a second video of the Dragonfly. This one looks like it was shot in WowWee's offices.
Posted by: gareth on Monday, December 18, 2006 - 10:35 PM EST


We're not on Solarbotics's payroll, we swear! It's just that they're releasing some cool year-end stuff. First the Mousey kit and now this. It's a 37 x 33mm Polycrystalline 6.7v Solar Cell that has a Miller Solar Engine circuit etched onto the underside. All you have to do is solder on a few components, wire up a motor and you have a solar-powered thingamajig.

I talked about the Miller Solar Engine variant (a more power-efficient, more configurable version of the traditional Type 1 voltage-triggered Solarengine) in my BEAM articles in MAKE. You could use one of these cells and its MSE circuit with a Gold Cap (.33F capacitor) on my Solarroller project from Make Vol. 6 and you'd get a nice long-burst power feed to the motor for a decent run of the Roller.

These Solar Engine Cells are a "Limited Edition" (oh, fancy...), so you should scoop 'em up while you can. And they're only US$9 for one or $7.25 for two or more.
Posted by: gareth on Monday, December 18, 2006 - 03:01 PM EST


Okay my solder-happy wireheads, I've written a full review of Solarbotics' new Herbie the Mousebot kit. Here's a pic of my actual Herbie, on the bench and ready to zoom off into the hinterlands of the living/dining room. Go, Herbie, go!
Posted by: gareth on Monday, December 18, 2006 - 01:07 AM EST

My latest review for the FM Holiday Guide is up. I reviewed Herbie the Mousebot, the new kit from Solarbotics. I built it this weekend. Fun! I'll have a more in-depth review here on Street Tech later today.
Posted by: gareth on Monday, December 18, 2006 - 12:24 AM EST


We just got the Street Tech invite to a WowWee meet n' greet for CES next month and are bummed we won't be there to see the new bots. The invite features enticing silhouettes of the new bots, and this is apparently one of them, an R/C dragonfly that actually stays aloft on beating wings!

With the defense department spending the big bucks in R&D into this kind of hovering spybot, it's amazing that a toy company has something this "advanced" (he says in quotes because, while it is amazing for a first effort, it's still not what you'd call hummingbird-graceful -- stealth tech she ain't). Can't wait to see the other WowWee offerings.

[Via Engadget]
Posted by: gareth on Thursday, December 14, 2006 - 07:47 PM EST


Call me a sick so and so, but I got a big kick out of this Teddy Bear surgery vid in which a Teddy gets de-stuffed and then used to skin a Version 1 Robosapien. Hey, other tech has "skins," maybe WowWee should look into skins for their robots. The video ends with the obligatory kitty harassment. All in good fun. Okay, so maybe the skinned Tedster pre-'Sapien explantation is a little creepy...
Posted by: gareth on Wednesday, December 06, 2006 - 11:07 PM EST


Khalid Hosein, one of the editors at RoboCommunity, a site dedicated to WowWee robotics, sent me a link in response to my posting on the RSMedia Robot. On the site, I found an interesting YouTube vid of the lovably eccentric Mark Tilden. My favorite part is when he starts telling the female interviewer about his PissBot, a bathroom bot that cleans up misses around the bowl. Hey, I'll take one of those.
Posted by: gareth on Tuesday, December 05, 2006 - 11:55 PM EST


While doing research for my Robosapien V2 review for the Federated Gadget Guide, I discovered that Robosapien Media (or RS Media as he's called), or V3, I guess you could call him, is already being released in some parts of the world (Germany, the UK, South Africa, Australia and New Zealand). I guess he's not going to make it to US shores by this Christmas. That's a shame. Same thing happened last year with the V2 as I recall. But you can see the demos and specs on the RSMediaOnline site and see some beloved bot deconstructing already going on by early buyers via this Aussie forum.
Posted by: gareth on Monday, December 04, 2006 - 03:44 PM EST


My entry today in the Federated Media Holiday Gadget Guide is on the Robosapien V2. Here's a snippy-snip:

"Probably the most enthusiastic recipient of the Robosapien V2 would be the robot builder/hardware hacker, either teen or adult, who'd be anxious for the visiting holiday relatives to leave so that he or she could whip out the Dremel tool and soldering iron and get busy "improving" Robosapien. WowWee's robot designer, well-known robotics engineer Mark Tilden, encourages aftermarket modding, and designs his toys with well-labeled circuit boards, plug-in connectors, and plenty of space inside for user-added tech..."

Read the rest of the piece here.
Posted by: gareth on Thursday, November 30, 2006 - 10:21 PM EST


Tod E. Kurt, author of the new book Hacking Roomba (which looks great, BTW) has an article on the book's support site on how to add a Cylon-esque LED light array to your Roomba. The video at the end of the piece is cute.
Posted by: gareth on Wednesday, November 15, 2006 - 07:44 PM EST


Our pals over at Solarbotics have just announced an awesome new robot kit, Herbie the Mousebot (US$40). The kit uses the Herbie circuit, first developed by Randy Sargent at MIT, and used in several modded versions, including my "Mousey the Junkbot" project from my robot book and MAKE Vol. 2.

This kit looks really cool, adding a mouse-like PCB body that will tickle kids and terrify the housepets. The traditional Herbie circuit has also been modded to include two tactile whiskers in the front and a touch-sensitive tail so that it can work its way out of tight spots.

A portion of sales of Herbie will be donated to the KISS Institute for Practical Robotics, an org that Randy Sargent is involved with, which uses robotics to get kids excited about science, technology, engineering and math.

This kit would make the perfect gift for a kid, or anyone, who's interested in electronics and robotics, but maybe not confident enough to build a similar project from separate components. Solarbotics is taking pre-orders now and will ship kits out on November 24th.
Posted by: gareth on Thursday, October 19, 2006 - 02:29 AM EST


I love some of the art that people are making with bots. This one, called Coke Is It, finds a hexapod walker traipsing around a gallery sucking up puddles of Coca-Cola that it finds on the floor. It then sprays the corrosive sugar-water all over itself. Over time, the Coke eats through the "skin" of the various components and into its sensitive circuitry, and then it's lights out for little Johnny-5, or in this case, C3 (a reference to C2, Coke's new low-carb can of caramel sugar-water).

This slow-mo destruction of circuitry through liquid reminds me of one of the more amazing stories from WWII. Legend has it that Polish slave labor, put to work by the Nazis at Peenemünde to build V-2 rockets, would pee on the control electronics they were working on when their guards weren't looking. By the time the rockets had been assembled and sent to the launch pads, the urine had corroded the innards and many of the rockets malfunctioned. I don't know if this is an apocryphal story or not, but this kind of ingenuity (and bravery and selflessness) is always inspiring.

[Via we-make-money-not-art]
Posted by: gareth on Friday, October 06, 2006 - 06:39 AM EST


LEGO Mindstorms NXT, now with killer lasers! Okay, so they're relatively harmless lasers, but this step-by-step hack shows you how to turn the stock NXT Light Sensor Module into a Laser Module. Cool!

[Via /.]
Posted by: gareth on Thursday, October 05, 2006 - 06:30 AM EST


When I became interested in BEAM robotics and started taking apart pagers to cannibalize their motors, I was fascinated by the offset-weight on the motor shaft. That's what makes your pager or other comm device vibrate, a one-sided weight spinning around and causing the vibrations you feel. While these weights are usually removed in miniature bot building, I started thinking about how you could use this off-kilter rumbling as a form of motility. Later, I discovered there's a whole branch on the BEAM family tree for these "Vibrobots."

Zach Debord, who created the Twin Engine Solarroller has built some cool Vibrobots. I'm going to talk to him about another Street Tech piece that shows off some of these and describes how he built 'em.

Which brings us to this amazing, analog vibrobot drawing robot project, built with little more than a paper cup, three felt pens, a battery pack and a DC toy motor with an "eccentric weight." The video of the builder's son taking it for a spin is adorable.

[Via Make]
Posted by: Craniac on Tuesday, September 26, 2006 - 11:31 PM EST

Here's a clip from a 1983 documentary film on Survival Research Labs, filmed in the style of a 1950s science education film.

[Editor's Note: No joy in embedding the YouTube vid here, so I just linked to it.]


Posted by: gareth on Monday, September 25, 2006 - 05:09 AM EST


The subhead reads: "Manoi AT01 kit contains 200 tiny screws and a 100-page manual." The level of your hardware hacking/building geekitude could perhaps be measured by your reaction to that line. If 200 screws and a thick manual make you wanna hide your head and call out for your mamma, robot building is probably not for you. If such implied complexity and miniature parts fiddling makes you go all weak in the knee, you've come to the right hobby. Unfortunately, short of building junkbots, it's not a hobby that comes cheap. The Manoi AT01 kit will set you back US$1260 or the Yen equivalent for your nerdy analog in Japan. So far, the maker has not announced plans to sell the 13" robot overseas.

See our previous item on the Manoi robots.


Posted by: gareth on Wednesday, September 20, 2006 - 11:15 PM EST


Linux Journal has an article, written by a high school teacher, on the bots built in his class. The current bot runs on Gentoo Linux and has some clever features, such as wheel encoding using computer mice. Now using parts from mice to build bots is nothing new, even using them to create encoders has been done, but this design bolts a largely-intact optical mouse to a drive wheel -- it even uses the freakin' mousepad as the encoder wheel!

I also like the parking sign seen in the background of one of the pics: Linux User Parking Only.

Thanks, Alberto!


Posted by: gareth on Wednesday, September 20, 2006 - 04:19 PM EST


This is a re-direct posting, added here so that this how-to project will be listed in our "Special Features" directory. We apologize for the redundancy.

Here's the link to the Coat Hanger Walker Project.


Posted by: gareth on Wednesday, September 20, 2006 - 04:04 PM EST


Okay, the title lies. It's not really a robot (and it's not only built with a hanger), it's a little one-motor walking machine (no sensors, no feedback), but the project does teach you about basic breadboarding, soldering, use of the BEAM Bicore control circuit, how to hack a servo motor, and other deep geek mojo you can apply to building actual bots.

This is a version of the project that was in my book, Absolute Beginner's Guide to Building Robots, and pictured in Make Vol. 6 and on the issue's Web page. The illustrations were done by Boing Boing's Mark Frauenfelder and the photos are by Street Tech's court photographer Jay Townsend.
Posted by: gareth on Sunday, September 17, 2006 - 11:49 PM EST


The Fall issue of the most excellent Robot Magazine is on newstands now. Among other juicy fare, it has a cover story on the Microsoft Robotics Studio and a closer look at the NXT Mindstorms system. On the mag's website, they also have a preview of an upcoming feature piece for the Winter issue on the amazing MANOI Humanoid Robots (which look like they were beamed straight out of a Japanese anime). The Web piece has lots of photos of the two main MANOI models (pictured above), bot innards, and a hi-res exploded schematic. Also: Tom Atwood, Editor-in-Chief of Robot, was recently on the Daedalus Howell Radio Show. You can access an MP3 of it here.


Posted by: gareth on Thursday, September 14, 2006 - 01:16 AM EST


From the Make blog:
Roomba adds a new workshop bot to their line up, last week they announced a pet version too... - "The same size and shape as the iRobot Roomba® Vacuuming Robot, iRobot Dirt Dog features an oversized, bagless debris bin that is approximately 40 percent larger than Roomba's bin. The robot also features two counter-rotating bristle brushes that spin at nearly 1,000 rotations per minute to pick up heavy debris such as nails, wood chips and small shop scraps. With brushes specially designed to sweep up dirt that clings to rough surfaces, the robot is recommended for use on hard floors, shop carpets and industrial surfaces only." The price is expected to be extremely reasonable US$130.


Posted by: gareth on Sunday, September 10, 2006 - 09:35 PM EST


Does Bender know about this? Those engineers over at NEC, always looking for a way to keep their perpetual R&D darling, the PaPeRo, in the limelight, have now tasked the hapless little Weeble with wine-tasting. Seriously. Hot on the heels of PaPeRo being turned into a health advisor and cheese snob (it can analyze food and determine its fat and sugar content and identify different types of cheeses), it can now perform a similar hat trick on wines. It does this using the same tech it used on food: infrared spectral analysis, measuring the degree of light absorption in different wavelengths and comparing that to its database. But it's harder to do this with wine than with food, as the absorption signatures are similar to each other. Okay. Cool. Interesting. But what does this have to do with a small personal home robot that you've been promising consumers for almost six years now?

[Via Gizmag]


Posted by: gareth on Friday, September 08, 2006 - 02:01 AM EST


In a recent talk at a conference, game designer Will Wright joked that he now has a robot to watch and record his TV for him (TiVo). Maybe he'll want one of these next, a robot that can ride a bike for you. Who needs all that calorie-burning exercise and exposure to harsh direct overhead lighting, anyway? Make the robot do it. And hey, Tom Servo, while you're out, could you grab me a pack o' smokes?



Posted by: gareth on Thursday, September 07, 2006 - 01:28 AM EST


What would you get if you crossed the DIY spirit of MAKE and its sister pub CRAFT, the power and digital sophistication of LEGO Mindstorms, and the childhood charm of macaroni and yarn art? You may get something like PicoCricket. Like its nerdier big brother, Mindstorms, PicoCricket grew out of a collaboration between the LEGO company and MIT's Media Lab, and both building sets include electronics and a microcontroller, but PicoCricket is designed to appeal to a wider range of young builders, and to allow for much more diverse creations. To assist in this, along with the electronics, LEGO pieces, and the computer "brain," the kit also contains more traditional kid crafting materials, right down to the pipe cleaners, glittery bits, and googley eyes.

The PicoCricket is not actually made by LEGO, although it contains LEGO components. LEGO partially funded the Toronto start-up, Playful Invention Company (PICO), that developed the kit and it provides the LEGO pieces under an agreement with PICO.

Read the entire piece about the PicoCricket at BusinessWeek.
Visit MIT's Cricket site.
And PICO's site.


Posted by: gareth on Wednesday, September 06, 2006 - 01:58 AM EST


Here at Street Tech Labs, we're big believers in the technojunk box, a collection of cast-off consumer electronics to have on hand for delving into when you need parts for robot building or other hardware hacks. We're also big fans of junkbots, robots built out of as many recycled parts as possible. But this builder, David Williamson, definitely puts the "junk" in technojunk. He builds these amazing rattletrap creations from old motors, gears, switches, relays, and transistors, i.e. the usual suspects, but he also makes judicious use of drinking straws, soda cans, paper plates, cardboard, plastic beads, toy pieces, string, coat hangers, coffee cup lids, bits of pocket lint, fairy dust, and dreams.

After marveling at his wonderful drawing contraptions, check out the rest of his site. It's a treasure-trove of freeform creativity and technojunk jazz. This cat definitely has the chops.

[Via Make]



Posted by: gareth on Monday, September 04, 2006 - 02:09 AM EST


I spent the weekend inhaling brain-dimming fumes and wielding dangerous power tools, all in the service of science and the advancement of robot-kind. Cause as a wise philosopher once said (or was it a HAL 9000?): "Isn't a human just a way for a robot to make another robot?" See the bot this puny human bodged up in my debrief on the Solarbotics Turbot Kit, in our Reviews section.


Posted by: gareth on Wednesday, August 30, 2006 - 12:31 AM EST


I recently became aware of a BEAM builder named Zach DeBord who had a number of his creations on Flickr. I decided to pick his brain on one of his creations -- a two engine, four storage cap, 2 solarengine circuit "Solarroller" -- for a Street Tech DIY feature.

If you built tmy beginner solarroller from the cover story in MAKE Vol. 6, this could be a perfect follow-up project. This uses a variation of the solarengine (SE).circuit. This variation's called a FLED SE because it uses a Flashing LED as its voltage trigger. Confused? Read on, the piece explains how this works...




Posted by: gareth on Wednesday, August 30, 2006 - 12:17 AM EST


Gopod bless Flickr! While searching on it recently to see if anyone else had built Mousey the Junkbot or a Symet or Solarroller inspired by my recent BEAM robotics articles in MAKE, I discovered Zach DeBord and his amazing BEAM creations. A Chicago-based designer and Web developer who's done work for (among others) Comcast, Volvo and Yellow Tail (mmm...wine), Zach's bots put the "A" (as in "Aesthetics") back into BEAM, with gorgeous, meticulous designs that are as much objets d'art as autonomous robo-critters.
All of his robots are awesome-looking, but I was instantly attracted to this roller because it's bigger than any solarroller I've ever seen and it uses two solar cells, four storage capacitors, and two gearmotors. Ingeniously, this roller can be steered (sorta). Zach writes: "It is currently configured to go forwards, but by angling either solar panel, it will turn more in one direction since one panel will be getting more light. With both panels angled in the same direction, it is pretty phototropic."
The two large drive wheels on the roller where made from the discs in old SyQuest 270MB 3.5" removable cartridges. Of these, Zach sez: "The SyQuest platters make great wheels except that they are fairly slick. I plan on getting some rubberizing paint and putting beads along the edges to give the wheels more traction." The third wheel, an idler, "keeps the motors from dragging on the ground. It is actually a small plastic part also taken out of the SyQuest disc."
For this design, Zach used two FLED-based voltage-triggered Solar Engines (Type 1). In my "Beginner's Guide to BEAM" and the "Two BEAMBots" projects in MAKE Vol. 6, we also discussed and used voltage-triggered Type 1 SEs, but they used a 1381 voltage detector IC to control the circuit. FLED-based SEs use a Flashing LED (hence "FLED") in place of the 1381. On the FLED SE page on the Circuits Library on Solarbotics.net, this is how BEAM guru Wilf Rigter describes the way in which such a circuit works:
"The solar cell charges the main capacitor until the voltage is high enough for the FLED to start flashing. When the FLED flashes, current flows through the FLED and the base of the PNP transistor and it turns on. Now current passes through the PNP into the base of the NPN transistor and it turns on. When the NPN turns on the collector which is connected to the motor and the 2.2K resistor goes low (to GND). This places a voltage across the 2.2K resistor which provides more base current for the PNP transistor which makes it turn on even more. That is called positive feedback or latching of the circuit because both the PNP and NPN transistors remain on until the main capacitor is discharged to less than 0.7V. When the capacitor voltage drops below 0.7V the PNP and NPN transistors both turn off because of the minimum voltage required to keep the base emitter turned on."
Here is a schematic for the basic FLED SE circuit, taken from Beam-Online.
Zach on building BEAM Roller circuits: "I usually build engines in a batch for later use. In the image below, you can see that there are sockets on top of the engine circuits (made from IC socket pins). These are used to easily plug in the solar cells. The two leads (red and black) coming out of the back of the engines go to the motors. In this picture you can see the two types of engines that I make: one "classic" configuration with storage capacitors (the two engines on the left) and another config using Polyacene disk batteries in place of the caps (which deliver roughly .6 Farads of stored power). These are represented by the three engines on the right."
Parts List
Here is a list of the parts that Zach used to build his bot. Solarbotics parts numbers are given, but you can also get many of these parts from your own techno-junk collection, from Radio Shack, or other electronics sources (see "Resources List" below).
| | | | |
| --- | --- | --- | --- |
| Quantity | Part | Solarbotics Parts # | Notes |
| 2 | SyQuest Disc Platters | N/A | Dumpster diving, anyone? |
| 2 | 3v Solar Cells | #SC2433 | Any 3v cells, such as the 24mm x 33mm ones SB sells. |
| 2 | Gear Motor GM3 | #GM3 | These are 224:1 90-degree shaft motors |
| 2 | 2200uF caps | N/A | N/A |
| 2 | 4700uF caps | #CP4700uF | N/A |
| 2 | 2N3904 NPN transistors | #TR3904 | N/A |
| 2 | 2N3906 PNP transistors | #TR3906 | N/A |
| 2 | Flashing LEDs | #FLED | N/A |
| 2 | 2.2K-ohm resistors | #R2.2k | N/A |
| 2 | IC Socket pins | #SPin24 | These are on a 24-pin DIP that you pull off to use. |
| 1 | 1/2" piece of 1/4" tube | N/A | Used as a spacer between engines. |
| 1 | 1.5" screw | N/A | To fasten engines together (via hole on motor casings. You just need to find a screw that'll fit snuggly. |
| 1 | Round plastic piece | N/A | To be used as back stabilizing wheel. Zach got his from the same SyQuest disc. |
| N/A | Heat Shrink Tubing | N/A | Radio Shack has an assortment in various sizes. You'll want it all the way up to 2" dia. |
| 1 | Heavy Duty "Jumbo" Paper Clip | N/A | N/A |
| Spool(s) | Hook-up Wire | N/A | Use red and black to keep things colorful and polarity-coded. |

Zach's twin-engine roller next to a more
common single-engine variety.
Resource List
Here are a few of the parts suppliers and websites that Zach (and I) recommend when planning out a BEAM project.

Solarbotics
These guys are the go-to source for everything BEAM. I've been buying from them (and working with them) for many years and have always been impressed with their intense devotion to the BEAM hobby (and their customers).

Hobby Engineering
Good source for motors, robot kits, parts, and other geekly goodies.

Goldmine Electronics
I've never met a hardware geek who didn't heart the Goldmine. If you're not on their free catalog mailing list, get on it! It's a treasure-trove of weird and wonderful parts and deep discounted gadgets.

Mouser
Zach sez (and I concur): "Great for any extra parts you might need. You may be able to find parts a little cheaper elsewhere but I've found that their fast shipping and great packaging (every item comes in a clearly marked bag) makes it worth any savings you might find elsewhere."

eBay
Several good places in Hong Kong offer cheap LEDs via eBay.

Solarbotics.net
The BEAM community portal. The Library section drops all sorts of mad science on BEAM theory and practice.

Beam-Online
Another venerable and useful site for all things related to BEAM.

Zach's BEAM Bots on Flickr
To see additional (and hi-res) versions of these images, and Zach's other bots, check out his Flickr page. To learn more about his design and fine arts work, visit his website.
Posted by: gareth on Tuesday, August 22, 2006 - 05:57 PM EST


Not to take anything away from our friends over at Nxtbot.com, but there a couple of other cool new blogs dedicated to the just-released LEGO Mindstorms NXT system that you might want to add to your feeds if you're a LEGO bot enthusiast.

Nxtasy (we won't make any snarky comments about their name) has a look and feel, and content, similar to Nxtbot. They seem to be more focused on the nuts and bolts of Mindstorms and less on the field of hobby robotics and R&D in general. They have projects, complete with code, building instructions, and videos of bot demos and vid news items about Mindstorms.

The Mindstorms NXT Review has similar content to both Nxtbot and Nxtasy, with a design that makes it kind of hard to read. Not sure yet whether this one is worth regular visits or not. Of all three blogs, Nxtasy seems to have the most frequent updates and the juciest content, and their content is all-LEGO, while Nxtbot covers all types of bots.

Mindstorms Easter Egg Bonus: There's a hidden video, an NXT commercial, on the front page of the official Mindstorms site. Click on the word "do!" at the end of the "What is NXT?" section. It'll take you to the vid of their mascot bot (that Johnny5 wannabe) playing soccer. It's not the real bot, it's an animation and he's doing things no NXT could ever do, which is kind of ironic 'cause it's hidden behind the words "can do." [Via Mindstorms NXT Review]


Posted by: gareth on Monday, August 21, 2006 - 08:46 PM EST


While doing research for an article, I bumped into this incredible BEAM robot project. The builder, Bruce Robinson, wanted to know how complex a behavior set he could get from a robot using only BEAM technology (i.e. analog electronics and no microcontroller). The result, Hider, has nine sensor systems! Robinson writes:

"Hider is concerned with survival. Normally it parks itself in bright light where it is easily seen. If the light gets dim, it looks for a brighter place. In the dark it stays still and flashes a beacon every few seconds so it won't get stepped on. And if it hears a loud noise, such as a door slamming or people talking, it "runs away" and looks for a dark place to hide in.

"While Hider performs more or less as intended, there have been a few surprises. For example, in the photo (below) Hider is "looking" at the darkest thing in a sunlit room -- a wooden column. While we might think of a shadow as being darker, Hider doesn't see it that way; its "eyes" look at the walls, not the floor. In a room with white walls and pale furniture, a nearby column of reddish coloured wood looks very dark."

Robinson has exhaustive details on Hider's design, logic, schematics for all the circuits, pictures of the construction, and lots of other info. The schematics are gorgeous, a model for how this sort of thing should be done.


One of the things that's always frustrated me about BEAM is that, with the exception of Mark Tilden's work at Wow Wee, few people seem to be experimenting with/applying BEAM principles in building complex (or relatively complex) analog control systems. This is one of the better, and better documented, projects I've seen.


Posted by: gareth on Wednesday, August 09, 2006 - 12:36 AM EST



I just love the look of this laser-cut plastic body that Chris Myers, a product designer, built for his Palm Pilot Robot. The pieces are cut from 1/8" plexi and the layers stack in such a way that glue or fasteners are not needed. Graphite was the design program used.

While you're on the site, check out some of his other projects, such as the bots built in a class that he teaches. It shows off a number of cool critters, including a variation on Mousey the Junkbot, with two bump whiskers.


Posted by: gareth on Monday, July 24, 2006 - 10:50 PM EST


Our buds at Nxtbot have a piece about a new Japanese robot called PLEN. Under 10 inches tall, PLEN has 18 joints, can be operated via Bluetooth and mobile phones, and runs for about 25 minutes on a charge. But the amazing thing is that PLEN rollerskates and skateboards!

Check out this YouTube vid, where PLEN shows off some slick moves on a skateboard and some of his rollerskating routine. Nice form. He's no Brian Boitano, but still...


Posted by: gareth on Friday, July 21, 2006 - 03:00 AM EST


On his hardware hacking blog, Tod Kurt of TodBot has instructions on how to build a USB-to-serial (mini-DIN 8) cable for connecting a Roomba to a laptop (or other computer). As Tod points out in the piece, the PL2303 USB-to-serial adapter chip, built into the cable you use (the Nokia USB data cable), has support for all the major OSes.

[Via Make]


Posted by: gareth on Wednesday, July 19, 2006 - 02:51 PM EST


CNet News has a nice photo gallery with deep captions round-up of events at this week's jointly held 2006 National Conference on Artificial Intelligence and Conference on Innovative Applications of Artificial Intelligence, which is taking place this week in Boston.

The caption for this image reads:

"Woofie" is used to teach speech and language impaired preschoolers in New Orleans vocabulary, sequence and memory skills. Woofie makes an animal noise, says the name of the animal, and then asks children to step on the corresponding square. The robot dog responds positively when the answer is correct, and continues the game, adding an additional animal to the list upon each turn.


Posted by: gareth on Saturday, July 08, 2006 - 09:59 PM EST


According to a story on the gadget mag T3's site, the next gen Robosapien, the color LCD- and SD-card-equipped Robosapien RS Media, has been designed to easily interface with the Lego Mindstorms NXT microcontroller. The NXT computer brick will allegedly fit perfectly into the backpack designed into the RS Media. While the T3 article also has some tidbits about the Robosapien AFTER the Media model (which will, according to the piece, have Segway-like legs and be Net connected), let's hope that the addition of the NXT MCU on the RS Media means that we won't have to wait for the 4th gen to get ol' Robosap online.
And is it just me, or does the RS Media look a little bit like Robocop with his head on backwards? "You have the right to remain silent." Blam!


Posted by: gareth on Tuesday, June 27, 2006 - 04:08 PM EST


Geeks.com is selling the Parallax Boe-Bot, a really nice starter robot experimenter's platform that uses the Basic Stamp 2, for only US$64. Considering that the Boe-Bot retails for $150 and the Basic Stamp 2 cost $50 by itself, this is a great deal.

Parallax was kind enough to send me a Boe-Bot kit when I was writting my robot book. I never got a chance to play with it. I gave it to my intern for helping me with the robot projects. The kit looked really good tho, easy to assemble, with great docs, lots of ideas for experiments and using the built-in breadboard, etc. For $64, this is a no brainer.

Thanks, Tim!


Posted by: gareth on Wednesday, June 21, 2006 - 02:13 AM EST


When we started blogging about steam-power robots a while back, they seemed little more than a cool curiosity. But we keep seeing builders showing off new steam-powered creations (okay, so many of them are from the same guy, but still...).

And now, two steam-powered bots have brought home the gold from the recent RoboGames. The Trilobite Tank (pictured left) won gold in the Best in Show category, while the Steam Walker got a gold medal in the Kinetic Artbots category. Images of both bots in action can be seen on the Crabfu website. Congrats to Crabfu's I-Wei Huang on the victory. BTW, we recommend watching the NBC Tech Now vid linked from his site for background on this fascinating hardware hacker.


Posted by: gareth on Wednesday, June 21, 2006 - 01:06 AM EST


As you may have already heard, yesterday, Microsoft announced its foray into the robotics marketplace/hobby community with the release of their free (for now) Windows-based environment for creating robotic control applications. Concurrent with the Microsoft announcement (at RoboBusiness Con 2006), Carnegie Mellon University announced its plans to open a Center for Robotics Innovation (with funding from Microsoft). The Center will maintain a website for hobbyists, academics, and commercial companies to share robotics ideas, technology and software.

At Street Tech, we'll reserve judgement on whether this is ultimately a good thing for robotics or just another area of technology where good wares and real innovation is going to be paved over by the MS juggernaut. The fear is that robotics could be the next area of technology to fall victim to Microsoft's tendency to "embrace, extend, and extinquish." It'll be interesting to see what roboticists (who aren't on Microsoft's payroll) think of these new tools as they make their way into the real world.

Here's Robot Mag's coverage of the announcement.
Here's the MSDN Site
Here's where CMU's Center for Robotics Innovation will end up.
Here's an article from the Seattle Post-Intelligencer
And last, but not least, here's a video from Channel 9, an interview with Tandy Trower of the MS Robotics Group.


Posted by: gareth on Tuesday, June 20, 2006 - 02:28 AM EST


Doing a search on Flickr, to see if anyone else had put up pics of the two BEAM projects in Make, I found this builder's amazing BEAM creations. He does really beautifully designed critters, most of them fashioned from techno-junk. After the jump, you'll find his take on the two types of bots I covered in the Make piece, Symets and Solarrollers. He made his Roller out of parts from an old Walkman and the Symet from a CD-ROM drive.

I used a picture in the Beginner's Guide to BEAM article of Harold Ilano's incredibly cool Black Vermin, his take on Mark Tilden's infamous VBUG 1.5, built from a Sony Walkman and an oven timer (among other parts). Harold has a bunch of other cool bots on his site, including the recently built Hermit, a wee-little four-legged walker that uses five micro-servos. Check out the vids of it in action.
Read more... (800 bytes more) 10 Comments
Posted by: gareth on Monday, June 19, 2006 - 01:08 AM EST


This Make reader did a really nice job of building the three-cap Symet (a.k.a. a Trimet) from my BEAM projects piece in the latest Make (No. 6). His build is almost identical to mine, but his discharge time and the amount of spins he gets is a bit less. Mine got a pretty satisfying rotation on each charge. Not sure which value of voltage trigger he used. His is so neat and beautifully soldered. Mine was messy and I solder like crap. Maybe that had something to do with it. I had more weight in lead shot. Here's a link to a few more Flickr pics, and here's a link to a YouTube vid showing the little robo-top in action.

Here's another builder's bot. He ingeniously added little flange/fin thingies and it looks like a ball on the bottom (known in a BEAM trade as a motivator) to the motor axle. I'd like to see this one in action.



Posted by: gareth on Friday, June 16, 2006 - 06:32 PM EST


The always thoughtful wireheads over at Solarbotics have put together a couple of parts bundles for my two BEAMbot projects in the latest issue of Make. Each bundle comes with a solar cell, a cassette motor, and all required electronics. All you need to add are the structural pieces (paper clips and other buildy bits) and the wheels (for the Roller).


Posted by: gareth on Thursday, June 15, 2006 - 03:15 PM EST


We blogged about the new Wow Wee robot, the Roboreptile, earlier in the week. Today, PC Mag has a hands-on review of the little mecca-godzilla. Their verdict? It's cool, fast moving, and true to its BEAMish progeny, it achieves a "startling effect" with its simple, largely analog, electronics. But they also found it be one pissed off bot that's a little hard to tame and maybe too much of a handful for the youngins. As they point out, each robot in the line has a distinct personality: the Robosapien is a big goofball and Roboraptor is playful and aggressive, like a dog. Roboreptile is... well "irate." Cool. A REAL candidate for feral robotics.


Posted by: gareth on Wednesday, June 14, 2006 - 01:06 AM EST


The latest Make podcast is video from the recent Seattle Dorkbot meeting where SMART (Seattle Mindstorms and Robotic Techies) showed off a bunch of collaborative bots built with Mindstorms, some with the upcoming NXT system. The bots use line-following (among other sensing) to travel from one bot to the next transferring a load of balls as they go.


Posted by: gareth on Friday, June 09, 2006 - 02:18 AM EST


Our pals over at Nxtbot.com bring us news of a new addition to the highly successful line of Wow Wee robots. They link to a new site for the bot (currently sans content), a critter known as the Roboreptile, and they quote from a Sci Fi Channel blog item by a writer who got to see the US$120 robot in action:

"You can control the toothy robot directly from the remote control, but it's more fun the let the little guy (2-1/4 feet long) roam around, relying on its infrared sensors to guide it. Set loose on the kitchen floor, Roboreptile will run speedily along on all fours, avoiding obstacles, until it encounters a potential threat (Fido, perhaps), whereupon it'll switch to biped mode to 'attack.'"


Posted by: gareth on Wednesday, June 07, 2006 - 12:44 AM EST

If you're interested in the Vex Robotics Design System, you might want to bookmark Vexfan.com, a discussion site dedicated to the building set. There's not much going on there now (it's only a month old), so stop by, grab a clipboard and a white coat, and try to look busy and important to help attract more wireheads.


Posted by: gareth on Monday, June 05, 2006 - 01:08 AM EST


It may look a little like a toilet on wheels when it's folded up, but when deployed, it's something far more interesting. Pebbles (which is one of those clunky acronyms for "Providing Education by Bringing Learning Environments to Students") is a robot telepresence system for kids who have to spend a long time in the hospital. Such a lengthy stay can be a huge setback for a child, in terms of their schoolwork and maintaining ties to their school chums. Pebbles acts as a robotic proxy, with one unit in the classroom and one by the child's hospital bed. Basically a teleconferencer on wheels, the child can see what's going on in the classroom (and be seen in return), and s/he can move the classbot around via a game controller, and even raise the robots hand to participate in class discussions. The student can even move the robot from class to class, stopping off at the lockers to talk trash and to chase down and dispatch bullies with the onboard flamethrower (okay, I made that last part up, I got a little carried away by the whole concept).
Read an AP piece on Pebbles.
See the Pebbles page at Ryerson University in Canada.
Check out the Pebbels info at Telebotics, the bots' maker.


Posted by: gareth on Tuesday, May 30, 2006 - 01:47 AM EST


We've covered the work being done at the Stanford RiSE Project here in the past and the Poly-PEDAL Lab at Berkeley and its study of geckos and how they grip surfaces. This reverse engineering of gecko tech continues apace, the latest effort being this little fella, Stickybot, who can climb on glass. Pretty cool.


Posted by: gareth on Friday, May 26, 2006 - 06:34 PM EST


As its creator says in the linked video, this RoombaMidi software allows you to control your robo-vac's motors with a MIDI keyboard and play music that has all of the fidelity of a wristwatch, but hey, it's a robotic vacuum that dances, plays tunes, and flashes its purdy lights. What more do you people need?


Posted by: gareth on Thursday, May 25, 2006 - 11:40 PM EST


Who knew that steam-powered robots were going to be an up and coming thing? Last week, we gave you the steam-powered robotic arm, now there's a walking steam-powered robot toy from Germany, a US$300 robot toy from Germany. The e-tailer listing it, Robot Island, doesn't give any other details (like how much bot for your buck), but there are a couple of additional pictures. Allegedly due stateside this summer.

[Via Engadget]


Posted by: gareth on Wednesday, May 24, 2006 - 09:29 PM EST


Reuters had a rather disheveled piece yesterday about military robots in Iraq and how soldiers were getting attached to them, even grieving over their loss. That's not the mixed up part. That's completely understandable (more mundane example: I SWEAR my Roomba has an unhealthly interest in the umbrella stand by the front door and snubs his bump sensors at me as I yell: "Hey, stay away from there!" and "Get the rug out of your mouth"). The strange bit is how they used the robot casualties in Iraq angle to segue into talking about Rodney Brooks/iRobot's ideas on robot avatars. This is Brooks' answer to being able to get highly intelligent robots into our lives before reliable artificial intelligence is ready for prime time. So, what's a robot avatar? Well, remote-controlled robots, such as the military PackBots, could qualify. But Brooks' idea is a bit more expansive than R/C. After the jump is a piece of "micro-fiction" I wrote for my book Absolute Beginner's Guide to Building Robots. Written for the intro to the "Robot Evolution" chapter, it explains one possible senario using Brooks' concept.



Read more... (1845 bytes more) 20 Comments
Posted by: gareth on Monday, May 22, 2006 - 11:18 PM EST


And you thought today's urban carparks required a tight turning radius. Luckily, in this one, it's robo-valet parking only. Actually, what you're looking at is a robot retrieval system for new cars at the VW plant in Wolfsburg, Germany. Think of it as a VW vending machine. Let's just hope they don't let the cars plummet to the bottom of the machine when you select one. You know what that does to your Fritos, imagine what it'd do to your new 2006 Jetta.
[Via Nxtbot]


Posted by: gareth on Wednesday, May 17, 2006 - 05:21 PM EST


The Robovie-I is a 6" high programmable robot from Japan's VStone, makers of robot soccer teammembers and robot components. Robovie-I can walk, right itself when it falls over, duke it out with other Robovies, and yes, play soccer. No word on if it'll be available in the US or how much it'll cost. Check out the video on Akihabara News. It has a very strange way of counterbalancing its movement. I love the two bots playing Sumo on what looks like an overturned Chinet dinner plate.


Posted by: gareth on Wednesday, May 17, 2006 - 12:17 AM EST


How freakin' cool is this? Remember the Tandy Super Armatron, probably the most beloved of robot toys? This enterprising builder crossed it with another propellerhead favorite, the Jensen Hobby Steam Engine, to create a steampunk masterpiece: The Jensen Armatron.


Posted by: gareth on Thursday, May 11, 2006 - 11:38 PM EST


Well, not exactly. But Make has a piece on their site about some Microsoft engineers that were showing off these BEAM robots at the Maker Faire. Apparently, the Big Soft encouraged all of its engineers with "Make-style hobbies" to show off some of the ol' corporate joie de vivre at the annual geek-country faire. Several engineers brought photovore BEAMbots, and extremely cool ones at that. Here's a link to some video footage of the sun-worshipping little automatons (the robots, not the MS engineers!). You can also find some macro shots here.
And, be sure to check out the website of VJ DeLeon, one of the bot-building engineers. He's got some very juicey stuff here, including most of the info and diagrams you'd need to build the types of BEAMbots seen here. If you successfully build the two solarengine-based bot projects I have in Make No. 6, a bot like this, especially VJ's FredFly (right), might be a suitable next project.


Posted by: gareth on Thursday, May 11, 2006 - 12:00 AM EST


In December, we reported on the latest in insect-inspired robots, the Insbot, a robo-roach designed to hang out with their organic brethren, trick them into thinking they're the real deal, and even influencing their behavior. ScienceDaily has an update on the Insbots. Researchers have come a long way in their experiments, using roach pheromones on the bots to get the roaches to do such unroachly things as traveling towards and hanging out around a bright light source. You can lead a roach to a bug rapper, but you can't [ZZZZZIIIIIIITTTTT]. Oh look, it turns that you can!

Besides being able to lead pesky crawlies to their doom, this sort of technology could be used to influence and maximize the actions of beneficial critters too. Kinda coo, kinda creepy at the same time.

Thanks, Jay!


Posted by: gareth on Friday, April 21, 2006 - 02:38 PM EST


So many areas of business, entertainment, and sports have a Hall of Fame. Did you know there's even a Robot Hall of Fame? There has been since 2003. It's the brainchild of those prodigious crania over at Carnegie Mellon's School of Computer Science. The 2006 Inductees have just been announced. They are (...the envelope please): Maria , the art deco fembot from Fritz Lang's landmark 1927 film "Metropolis," Gort, the big-boned bot from 1951's "The Day the Earth Stood Still," David, the droid that sees dead people, from Spielberg's/Kubrick's "Artificial Intelligence: AI," the Sony AIBO robo-pet, and SCARA (Selective Compliance Assembly Robot Arm), the increasingly ubiquitous industrial robot. Previous Hall of Famers include Mars Pathfinder, ASIMO, R2-D2, and C-3PO.
The RHF has the two categories "Robots from Science Fiction" and "Robots from Science" to celebrate the robots that inspire us and those we create as a result of that inspiration. The new bots will officially be welcomed into the Hall during a ceremony this June. No word yet on what Maria Metropolis will be wearing, but we think she'd look stunning in anything from the DigiKey catalog.


Posted by: gareth on Friday, April 14, 2006 - 04:15 PM EST


Oh, I just can't wait for the day when American politicians start making robots a straw man issue in an election season. If Hello Kitty has her way, she'll be one of the robots taking over our jobs, at least she will be if Japan's Business Design Laboratory has anything to do with it. They've built a Hello Kitty robot office receptionist that a partner company (called Robot Dispatch) is now renting out to businesses. The 20" bot can recognize faces, ask visitors for their names, and hook them up with the right person in the office. It also has 20,000 stored "conversational patterns," songs, and riddles.

I don't know about you, but I'd be a little spooked if I walked into the office of a reputable company and there was a giant plastic doll on the desk asking me to identify myself and posing me riddles while I waited for my appointment. But as the article points out, a robot might at least be more entertaining than many office receptionists.

Thanks, Jay!


Posted by: gareth on Sunday, April 09, 2006 - 10:52 PM EST


WowWee Toys and Evolution Robotics inked an alliance deal last week. WowWee are makers of Robosapien and a growing number of affordable, surprisingly low-tech, and equally surprisingly, high-function (for the price and tech levels) robots. Evolution is best known for their ER1 robot platforms (which use your laptop as their brains) and their vision, pattern-recognition, and robot navigation systems.
Other robot geeks seem excited by the deal. I'm not as sure. I know that each generation of Robosapien and other WowWee bots are getting more sophisticated, and that's as it should be. They're building on top of previously proven technologies to create "smarter," more versatile robots. Solid bottom-up robot development. So I get a little nervous thinking about marrying the lo-tek, largely analog ingenuity of Robosapien with the relatively complex, microcomputer world of the vision and navigation systems that Evolution trades in. I hope that this represents a real meeting of the minds between Mark Tilden (designer of the Robosapien) and his appropriate technology/BEAM approach and the software-minded developers at Evolution and not one where WowWee thinks they need to go all fussy-tech, with lots of digital bells and whistles, to make the next generation of successful robot buddies. Or do they?
I guess what I'm really wondering (out loud) is what Mark Tilden thinks about this deal and where HE thinks the future of Robosapien and its ilk lie? For sure, it'll be interesting to see what happens next.


Posted by: gareth on Tuesday, April 04, 2006 - 03:13 PM EST


Oh those loveably weird Japanese robot engineers. Just when you thought they might have had their fill of bots that dance, play musical instruments, and flash lights and bleep and bloop along to your iPod, a company called Speecys has announced a robot that can act out Internet content to delight the whole family.

Called the ITR ("Internet Renaissance"), the foot tall robot uses something called RTML ("Robot Transaction Markup Language") to present Internet contact in a form that the robot can interpret in sound, motion, facial expressions and speech. The company is hoping that RTML will become a standard for Web-to-Bot translation and that robots like the ITR will become a common way for families to get their news, information, weather reports, and entertainment news.

Let's try a little thought experiment to see how this would work. Here are some of today's top stories. Imagine a 12" bot on your dining room table dancing, lighting up, and making grunts and groans while delivering these items in one of those slightly unnerving synthetic voices:
*Delay Resigns from House
*Protestors and Police Clash in Paris
*Saddam Accused of Genocide
*Tom Cruise Gets Candid About His Dyslexia
Actually, now that I think about it, I can't get one of these robo-clowns acting out my daily news fast enough. Jon Stewart may soon be out of a job.
[Via Pink Tentacle]


Posted by: gareth on Friday, March 31, 2006 - 04:52 PM EST


If you missed the recent showing of NOVA's "The Great Robot Race," about the 2005 DARPA Grand Challenge, the entire program is available online in seven video chapters. There are also some video interviews with builders, a team database, some techie bits, and other material worth checking out.


Posted by: gareth on Wednesday, March 29, 2006 - 11:34 PM EST


For those who only knew combat robotics through the short-lived cult hit Battlebots on Comedy Central, you may be surprised to know that robot wars are still prosecuted in battleboxes all over our Big Blue Marble. One can only hope that, in this IPTV world, fans of bot-on-bot action can find more ready access to this 21st century take on the contact sport. (Hey TiVo: How about deep sixing that unwatchable Rocketboom and give us BotBash instead!?)

One recent event was tthe 4th Annual National Championship of the Robot Fighting League and the ComBots Cup, held at that mecca for robotic combat, San Francisco's Ft. Mason. Robot magazine has some really nice photo essays and a report on the event on their website. Also be sure to check out the Combots site for additional coverage and video of the event.


Posted by: gareth on Wednesday, March 15, 2006 - 01:16 PM EST

I have been asked to be the first guestblogger on Nxtbot, a blog that the LEGO Company has set up to talk about their forthcoming Mindstorms NXT system and consumer/hobby robotics in general. I'll be tryng to get some dialog going on various issues surrounding personal robotics today, so please drop by and chime in, if so inspired. Here's an excerpt from one of my first postings:

"MIT's Rodney Brooks has an adage (to paraphrase): A bunch of working "dumb" bots (i.e. robots w/little computing power that sense and react directly to their environment) is better than one broken "smart" bot (i.e. a robot that maps its world, plans optimal routes through it, etc).

"I propose a corollary: A robot that is actually on the market is better than a bunch of bots that are endlessly demo'd at trade shows. Look at the Hondo P3 and the Sony SDR-4/Qrio vs. the Wow Wee Robosapien and the iRobot Roomba. While Hondo and Sony keep parading around these perpetual demobots but never bring them to market (and Sony just turned the development lights out on Qrio), the Robosapien and the Roomba are proven market successes and are now several product generations in pedigree.

"NEC's answer to the Honda and Sony demobots is the PaPeRo ("Partner-Type Personal Robot"). While it's an undisputedly cute little rug-rover, and has enjoyed plenty of ink and electrons since it was first rolled out in 2001, it remains in the prototype stage and there is still no release date. If you ask me, I think there should be a "put up or shut up" statute for such prototypes. If you show off a prototype and it garners a bunch of media attention, and then you don't bring it to market in, let's say three years, you gotta retire it; show us a NEW concept robot. Hey, maybe that's what Sony did on their own. The SDR-4/Qrio couldn't cut the mustard, so they did the only honorable thing, they took it off the world stage and stopped teasing us with it. So, what's it going to be NEC? The shelves of my local Target or the wayside on the road to Robotopia?

"And, in case you didn't notice, the robots above that are actually on the market are of the "dumb bot" variety while the ones in perpetual prototypical stage are "smart bots." Coincidence? We think not. Discuss."


Posted by: gareth on Tuesday, March 14, 2006 - 05:40 PM EST


While we're on the subject of crap, we might as well mention the electric pig (a.k.a. the "electric mole"), a German-made robot that's apparently in high-demand in Europe. It's being used as part of the more cost-effective, environmentally-friendly practice of solar-drying sewage. The effluent is spread out inside of large greenhouse-like sheds for the sun to dry it out. The "pigs" go to work, stirring the "mud" to hasten the drying process. Once dried, the resulting material is virtually bacteria-free and can be more safely spread on farm-fields.

[Via Robots.Net]


Posted by: gareth on Thursday, March 09, 2006 - 02:17 PM EST


While the Boston Dynamics' BigDog quadraped has been getting lots of ink and electrons recently (and with good reason), we've been spending our time pouring over the work of the Stanford RiSE Project.

It's so inspiring to see the evolution of the work that's been done at Bob Full's Poly-PEDAL Lab at Berkeley, UMich's RHex hexapods, and the earlier Sprawl bots from Stanford. All of these designs were inspired by nature and insects' and geckos' abilities to climb vertical surfaces. Next stop? Climbing on ceilings. Woo-hoo!

Here's a direct link to the Spinybot II movie.

[And if you haven't seen the BigDog video yet, it's definitely worth a look.]


Posted by: gareth on Tuesday, February 28, 2006 - 03:04 PM EST


Street Tech pal J. Wolfgang Goerlich has a little piece on GoRobotics about some students at Virginia Military Institute who came up with a novel way of destroying ticks. A robotic rover (made from a hacked R/C monster truck toy) drives around dragging a "skirt" behind it that's been treated with a pesticide. The ticks hop onto the skirt and are exposed to the deadly chemical, killing them without having to expose the entire area to the harmful chems. As Mr. Spock might say: "Fascinating."

Wired also has a piece on the project.


Posted by: gareth on Friday, February 17, 2006 - 03:35 PM EST


While our Glorious Leader is freaked out over human-animal clone hybrids, I'm much twitchier about animal-machine conjugations -- ever since I saw a roadkill rabbit mechanically reanimated into a creepy SRL robo-contraption [shudder]. But with robo-rats, fish-controlled robots, and robo-roaches skittering about labs and workshops worldwide, monstrous hybrids are already here.

The latest Frakenbot is based on a pretty nifty idea. It's a robot that hijacks a slime mold's (Physarum polycephalum) natural light-avoiding behavior, taking the robot along for the ride when it seeks out a moist, dark place to slither into. At the moment, this is done remotely -- the mold is grown separately, on top of a sensor circuit that can sense as the mold moves away from light, The computer connected to the mold-sensor then wirelessly sends that movement information to a six-legged robot. This may seem to some like a rather elaborate way of creating a simple light-avoiding robot, but the longterm goal here is to understand how to make use of an organism's natural behavioral routines to power and control future nano-scaled robots.

[BTW: "Moldies" in the title refers to the life-forms in Rudy Rucker's novel Freeware, beings made out of a smart plastic and gene-tweaked molds and algaes that can make themselves into any shape/device desired.]

[Via Boing Boing]


Posted by: gareth on Thursday, February 16, 2006 - 04:56 PM EST


Oh those precocious scamps at MIT's Media Lab, what'll they imagineer next? Perhaps a phone-screening robo-squirrel? Too silly to be true? Gotta be a prank? Nope, real as rain.

Stefan Marti is working on a robot (housed inside of a stuffed animal) that can receive your mobile phone calls, talk to the caller, consult a "friends" list, and even read your body language to determine whether to put the call through to you (via a built-in speaker phone) or politely send the caller to voice-mail. If the robo-squirrel thinks you should take the call, he starts vibrating with varying levels of intensity depending on a determination of how much you might like to talk to the caller. So, if he's rockin' so hard, his fur starts flying off, it's probably FiestyNrrrd, that hot grrrl you've been chatting up on MySpace. Of course, she's gonna dump your ass like a roaming call when she finds out that you have an electronic furry screening your calls. Even a riot grrrl knows when the techno-fetishism's gone too far.



Posted by: gareth on Thursday, February 16, 2006 - 02:19 PM EST


Make has two nifty Roomba interfacing projects, one on how to build a serial interface (you remember the serial interface, don't you? Ah...RS232, we knew you well...), the other one using Spark Fun's BlueSMiRF module to create a Bluetooth wireless interface.


Posted by: gareth on Tuesday, February 14, 2006 - 04:54 PM EST


While perusing the lovely new Make site, I discovered this video of my Mousey the Robot project, as demo'd by Phillip Torrone. It shows his dog chasing the bot around his kitchen. Pets and miniature robots -- always a good time.

Other Mousey items posted here:
Mousebot Revisited - Monday, January 30, 2006
Robots - Update to Street Tech's Robot Project Pages - Thursday, December 08, 2005
Make in the Boston Globe - Friday, November 11, 2005
Me and Mousey on G4TV - Monday, July 25, 2005
Mousey's Papa Found! - Sunday, May 29, 2005
Mousey the Junkbot Sample Pages from Make - Thursday, May 19, 2005
Make Vol. 2 is Out! - Thursday, May 19, 2005
Robot Book Parts Bundles - Tuesday, March 22, 2005



Posted by: gareth on Friday, February 03, 2006 - 12:47 PM EST


Fun, loose-brained interview with BEAM guru and robot toy designer Mark Tilden on You Review Network. Contains some details on the next generation of robots coming from Tilden/Wowwee Toys.

I also found out via the piece that there's a "doc sci-fi feature film" about Tilden that's been making the rounds. Hope that's made widely available at some point.


Posted by: gareth on Monday, January 30, 2006 - 03:01 PM EST


A builder of my Mousey the Junkbot, as featured in my robot book and in Make Vol. 2, has posted his step-by-step building instructions on the Instructables website. Really nice job on the documentation, with some additional tips and tricks not covered in the two previous builds.


Posted by: Will on Friday, January 20, 2006 - 11:43 AM EST



A Spanish acitivist/art group called La Fabrica de Cosas Bonitas has received a grant to create 20 "autonomous non-violent agents" that will protest at the G8 summit in 2007. The robot protestors were inspired by the increasing trend towards using robots for violent, military uses.

via We Make Money Not Art
via Engadget


Posted by: gareth on Monday, January 09, 2006 - 01:51 PM EST


Robot Magazine has a nice piece about the new LEGO Mindstorms NXT system that was announced last week at CES. The article includes a video of Soren Lund, who's been the director of Mindstorms development since the beginning, showing off a number of bots and the new system's capabilities.


Posted by: gareth on Thursday, January 05, 2006 - 01:08 PM EST


LEGO has finally announced a new version of their popular Mindstorms robot building system. It's amazing it took them so long. Hopefully it was worth the wait. The new system sports a 32-bit microcontroller "brick," Bluetooth wireless connectivity, Mac support, three servo motors, and an ultrasonic sensor. The kit will sell for US$250 and should be on sale in August. After the jump, see more specs and a nifty pic of the new programmable brick and the new servo and sensor designs.

[Via Gizmodo]



Read more... (1215 bytes more) 30 Comments
Posted by: gareth on Wednesday, January 04, 2006 - 05:14 PM EST

Dr. Gianmarco Radice and a group of students from Glasgow University think they have a workable idea for redirecting an Earth-threatening asteroid: paint the sucker. Commonly envisioned schemes of blowing up asteroids (or detonating a bomb near them) could potential turn one deadly jumbo lump of ice and rock into a number of them. The Glasglow team believes that by painting parts of the asteroid (dark to increase temperature, light to decrease it), you could alter its course. The team has been given 300,000 pounds for three-year study on the feasibility of sending robot graffiti artists into space to go Christo all over any asteroids in our path (such as Apophis, a 390-meter ball of dirty-ice fun that could wreck havoc with Earth in 2036). Other methods will be studied too, such as using a space mirror to melt a portion of the asteroid to create a natural propellant stream.




Posted by: gareth on Sunday, January 01, 2006 - 04:28 PM EST


If you've gotten the Jan '06 issue of Wired, you've seen that our favorite creepy robot, Albert Hubo, made the cover. The cover story is the "50 Best Bots Ever." It's a disappointing piece of fluff that's got little to do with informing people on real world progress in real world robotics. First off, there are 15 fictional robots in the list. What is the criteria here? Most popular? Ceratinly not. Commander Data and the B9 from Lost in Space are not here. Most influential in real-world robotics? That doesn't appear to be the case either. Cool factor? Well, there's no Bender from Futurama or Rosie from the Jetsons.

More significantly, there's no mention of BEAM robotics anywhere, no Robosapien, no Kismet, no COG, no DaVinci cart, no MyRealBaby, no Furbie, no Mecho-Gecko, no HelpMate, no swarm bots, no battlebots, no Heathkit Hero. In the grand scheme of robot evolution, aren't all of these more important than Astroboy and Gort from "The Day the Earth Stood Still"?


Posted by: gareth on Wednesday, December 21, 2005 - 12:55 PM EST


BEAM guru J Wolfgang Goerlich posted a link to the Leaf Project in response to this blog item where I mentioned the WowWee Chimp Head.

This is an exciting example of what could be done with this animatronic "toy." It would probably be fairly easy to bolt this body-less chimp onto the top of the robot cart and wire up the chimp's motors. And you thought that Einstein robot was kinda creepy...


Posted by: gareth on Saturday, December 17, 2005 - 04:59 PM EST


Robots.Net has a list of their top ten robot gift ideas (plus a few runners up). If you have a servo-head on your holiday list and you're looking for some last-minute gift suggestions, check it out.

Personally, as much as we think the tech in the animatronic WowWee chimp head is cool, we suspect that this is one of those relatively expensive (US$150) presents that'll enjoy about four or five days worth of play before it ends up gathering dust in the basement. It'll definitely be fun to see if hackers do anything interesting with it. Just look at the cool stuff hackers and artists did with those otherwise dumb-ass talking fish.


Posted by: gareth on Tuesday, December 13, 2005 - 06:07 PM EST


It looks sort of like a high-tech Roach Motel on wheels, but it means roaches no harm. In fact, it wants to hang out, to be an accepted member of the pest community.

These sweet-looking bots are part of a project at the Federal Polytechnic School of Lausanne to study roach behavior up close and personal. The site has all sorts of detailed information on the project and the bots' construction.

[Via Make]


Posted by: gareth on Thursday, December 08, 2005 - 01:05 PM EST


Years in the making, but I have FINALLY updated the support site for my Absolute Beginner's Guide to Building Robots. I've corrected mistakes from the book, added a few hacks and clarifications, and provided links to things like the PDF instructions for making "Mousey the Junkbot: (as it appeared in Make vol. 2) and to a video clip from a guy who made of a version of the DiscRover with added edge-detection capability.

It is still highly recommended that anyone building the projects in the book read through the "Building Robots" conference on Shop Talk for current info, but most of the critical problems/changes to-date have now been added to the robot pages.


Posted by: gareth on Saturday, November 19, 2005 - 02:40 PM EST


Turns out the Korean robot with the severed head of Alberto Einstein (sorta) is no joke. He made the rounds of the APEC Summit as reported earlier. We know Al was short, but that short? It's enough to give a cyborg a complex.

More photos of the bot, most from before it got the Albert head plant, can be found at the Lab's website.

[Via Robots.Net]


Posted by: gareth on Wednesday, November 16, 2005 - 12:53 PM EST


"Cute Cool Wild Smart" They forgot "Obscenely Expensive." It's true that this awesome-looking bot can do more than the WowWee Robosapien right out of the box (like talk to your LAN and send pictures to your desktop and respond to commands from your PC over its WiFi link). But these who-cares capabilities will cost you US$7000!

A Robosapien (Version 2, US$250) can do many of nuvo's tricks as-is, and using the many online hacks and Robosapien hacks books, you can add most of nuvo's bells and whistles yourself (at a fraction of the cost).

BTW: Check out the upcoming Robosapien V2 commercials here.

More images of the nuvo and Tech Specs after the jump.



Read more... (1130 bytes more) 41 Comments
Posted by: gareth on Tuesday, November 15, 2005 - 06:11 PM EST

Here's one for you deep geeks in the hiz-ouse (you of fainter heads can turn away now).

Rick Bickle, of the Dallas Personal Robotics Group, has posted an awesomely simple circuit that turns a ubiquitous 555 Timer integrated circuit into a Pulse-Width Modulator that can be used to control DC motors.

Pulse-Width Modulation (or PWM) is a common way of controlling the speed of a motor (where pulses are sent to the motor at a given rate, turning the power on and off, which is used as a method of speed control). PWM is usually handled with a microcontroller chip and module, but this little circuit uses an el cheapo 8-pin 555 IC chip (which even Radio Shack still carries and they don't carry much of anything anymore) and other common analog components. This would be a great way to control a BEAM or other type of robot where you were trying to reduce or eliminate reliance on computer control.



Posted by: gareth on Friday, November 11, 2005 - 01:02 PM EST


This is a joke, right? Some sort of Korean April Fools? Apparently not. Telecoms Korea is showing this image of "Albert Hubo," a borged Albert Einstein, on their website. According to the description: "Albert Hubo is a humanoid robot that has the face of Albert Einstein, as if he is alive with robot body. It walks, expresses various emotions, looks into the eyes of people, and talks with them." Although the images shown on the site are concept drawings, the company claims "Albert" will be demo'd at next week's APEC (Asian-Pacific Economic Cooperation) conference.

And this is not the only wacky-looking bot TK plans to roll out -- see also "T-Rot," the bartending bot that looks like a Parcheesi piece, and "Kibo," a monster-size LEGO figure that eats small children for fuel (okay, we made up that last bit).

[Via I4U]


Posted by: gareth on Monday, October 24, 2005 - 04:30 PM EST


An artist, Seth Weiner, has created a robotic vehicle piloted by a goldfish. The fish goes about its aquatic business in a bowl mounted on a two-wheeled cart. A camera above the bowl tracks the fish's location and uses that information to send signals to a motor controller and two servos driving the bicycle wheels. Signal processing is done off-bot, via a PC and wireless connection. Called the Terranaut, this fish about town, is part of the NYC show "EXIT BIENNIAL 2 : Traffic." at Exit Art

[Via we-make-money-not-art]


Posted by: gareth on Friday, October 21, 2005 - 05:06 PM EST


Our buds over at Solarbotics have released a nifty new kit, called the Turbot (US$60). As BEAM enthusiasts know, a turbot is a relatively primitive, (often) tetrahedron-shaped bot that lumbers around on (usually) two long, twisting arms. While many turbots are rather brutish, persistently "attacking" other bots (or your foot), the Solarbotics Turbot has added a motor stall detector circuit, so the bot will back off and go on about its stone-age business after a few seconds of flailing against your Chuck Taylors.

Dave at Solarbotics was kind enough to send Street Tech a review copy of the Turbot and we plan on a full review as soon as we have the critter built. I'm excited about this kit after having built the Solarbotics Sumovore for a review in the latest issue of Make (No. 4). That kit was first rate and really fun to put together, so I expect the same from this one.


Posted by: gareth on Wednesday, October 19, 2005 - 01:59 PM EST


This new magazine, Robot, from Maplegate Media, known for their R/C hobby mags, looks promising. The premier issue features the guys from Mythbusters, principally Grant Imahara, using the Vex System to create a simplified version of iRobot's military PackBot. The article detailing the project, and some short videos, are available online. Subscriptions to the magazine are US$20/4 issues.


Posted by: gareth on Monday, October 10, 2005 - 01:37 PM EST


In case you were unaware, RoboNexus, one of the big robot expos, was held on the 6-9 in San Jose. There are some pics of various bots, including the new iRobot Scooba, on Flickr. GoRobotics also has coverage of the event.


Posted by: gareth on Wednesday, August 31, 2005 - 01:05 PM EST


Okay, this is just WRONG. Sega has released the iDog, a "musicbot" that allows you to play your iPod (or other digital player) through its speaker. It lights up, it moves its ears, it makes a lot of noise, it plays back your recorded music through a crappy little mono speaker (while its servo motors whir and an internal sound chip adds annoying audio effects to the playback). Make it stop, please make it stop!

Watch the video to get that sinking feeling of techno-decadence run amuck.


Posted by: gareth on Monday, August 29, 2005 - 11:13 AM EST


How cool is this? You've seen the passive, swallowable camera capsules (the so-called "pooperazi"), the newer, active versions that can swim to targeted locations. Now, thanks to a Swiss developer, there's an ingenious injectable bot on the horizon that uses external electro-magnetic power to travel through the body. Amazingly, the microbot can be actuated. Movable components are tuned to different frequencies and switching those frequencies on actuates those parts. Awesome!

[Via we-make-money-not-art]


Posted by: gareth on Sunday, August 14, 2005 - 01:08 PM EST


Korean electronics giant LG has announced their own Roomba-like robot domestic, called the RoboKing in Korea, the LG V-R4000 elsewhere (apparently 'cause we wacky Westerners LOVE the alphanumeric salad).

No word yet on when the robo-vac will be available in the US, or how much it will cost, but given its 21 sensors, a 32-bit processor, a gyro, a HEPA filter, a Lithium-Polymer battery, and other tweaky parts, we can almost guarantee it'll be a lot more than the Roomba.

(Adorable Korean remote-control operator sold separately.)

[Via I4U]


Posted by: gareth on Wednesday, July 06, 2005 - 05:27 PM EST


Robot folk art seems all the rage these days. This online galley features incredibly cool robot sculptures mainly constructed of '40s and '50s techno-junk. I want some of these fellas in my geekosphere!


Posted by: gareth on Friday, July 01, 2005 - 12:39 PM EST


Speecys-FC is being billed as the first commercially-available fuel cell-powered bi-pedal robot. The robot is under 2-feet tall (50cm) and weighs under ten pounds (4.2 kgs). It walks, it dances, it appears to do, basically, what the Robosapien does for around US$100, But this little fella trades for $24-large! Did we mention it's hydrogen powered? And is it just me, or do other people get nervous when real robots, of any size, pose with firearms?

[Via I4U]


Posted by: gareth on Sunday, June 05, 2005 - 04:09 PM EST


While doing research for another article on robots (top secret, very hush, hush), I've been looking at the BEAM robotics taxonomy. Taking cues from biology as it does (putting the "B" in BEAM), one fascinating area of this approach to robotics is the robotic plant-form. One of these types of devices, part bio-mech, part objet d'art, is the Pummer. This BEAM "plant" uses a "solarengine" circuit, found on many BEAMbots, to soak up rays all day and then throb (or "pum") a light beacon at night. A nifty DIY object to have decorating your "geekosphere," and a good way to freak out the night cleaning and security crews.

The Pummer seen here is from Brett Hemes's site, The Breadboard. His Pummer page details the construction of two Pummers. Solarbotics offers plans for a simple Pummer using their awesome BEAM Experimenter PCB, but you can also easily freeform the circuit.
Posted by: gareth on Monday, May 30, 2005 - 04:44 PM EST


Sorry if I'm boring you non-bot enthusiasts, but I happened upon another BEAM-type robot that's built around a computer mouse case. Called Mouser, this photovore (light-seeker) uses the Solarbotics BareBones Photovore (BBPV) circuit, probably the simplest robot sensor/brain/actuator chain possible. It's basically little more than two photodiodes, a 74AC240 signal inverter chip, and two Solarbotics gear motors. Those are the photodiodes peeking out of the wheel wells in front of the motor casings.


Posted by: gareth on Sunday, May 29, 2005 - 02:56 PM EST


It was a thrill for me to see the drawing of Randy Sargent's Herbie the robot in the illustration to my Mousey the Junkbot article in Make No. 2. I've seen other people's bots that utilize the ingenious Herbie circuit, but I'd never seen Sargent's original design. While poking around on Solarbotics.net, I found this photovore, built by Grant McKee, that follows Sargent's original construction.

Click on the image to see a larger version. Another view can be seen on Grant's Photovore BEAM page.


Posted by: gareth on Monday, April 18, 2005 - 03:09 PM EST

In my robot book, I talked about a type of robot you can't see, or at least, it's not something you would think of as a robot, but it meets the critera that most people would ascribe to a robot: it has sensors, a way of processing the sensor input, and actuators, a way of doing something in the real world in response to the sensing. Here's a nifty, novelty example: A surfer d00d has built a Web-wired pillow that vibrates in response to wave action. Big waves mean big vibes, small waves, milder vibrations, and bad surf conditions mean no vibrations at all. The data, grabbed via the Web, comes from sensors on wave buoys.


Posted by: gareth on Friday, March 25, 2005 - 02:47 PM EST


How freakin' cool is this, a snakebot that has tank treads on every segment, on all four sides. I wonder how well this scheme really works. SEEMS like a brilliant idea, but tread-based motility can be problematic and this baby has a LOT of tread. You'll notice (from the text) that it's also a tethered bot, which makes sense cause it probably sucks up LOTS o' power.


Posted by: gareth on Friday, February 11, 2005 - 01:57 PM EST


Elektro, the Westinghouse "robot" that made its debut at the 1939 New York World's Fair, has been getting some press lately. He's back from the scrapheap of history, thanks to Jack Weeks, son of one of Elektro's creators, who bought him for $500. Refurbished, Elektro is now drawing crowds at the Mansfield Memorial Museum in Ohio. Now don't get me wrong, I don't have anything against Elektro -- in fact, I think he's pretty freakin' cool. He could smoke cigarettes. Gotta love robots that smoke! But where I do take umbrage is the continued assertion that Elektro was a "true" robot, and the first robot in the US. Elektro was certainly an impressive and innovative machine, but he was really little more than an animatronic puppet. He had an operator off-stage that controlled him.

Now, as I described in my robot book, things can quickly get ugly and argumentative when you're trying to define what constitutes a "true" robot, but I would assume that anyone, given the choice between an autonomous, self-charging machine and a remote-controlled one with no brains to speak of, would say that the device with autonomy was the real robot. In which case, THIS is one of the first real robots. Not made in the US, built in Britain in 1948/49, but by an American, W. Grey Walter. If you want to know more about Elektro, check out these pages, which include some details of the mechanics. More cool pics of Walter's REAL robots here.


Posted by: gareth on Wednesday, February 09, 2005 - 02:52 PM EST


As long as I've been meddling in hobby robotics, the holy grail of the field has been to build a robot that can go to the fridge to fetch beer. This turns out to be a lot harder than it might at first appear. Thinking "outside the bot," as it were, a couple of University of Florida students came up with a novel idea: bring the entire fridge to your lazy ass on the couch.

Coolio is a mini-fridge on a mission: to bring sodas and snacks (yeah, right) to the students and profs of Benton Hall. Enter a request via Coolio's Web page and he finds his way to your room, using IR and ultrasonic range-finding and vision processing. Besides the idea of bringing the mountain to Mohammad, Coolio sports some other nifty features, such as an LCD screen for a face that allows him to have expressions and his ability to self-charge. We're sorry guys, but as cool as Coolio is, the dreadlocks and tam hat have GOT to go. Seriously.


Posted by: roschler on Sunday, January 23, 2005 - 01:43 AM EST

See my two Robosapien robots, Chrome and Dome, rap, dance, and argue with each other in time to music with the help of their dog Crappy, in a short two minute robot movie.

[Editor's Note: Involves robot urination (who knew) and the defecation of batteries]


Posted by: tekmage on Wednesday, January 05, 2005 - 10:45 PM EST


PC Magazine has an article, with some photos, of the next generation of Mark Tilden's Robosapien line of 'bots. Besides a new, improved 'Sapien, Wow Wee is adding a robopet, a la AIBO, and a Roboraptor.

Pretty freaky. I can't wait!


Posted by: nate on Tuesday, June 01, 2004 - 04:01 PM EST


If you're more excited by robots than latte makers, you'll find this review of the Robosapien pretty interesting. While we here at StreetTech haven't got our hands on one of them yet, we were expecting it to be the best toy ever created. And after reading the review, we expect it to be the best toy ever. Start saving now -- only $100 gets you one, but when you see them dancing a chorus line, you'll want a whole gang of them.

Story submitted by Jason.


Posted by: nate on Tuesday, May 25, 2004 - 05:33 PM EST


We love robots here at ST, and nothing makes us happier than seeing happy hacking high-schoolers pitting their robots against eachother in friendly competition, which is exactly what was going on today at CeBIT. The competition was really more an exhibition, but it was tremendously fun to watch. Each team represents a local high school, and each is given six weeks to build a remotely controlled robot that will compete to complete a specific task, in this case a sort of robot/human basket ball. The basic object is for either human or robot to put purple balls into baskets, or do other tasks like complete a "pull-up" on a bar in the center of the field. It's amazing what these kids came up with, and it's certainly an inspiration to anyone considering getting involved in robotics. To learn more about the program, go to New York City FIRST. Pictured is the Brooklyn Tech (go BK!) entrant, which didn't actually compete at CeBIT. More pics under "read more."



Read more... (492 bytes more) 10 Comments
Posted by: mrklaw on Monday, May 03, 2004 - 12:12 PM EST


Want to build a microcontroller-based robot and have a GameBoy Advance or two lying around? Charmed Labs offers a GameBoy Advance adapter which makes your GBA an embedded development system for robotics, data logging, etc. You can also use the adapter to install the eCos embedded realtime operating system.

via DailyGadget and flashenabled.


Posted by: Albannach on Friday, March 12, 2004 - 11:55 PM EST

This is pretty darn cool, and slightly frightening at the same time. Perhaps that's why they went with the extra-lame name? I'm just waiting for a version in nicer colours to come to my favorite hiking store...

While using a biological module for the complex tasks of route selection, perception, hazard avoidance, and self-maintenance is a great idea (though of course not a new idea), I do wonder what happens if the mechanical musculature loses synch with the biological partners - I hope there are load limiters liberally scattered around! Of course your really don't want to have a software vulnerability allowing the enemy to rip off your legs at the push of a button either. It's great to have undergrads in the lab for testing isn't it?

I'd go for the poster offer, but the model isn't up to my standards I'm afraid!


Posted by: nate on Thursday, March 11, 2004 - 10:23 AM EST


I don't know why it's the car companies that are leading the personal robotics race, but Toyota's just announced a set of trumpet playing robots that will serve as assistants to the elderly and infirm. One of them is a "mountable" robot that can carry an adult human. Unfortunately there is no pic of this model, leaving me to wonder if it looks more like some sort of Centaur/Pride scooter hybrid.

The Toyo 'bots were designed to play musical instruments as well as help people, and according to the press release their lips move with "as much finesse as human lips" which of course makes me wonder what else these robots can do. Play a trumpet? Right. That's what it was designed for. There's such a huge demand for trumpet playing robots....


Posted by: nate on Thursday, March 11, 2004 - 10:10 AM EST


SK Telecom, Korea's largest telecom company, and Mostitech have developed a small, wheeled "security pet" that is designed to guard your house with on-board digital cameras and wireless connection to your PC, and through it to your mobile phone. On-board sensors can detect fires and poinsonous gas (handy if you're living in New Jersey) and upcoming software will allow face recognition. When the 'bot doesn't recognize a face, it can snap a pic and sound an alarm.

In addition to the security functions, the company is apparently touting the little 'bot's ability to read to your kids and keep an eye on them, which doesn't seem like a good idea to me -- at least until the bugger's got some arms and a three-law chip. Price is expected to be around $850.


Posted by: tekmage on Friday, February 20, 2004 - 03:25 PM EST



Looks like Dave Hrynkiw was able to capture some video footage of Mark Tilden and Robosapien.

I want one! ...Make that two, since I'm definitely going to have to hack one to pieces to see how it could be after-market upgraded. :-)




Posted by: mrklaw on Wednesday, February 18, 2004 - 12:30 PM EST


Robolympics.net is hosting a web page featuring movies of Robo-One fighting robots from Japan. Robo-One is not robot fighting like Battlebots, it features humanoid-shaped, computer-controlled robots boxing until one of them falls down. These homebrew robots are amazing in the level of articulation that they have. They appear to rival the Sony Q-Rio and the other flagship robots that are coming out of Japan these days.

via BoingBoing


Posted by: Jordan on Wednesday, January 28, 2004 - 06:28 AM EST

Hektor is a robot that quite cleverly spraypaints huge facsimiles of the images or text that you feed it onto any flat surface that you put in front of it. Sorry, it's not available for retail sale just yet, if ever, but the site's text, images, and video are just fascinating for aspiring robot geeks. Via Gizmodo.


Posted by: nate on Tuesday, January 27, 2004 - 10:20 AM EST

Check out this cool little app called BlueControl that allows you to configure different programs on your PC to be controlled from a Bluetooth enabled phone such as the Sony Ericsson T68 or T610. It's so flexible it can actually be set up to use the joystick on one of these phones as a joystick for the PC, including for controlling Lego Mindstorms creations.


Posted by: nate on Friday, January 16, 2004 - 11:02 AM EST

The Toyota Prius, the Hollywood darling hybrid car, has become the first car to offer robotic self-driving -- but only in a limited sense. For an extra $2200, the Japanese version of the Prius can be outfitted with steering motors, sensors and computers that allow the Prius to parallel-park itself. It works by taking a picture of the parking space, then getting some user input about how to place the car within the space. The car then takes over and puts the car in the space efficiently and quickly, though it still relies on the driver to make sure nothing gets run over in the process. This is a really boon to people who have problems parallel parking, as well as to all other drivers who have ever sat behind a person who is trying to fit in too small a space. It also works with too-narrow garage spaces, and can actually remember where in your garage you like to place your vehicle. While the high-tech hybrid is a natural choice to first offer this option, a better choice might have been to offer it in one of those monster SUVs that never seem to be able to park anywhere.


Posted by: nate on Friday, January 09, 2004 - 12:50 PM EST


White Box Robotics has an amazing robot platform coming out this summer (hopefully) called the 912. It runs on a mini-itx PC board running Windows XP, can be outfitted with an internal 5" lcd screen and head-mounted display, and can be programmed to follow you around playing MP3s. Pictured is the "security bot" model. Price of the base model should be "about the same as a decent PC" which means probably between $2000 and $3000.


Posted by: mrklaw on Monday, December 08, 2003 - 01:44 PM EST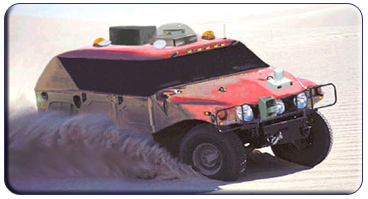 We reported on Darpa's Grand Challenge back in January and now Carnegie Mellon's Red Team has announced that they are entering the robotic race from Los Angeles to Las Vegas. Their robot is based on a diesel-powered Hummer and includes a variety of sensors and systems to help it navigate the course.


Posted by: nate on Thursday, December 04, 2003 - 02:32 PM EST


The Tokyo robot show, sponsored by Honda, has 7 pages of pics of the latest innovations in robotics,
including humanoids, industrial robotic arms, remote-controlled fighting robots, and even one that seems to have interchangable heads -- one for use with the kids and others for frightening neighbors (pictured). There's also a few entertainment robots, including a life-like female "actroid" and a few silly looking kabuki-bots.


Posted by: tekmage on Wednesday, November 26, 2003 - 01:01 AM EST

Looks like Mark Tilden was spotted at the Vegas Comdex 2003.


Posted by: gareth on Wednesday, November 12, 2003 - 06:07 PM EST

An entire chapter of my book Absolute Beginner's Guide to Building Robots is now available on InformIT. Called Robot's Rules of Order, it is a collection of laws, maxims, words o' wisdom, and rules of thumb used by robot thinkerers and tinkerers of all stripes. Also includes a section called "Rules for Roboticists," tips and working principles to keep in mind while building your own bots.


Posted by: nate on Wednesday, November 12, 2003 - 02:01 PM EST

"Massachusetts Institute of Technology researchers have crossed a robotic arm with the bottom half of a Segway to make a robot named Cardea that can traverse hallways and push open doors.

Cardea, named after the Roman goddess of thresholds and door pivots, is the one-armed first prototype of a robot designed to have three arms and the ability to safely interact with humans at eye level." - Technology Review



Posted by: gareth on Wednesday, November 12, 2003 - 01:24 PM EST

There are a lot of great robot news and information websites out there, but most are targeted at hobbyists. A new site, called Robotic Trends, is geared (no pun intended) more towards the business world and the developmental trends shaping the future of the robotics industry.

The site is divided into a number of sub-sections (Personal Robotics, Service Robotics, Security and Defense, etc.). There are articles, opinion pieces, vendor profiles, conference announcements, a news feed, and more. One thing they do which I really like is to summarize many of the articles with their opinion about what is significant about the idea or trend being discussed.

Definitely worth putting on your radar if you're interested in robots.


Posted by: gareth on Thursday, October 23, 2003 - 03:15 PM EST


Sony has finally "released" it's long-hyped SDR-4X, now renamed Qrio. They have a fairly decent website for the bot, with basic explanations of the tech, interviews with developers, some short videos, etc.

Even tho the site treats the robot like a domestic appliance (with lots of info about how safe it is around children and housepets, etc.), don't expect to see one under the plastic Christmas tree anytime soon. It's still billed as a "technical prototype." It is now making the rounds at computer, electronics, and other show circuits.


Posted by: gareth on Monday, October 13, 2003 - 01:51 PM EST


Check out this incredible teeny robot I saw on RobotCafe. The builder managed to cram three sensor systems (line-following light sensors, sonar, and vision) onto a bot that's miniscule. To give you an idea of the size, that's a 9-volt battery above the sonar unit. The camera is hacked from the GameBoy camera add-on. It can even pan, thanks to a micro-servo motor. There are three servo motors on this thing: two standard HiTec servos for the drive wheels, and one mini for the camera. The controller is the 68332-based Mini Robo-Mind, programmed in GNU C.

I'm hoping to contact the builder to get more details. I'd love to know more about the control program he coded, and especially, how he uses the camera data.

BTW: If you've read my book, all of the above should make perfect sense to you. If you haven't read my book, what the heck is wrong with you? Buy it, read it, act like you know what you're talking about (just like I do!).


Posted by: gareth on Wednesday, October 08, 2003 - 02:59 PM EST

Evolution Robotics, makers of the innovative ER1 robot, have now dropped the price of this kit by 50%. The ER1, assembled and with the ER1 software bundle, is now only US$249.

For those unfamiliar with the ER1, it uses a really cool tinker toy-like extruded aluminum building system to create the bot. Besides the building components, the kit comes with wheels, two stepper motors, a Web cam, a recharcheable power pack and a motor controller. The brains for the ER1 are provided by your laptop computer, which docks onto the bot.


Posted by: gareth on Friday, October 03, 2003 - 06:27 PM EST


Street Tech pal Xeni writes on bOING bOING:

In this year's holiday catalog from upscale retailer Neiman Marcus: his and hers robots, six feet tall, engineered at International Robotics. The pair will set you back a cool $400 grand, though. Heck, for that sum -- *I'll* carry your groceries and respond empathetically!

Link to the catalog page.


Posted by: gareth on Thursday, October 02, 2003 - 12:58 PM EST


Mark Tilden, BEAMbot guru, who now works for Wowwee Toys in Hong Kong, has a new robot toy that should be on store shelves for the holidays. Called the Robosapien, this is the first walking humanoid design that Tilden's done (as far as we know). One would assume it's based on some of the same BEAM-like principles that Tilden used in his other Wowwee toys, such as the B.I.O.-Bugs and the Beastland Dragons. Solarbotics has a gallery of progress images and some motion studies of the Robosapien.



Posted by: gareth on Wednesday, October 01, 2003 - 03:26 PM EST


The venerable magazine of record for wireheads and hardware hackers everywhere, Nuts & Volts, is about to launch a new mag called Servo, dedicated to robotics. Nuts & Volts has always had strong coverage of robotics and embedded systems, and has done magazine supplements on amateur robotics, so given their beat and the growing popularity of all things bot, this spin-off mag is a natural. The first issue is due on newstands next month. If you sign up as a charter subscriber, you get three issues free. Hopefully, Nuts & Volts can succeed where others, like Robot Science and Technology, have failed. Sure seems like the time is right for such a publication.


Posted by: gareth on Monday, September 29, 2003 - 03:42 PM EST


There's also a small companion website for my book at www.streettech.com/robotbook. This site includes larger project images, information not available in the book, bug fixes on the projects, reader hardware hacks, robot news, and will eventually include downloadable versions of the "Heroes of the Robolution" trading cards that Mark and I did.

After you've read through the projects in the book, you'll definitely want to read the online project notes before actually starting to build the bots.


Posted by: gareth on Monday, September 29, 2003 - 03:01 PM EST

I just discovered that my book is now listed on Amazon as being available. It jumped from a sales rank last night of 2,317,260 to a current rank of 1,921,760 and it says there are only three copies left (with more coming). Of course, they may have only started with five, who knows.

Hey you, order my damn book so I can obsessively watch the sales rank change!


Posted by: gareth on Sunday, September 28, 2003 - 01:27 PM EST


My latest book, the Absolute Beginner's Guide to Building Robots, should be shipping in a week or so. Part of Que's best selling Absolute Beginner's Guide series, my book leads the newbie into the fascinating world of robots and do-it-yourself bot building.

The book contains projects that detail how to build three cool robots out of a coat hanger, a trashed computer mouse, and those AOL CDs that seem to breed on your desktop. I'm not kidding. Junkbots R Us.

Ilustrations for the book were done by bOING bOING's amazing Mark Frauenfelder, with photos by Street Tech's very own Jay Townsend.

Pre-order the book on Amazon.


| | |
| --- | --- |
| Brought to You By | |
| | |
| --- | --- |
| Advertise | |
| | |
| --- | --- |
| Recent Articles | |
Monday, March 17
·
Dorkbot DC March Meeting (0)
Thursday, February 28
·
Rules for Roboticists (0)
Monday, February 25
·
Killer-cool Solarrollers on Flickr (0)
·
Dorkbot DC Tommorow Night! (2/26/08) (0)
Wednesday, February 13
·
DIY mercury testing (or NOT) and new Home Chemistry book (0)
Friday, January 18
·
First Dorkbot DC/Make: DC Joint Project Event (0)
Monday, January 14
·
Dorkbot DC/Make: DC Project Night, This Wednesday! (0)
Tuesday, December 11
·
Review: LEGO MINDSTORMS Library (0)
·
I want an Arduino-powered Christmas, baby! (0)
Tuesday, December 04
·
Geekly Gift Wrap (0)
Older Articles
| | |
| --- | --- |
| Recent Reviews | |
| | |
| --- | --- |
| Special Features | |
· The Rules for Roboticists (Feb 28, 2008)
· Mouse Dissection 101 (May 02, 2007)
· Mousey the Junkbot FAQ (Apr 30, 2007)
· How-To: Build BEAM Vibrobots (Jan 14, 2007)
· [Dead Inventors] (Jan 14, 2007)
· How-To: Build a Robot from a Coat Hanger (Sep 20, 2006)
· Twin-Engine Solarroller (Aug 30, 2006)
· Blow Your Socks Off! (The Bell Rocket Belt) (May 05, 2006)
· The SCO Monkey Trial (A Street Tech Intro) (Dec 08, 2003)
· Gar's Tips on Sucks-Less Writing (Oct 26, 2002)

| | |
| --- | --- |
| Poll | |
| | |
| --- | --- |
| The Federation | |