Down to Navigation Controls
---
Algorithm Magazine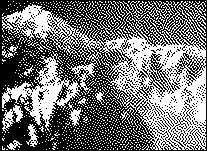 Four times a year, computer scientist and occasional Scientific American columnist A.K. Dewdny puts out this well-produced and fascinating zine about recreational computer programming. Focusing mainly on chaos science, Dewdny and his colleagues discuss things like fractal music, game theory, computer wallpaper, robotics, artificial life, cellular automata, neural nets, and genetic experiments.
Pseudo-code algorithms are included so you can play with the concepts covered using your favorite programming language. Beginners will have no problem jumping right in, thanks to Dewdny's regular column, "Easy Pieces," found in each issue.
(M. Frauenfelder)
Links:
Glossary:


ACCESS:
Algorithm
PO Box 29237
Westmount Postal Outlet
785 Wonderland Road
London, Ontario
CANADA N6K 1M6
$24.95/4 issues (USA), $35.95 (Canadian)


Graphic: Fractal Mountain, from Disappearing Through the Skylight
---
Here is the TEXT POPUP for Algorithm Magazine...
The Fifth International Core War Tournament brought entries from many countries, but hardly any competitors. The reason for this strange sounding situation was simple: The entries were all computer programs, encoded warriors that struggled noiselessly and at light speed for supremacy in a computer's memory.
- Algorithm, March 1991
---
Navigation Controls
<!- repetitive locations ->

---
© 1998 The Computer Lab
Gareth Branwyn - garethbranwyn@mac.com
WebMaster: PeterS10@aol.com
Go to Street Tech, Gar & Pete's Tech Review Site.