Down to Navigation Controls
---
Wild Palms
Twin Peaks meets Neuromancer with a cheesy ending worthy of TV's low-budget War of the World series.
Wild Palms was an ABC television "event" series produced by Oliver Stone, written by Bruce Wagner, and starring Jim Belushi, Dana Delany, Kim Cattrall, Robert Loggia, Angie Dickinson, and Nick Mancuso. It was based on the Wild Palms comic strip featured monthly in Details magazine.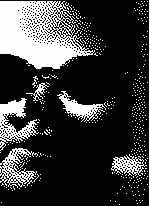 Enveloped in a production all too reminiscent of David Lynch, with quirky music and sound effects, "plot primitives" that never mature, and lots of weirdness and things under the rug, Wild Palms is set in the Los Angeles of 2007. Jim Belushi is Harry Wykoff, a patent attorney who gets involved in a new VR technology that its maker, an L. Ron Hubbard-styled Senator Kreutzer, plans to use to enslave the masses (while he sails into the White House). As the plot unfolds (unravels?), we discover that no one is as they seem and that the fate of the entire world revolves around 10 characters, most of whom turn out to be related to one another by the end. Along the way we are given lots of premasticated food for thought on the evil potential of virtual reality, cults, new age politicians, and rich mothers with one too many face lifts.
Perhaps it was just outstripped by its hype and too haunted by the ghost of Twin Peaks, but Wild Palms promised much and delivered only slightly above-average television. As one person commented: "It's certainly better than Coach and Designing Women." It didn't totally disappoint, however. There were a number of powerful scenes, some fun references to other TV shows and movies (also a Lynch trademark), a cameo by William Gibson, and a story, that under other circumstances, could have been much more effective.
A Wild Palms Reader is available from St. Martin's Press, as is a soundtrack (which was released and advertised before the series started). The soundtrack features original music by Academy Award winning composer Ryuichi Sakamoto, founding member of Japan's legendary Yellow Magic Orchestra and composer of such film scores as The Last Emperor, Merry Christmas, Mr. Lawrence and The Sheltering Sky. It also includes several '60s tunes featured on the series.
(G. Branwyn)



ACCESS:
Wild Palms
Produced by Oliver Stone
Created and Written by Bruce Wagner
4-episodes/6 hours
Available on home video.
Wild Palms Reader
St. Martin's Press
1993


---
Here is the TEXT POPUP for Here is the TEXT POPUP for:

Harry: That's who you work for? The guy who founded that religion Êin the sixties?
Paige: Synthiotics. It's helped a lot of people.
Harry: 'New Realism' Very hip now. Read about it in People...
Paige: Don't be so cynical. You should read some of his books.
Harry: I don't dig bad science fiction.

(Sen. Kreutzer is a former sci-fi writer, just like L. Ron Hubbard.)
---
Paige: "Bill!"
Gibson: "Paige."
Paige: "Harry, this is William Gibson."
Harry: "Sure, Neuromancer."
Paige: "He coined the word cyberspace."
Gibson: "And they won't let me forget it."
---
TV Talk Show Host interviewing Oliver Stone in Wild Palms:
"So, Mr. Stone, it's 15 years since JFK was released. The files have been opened, and it turns out you were right. Are you bitter?"
---
The Wild Palms Reader, compiled by thirty scientists, journalists, and artists in honor of Senator Anton Kreutzer's seventy-fifth birthday, documents the circumstances around the story broadcast as Wild Palms. It is a paper trail, a Hungry Ghost story, a psychedelic dossier filled with borrowed moonlight from a floating world ...

This is not a book about the world of Wild Palms, it's a book from that world. It doesn't know it's fiction.

[From the back cover of the Wild Palms Reader, St. Martin's Press.]
---


"The alchemists, the mystics, the holy lunatics, they all understood, they could describe illumination. We can program it. They could taste immortality, but they did not have the computer to contain and mobilize the soul."

-- From Kreutzer's Journal, August 5th, 1968.
The Wild Palms Reader
---
"In Scientology we can make a Buddha in 30 seconds. Anybody who exteriorizes is a Buddha.

Our technology on this is better, which is quite startling in itself."

- L. Ron Hubbard
quoted in "The Message of the Buddha" ADVANCE! Issue 23, April/May 1974 (Published by the Advanced Org of the Church of Scientology)

---
Navigation Controls
<!- repetitive locations ->

---
© 1998 The Computer Lab
Gareth Branwyn - garethbranwyn@mac.com
WebMaster: PeterS10@aol.com
Go to Street Tech, Gar & Pete's Tech Review Site.