Down to Navigation Controls
---
The Sex Maniac's Bible
by Tuppy Owens
This pocket-sized book is both an encyclopedia and travel guide to the wild and wonderful world of sexual behavior. Tuppy Owens covers ABSOLUTELY every sexual preference and practice with respect and playful curiosity. The book is divided up into sections such as "Clubbing," "Shopping," "Performing," "Playing," "Traveling," "Talking," "Looking." Each section starts with an explanation of the subject, sexy games and ideas, and etiquette suggestions. These are followed by resource listings of groups, products, and publications. The travel section gives a country-by-country, state-by-state listing of brothels, clubs, swing groups, etc. The book is expertly desktop published (by Ms. Owens herself) and is well laid out. Think of it as a Peterson's Field Guide to Human Sexual Behavior.
The "Sex Maniac's Bible" is available in the states through "The Sexuality Library" in San Francisco (see Brainbox Manifesto below).
(G. Branwyn)
Links: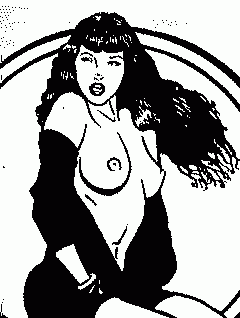 ACCESS:
Sex Maniac's Bible
Tuppy Owens
PO Box 4ZB
London, W1A 4ZB
(or from The Sexuality Library)


---
Here is the TEXT POPUP for The Sex Maniac's Bible:

Lap Dancing
Astride, either facing or backwards, you sway your bottom in time to the music, bounce up and down on your chosen member of the audience and encourage and discourage him to your own whim. Penetration is out of the question and in most places naked cocks are not allowed. It's kosher cock and pussy teasing. Safer sex for the audience of sex shows.
---
Bulletin Board Sex
Utopian Network
(516) 842-7518
Peoplelink
(312) 648-0660
(includes active gay board)
Computer Erotic BBS
(312) 425-6061
Quality BBS
(214) 620-8591 (swingers)
---
Holland
The country of sexual tolerance.
Amsterdam...At "Haarlemmerstraat 150" the house is filled with naked girls and has one big bed so you can have as many girls as you like as long as you don't mind sharing the bed with other customers. The "Love Inn" is a family-style brothel with everyone together and no time limit. "Hairotics" offers a haircut and wonderful blowjobs.

---
Navigation Controls
<!- repetitive locations ->

---
© 1998 The Computer Lab
Gareth Branwyn - garethbranwyn@mac.com
WebMaster: PeterS10@aol.com
Go to Street Tech, Gar & Pete's Tech Review Site.